Canada Markets
Investors Add to Their Long Position in Oat Futures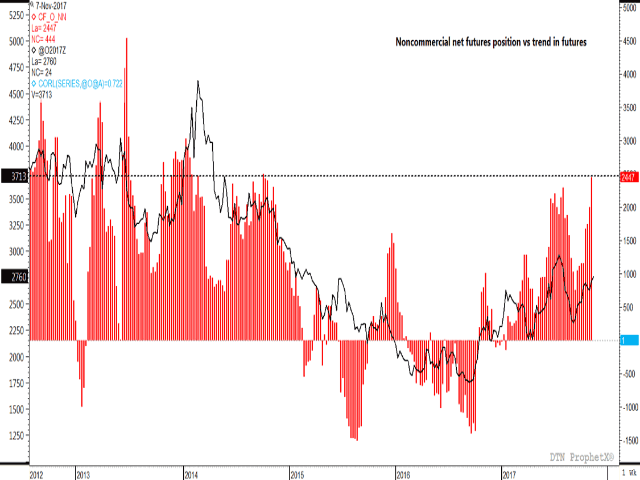 Monday's delayed CFTC report, covering activity for the week ending Nov. 7, shows that noncommercial traders or investors have yet to give up hope on the oat market. As seen on the attached histogram, this group boosted their bullish net-long position for the seventh time in eight weeks, up 22%, or 444 contracts, to 2,447 contracts. Follow the parallel dashed line to the left and we see this is the largest net-long position seen since October 2014, or more than three years.
For the second straight day, this speculative trade in oats helped guide prices to a finish in positive territory, while continuing to test resistance at $2.76 1/2/bu. on the December contract. This represents the 61.8% retracement of the move from the July high to September low. A move above this level could result in a test of the 67% retracement of this same downtrend at $2.80 1/4/bu., although may need support from the commercial side for this to happen. Meanwhile, the Dec/March spread has moved to minus 10 cents today, which is the weakest this spread has traded since late March and representing a growing bearish sentiment among commercial traders.
The interesting thing here is the growing bullishness seen in the investor position of oats as compared to the growing bearishness seen in other grains such as corn and wheat. As well, while not shown, is the diverging actions seen by commercial traders, who have increased their bearish net-short position in each of the past six weeks (not shown).

P[L1] D[0x0] M[300x250] OOP[F] ADUNIT[] T[]

Perhaps the risk to this market is a sudden change in noncommercial sentiment. The last time the noncommercial net-long position reached levels comparable to the current level, in October 2014, a liquidation of this position resulted in a move from a bullish net-long position to a bearish net-short position between early October and late February, while pulling the continuous active future down roughly $.75/bu.
**
DTN 360 Poll
Canada's federal government has backtracked on proposed tax reform measures pertaining to farm corporations. Are you satisfied with what you are hearing? Share your thoughts on this week's poll that is found at the lower right side of the DTN Canada Home Page.
We thank you for you input!
Cliff Jamieson can be reached at cliff.jamieson@dtn.com
Follow Cliff Jamieson on Twitter @CliffJamieson
(ES/)
© Copyright 2017 DTN/The Progressive Farmer. All rights reserved.