The Progressive Farmer - Digital Issue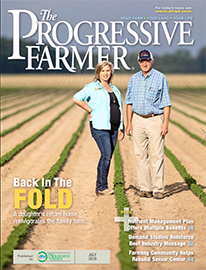 July 2018
The connection to the family farm is a strong bond, even to those who move away and start different careers. In the July issue of The Progressive Farmer, we profile a daughter who has returned to her family farm to assume a management role. We look at the challenges with such a move and offer tips on making the transition. Also in this issue: Two Ohio growers help protect a watershed by adopting a nutrient management plan and get the side benefit of improved yields. We look at how demand studies are helping to keep the beef industry's message on point. Finally, we offer a heart-warming story of a how a rural community rallied together to help save its senior center destroyed by fire.
NEW! Reduce nitrogen loss
Ensure optimal nitrogen levels with DTN Nitrogen, powered by Adapt-N.
Pinpoint needs
Target applications
Minimize loss