The Progressive Farmer - Digital Issue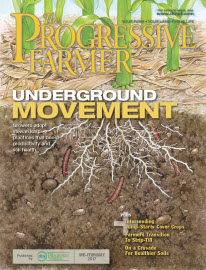 Mid-February 2017
What happens below the soil surface is as important as what's going on above the surface. That's why our Mid-February issue is devoted to Soil Health. Farmers across the country are adopting practices to save soil and to enhance the soil environment to increase productivity. Check out the series of stories to learn how farmers are using cover crops, lessons they've learned as they transition their farms to less tillage and the production and economic benefits of better soil health.
Manage weather risks year round
Capture sub-acre weather and agronomy intelligence.
Operate more strategically
Supersize your yield potential
Hone planning and cost control