The Progressive Farmer - Digital Issue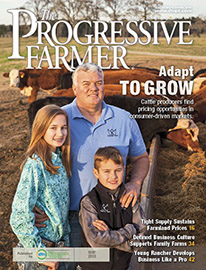 May 2018
It pays to stand out in commodity production, particularly in the beef segment. In the May issue of The Progressive Farmer, we take a look at how producers are finding market opportunities by adapting to consumer demand and standing out through efforts such as direct sales platforms. Also in this issue: Demand for farmland exceeds supply in many parts of the country, but upward pressure on interest rates may weaken sales. Our analysis shows where there is potential, who's buying and who's selling. See how a cooperative in Winston County, Mississippi, has used partnerships, mentors and education to help revive this rural community. Finally, we showcase how a rancher is mastering his entrepreneurial skills - at only the age of 17.
NEW! Reduce nitrogen loss
Ensure optimal nitrogen levels with DTN Nitrogen, powered by Adapt-N.
Pinpoint needs
Target applications
Minimize loss