The Progressive Farmer - Digital Issue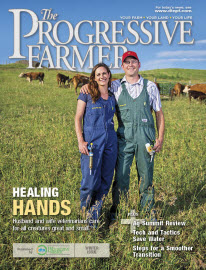 Winter 2017
Our Winter Issue includes an inspiring story about a husband/wife team who operate a veterinary practice and farm. It's a tough job and busy life, but the South Dakota couple enjoy every minute. If you didn't attend our annual Ag Summit in Chicago, we've summarized some of the best presentations on taxes, the farm economy and expectations on trade, policy and farm programs under the new Trump Administration. Finally, as cash rent negotiations for 2017 continue for many producers, full disclosure and transparency are producing a win-win scenario for both landlord and tenant.
Manage weather risks year round
Capture sub-acre weather and agronomy intelligence.
Operate more strategically
Supersize your yield potential
Hone planning and cost control