Canada Markets
Canola Demand on Fire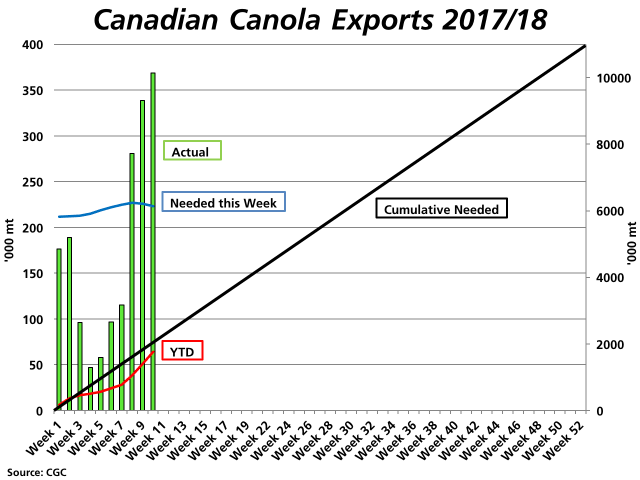 The recent week's Canadian Oilseed Processors Association canola crush was reported at 204,820 metric tons. This is the fifth time that weekly crush was reported above 200,000 mt, with the other four weeks found in 2016/17 data. The highest was seen in the week of March 22, 2017 when crush hit 208,268 mt, while the latest week is the second highest. Cumulative crush at 1.686 mmt as of October 11 is 3.1% lower than reported for the same period in 2016/17.
As well, exports remain short of a record pace as indicated in week 10 data reported by the Canadian Grain Commission. In week 10, or the week ended October 8, 368,800 mt was exported. This is the largest weekly volume shipped this crop year, while Week 24 in the 2016/17 crop year saw a volume of 378,900 mt shipped, slightly higher. Cumulative exports as of week 10 point to 1.766 mmt shipped, up 21.8% from last year and 15.4% higher than the five-year average. At the same time, this volume trails the 1.805 mmt exported as of this week in 2014/15.
What is of interest is the disappearance seen over the past two weeks, with both exporters and crushers raising the bar on industry activity. The combination of Week 9 and Week 10 exports shows 707,200 mt exported. As well, the crush realized in the two weeks ending Oct. 11 totals 401,973 mt. Total disappearance over two weeks is 1.109 mmt.

P[L1] D[0x0] M[300x250] OOP[F] ADUNIT[] T[]

Producer deliveries have facilitated this volume of movement. As of Week 10, producers have delivered 3.992 mmt, up 8.9% from last year while 19.7% higher than the five-year average. Despite the solid demand seen in recent weeks, commercial stocks rose in the past week to 1.423 mmt, the highest weekly volume held by commercials this crop year, which may allow for this trend to continue.
Over the past five years, Week 10 exports accounted for a range of 13% to 19.7% of total crop year exports. On average, Week 10 exports made up 16.5% of total exports, which could be extrapolated to a target of 10.7 mmt of 2017/18 exports. On Friday, Agriculture and Agri-Food Canada raised its export forecast by 1.1 mmt, to 11 mmt, the same level that the USDA has been indicating for several months.
Over the past four years, domestic crush as of early October accounted for a range of 15.7%-to-18.9% of total crop year crush, averaging 17.3%. This could be extrapolated to indicate a potential crush of 9.7 mmt, which is higher than the current AAFC estimate, which was left steady at 9 mmt.
Cliff Jamieson can be reached at cliff.jamieson@dtn.com
Follow Cliff Jamieson on Twitter @CliffJamieson
(ES/)
© Copyright 2017 DTN/The Progressive Farmer. All rights reserved.