Canada Markets
Early Estimates of Prairie Crop Losses Released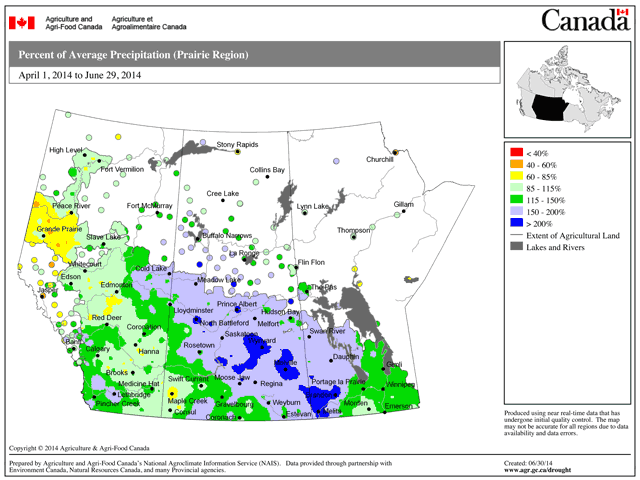 The devastating rains which hit both Saskatchewan and Manitoba have now ended, although the ongoing challenges of dealing with the aftermath continue. There are more than 80 communities in the two provinces still under a state of emergency, with issues including washed-out roads and a hospital needing to be evacuated. Premier Brad Wall of Saskatchewan suggests that damages to that province may exceed the $360 million spent in the last major event in 2011.
The impacts to agriculture will be evaluated and discussed for some time to come, with one report suggesting that crop losses are on the backburner while affected farmers focus on saving their houses, livestock and other property. Perhaps making the issue even more difficult is that this weather event came on the heels of Statistics Canada's acreage report, which was already questioned for accuracy given that June moisture arriving after the farm surveys had been conducted would fail to account for many acres that were unable to be seeded. The weekend rains added to the difficult situation, falling on already saturated soils.

P[L1] D[0x0] M[300x250] OOP[F] ADUNIT[] T[]

One Saskatchewan analyst has suggested losses will reach a total of 6 million acres on the prairies, while Farmlink Marketing in Winnipeg has suggested Wednesday that 800,000 acres of canola will have been lost along with 700,000 acres of wheat. In comparison, Saskatchewan Agriculture's Final Crop Report for 2010 estimates that 8 million acres were unseeded with an additional 4 million seeded then lost to flooding. In 2011, the province's Final Crop Report suggested that 6.2 million acres were left unseeded near the end of June, with an additional 2.2 million acres seeded but lost to flooding.
For the week of June 23 to June 29, satellite imagery analysis provided by Statistics Canada indicates that the Normalized Difference Vegetation Index across the prairies, at a 1 kilometer resolution, is lower to much lower than normal across the entire prairie region. The thematic map indicates that almost all of Alberta and south-central Saskatchewan is classed as having lower-than-normal vegetation, while most of Saskatchewan and all of Manitoba is classed as having much lower vegetation. While warm, dry weather is needed to address the issues faced in the flooded areas of the prairies, it is also needed across the entire prairies to advance this crop.
Cliff Jamieson can be reached at cliff.jamieson@dtn.com
Follow Cliff Jamieson on Twitter @CliffJamieson
(ES/)
© Copyright 2014 DTN/The Progressive Farmer. All rights reserved.