Canada Markets
Smaller Wheat Classes Indicate Sizeable Jumps in 2013 Forecast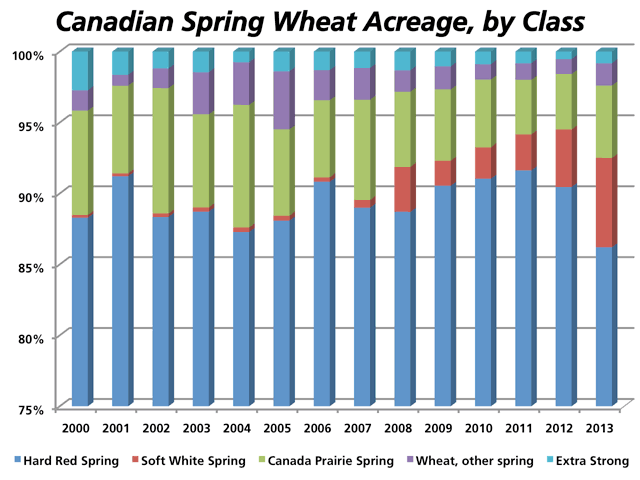 The June 25 release of Statistics Canada's preliminary estimates of principal field crop areas as of June 2013 indicated the Canadian wheat acreage is expected to increase 9.3% to 25.906 million acres. This acreage represented a drop from the March intentions data release in April, although was within trade expectations and posed as no surprise.
The largest jump, on an acreage basis, was spring wheat, where acreage is expected to increase 12.6% to 19.073 million acres. Of the spring wheat grown, the hard red spring wheat is the largest class, expected to grow 7.4% to 16.245 ma in 2013.
What is interesting, as seen on the chart, is the rapid growth in the past two years in the smaller wheat classes, at the expense of hard red spring. In the period from 2008 to 2012, hard red spring accounted for an average of 90.5% of the acreage sown of the five spring wheat classes shown, while 2013 forecasts would indicate this number has fallen to 86.2%.

P[L1] D[0x0] M[300x250] OOP[F] ADUNIT[] T[]

The most rapid growth, on a percentage basis, is seen in the soft white spring class, where producers are expected to have seeded 1.186 ma, up 75.2% from 2012, while the extra strong class is expected to see a jump from 88,000 to 155,000 acres, a 76% increase. Canada prairie spring wheat is expected to see acreage expand by 47% to 962,000 acres, while the "other spring" class as reported by Statistics Canada, which may be a catch-all for classes such as hard white spring, is set to jump 67.6% to 295,000 acres.
The expansion in the smaller classes of wheat may prove challenging to fully explain. Soft white spring acres have grown in Western Canada to largely meet the needs of the growing ethanol industry. Canada Prairie spring growers have had the benefit of seeking export markets for medium quality wheat as well as deliver desirable feed wheat into domestic markets. In both cases, yield advantages also make these a desirable choice in certain locations.
Market deregulation could perhaps be a factor that has allowed producers to become more market-driven and meet the needs of niche-type markets, whether export or domestic. The lack of protein premiums in the 2012/13 marketing year, as dictated by global markets, may also be the major impetus.
Regardless, this will undoubtedly be an interesting trend to follow over time.
Cliff Jamieson can be reached at cliff.jamieson@telventdtn.com
(ES)
© Copyright 2013 DTN/The Progressive Farmer. All rights reserved.