Canada Markets
Canola Seasonal Index Provides Hopeful Glimpse of What's to Come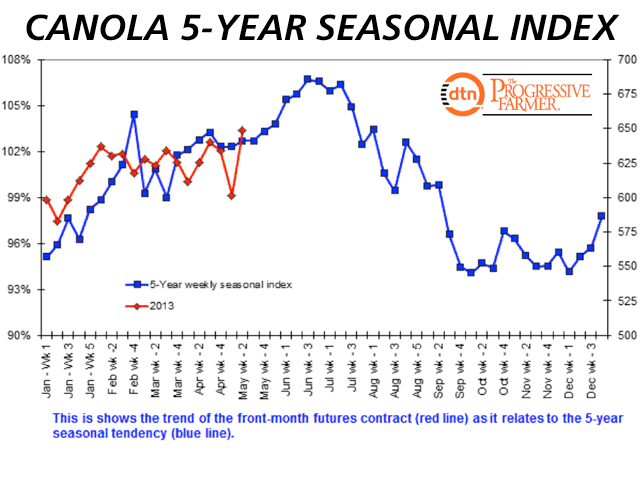 The five-year seasonal index, as shown by the blue line on the attached chart, provides a possible scenario of how canola prices may play out over the upcoming weeks. Old-crop canola prices received a boost today from the soybean market, where tight old-crop supplies are leading to growing concerns as seen in the sharp move higher in the May contract, which in turn pulled all other trading months higher.
The five-year seasonal index chart indicates that prices, on average, have increased approximately 4% between now and mid-June. Prospects for a move such as this are further supported when one considers the July/Nov spread, which is a measure of the old-crop market relative to the new-crop market. This spread gained $2.90/mt in Monday's trade, to close at $85.80/mt.

P[L1] D[0x0] M[300x250] OOP[F] ADUNIT[] T[]

Last year at this time, the July/Nov spread closed at $50.60/mt over the week of May 14, $35.20/mt lower than the current spread. The spread did not reach its high of $60 until the week of July 2, which indicates ample time for prices to rally.
One caveat would be the potential demand destruction as commodity prices edge higher. The report of Canadian Oilseed Producer's Association (COPA) Report of Member Crushings for the week ended May 8 indicates a crush capacity utilization of 56.2%, while this number was 92.6% a year ago. Crush capacity has fallen over 30% in the past two weeks. It is not apparent whether this is an intentional slow-down to ration supplies, if this is directly related to falling producer deliveries or if this is perhaps affected by routine crush plant maintenance that may affect capacity.
Regardless, the July/Nov spread perhaps clarifies the fundamental outlook of the market, with signs currently pointing to a bullish market. Monitoring the spread may present clues as to potential changes in opinion.
One other encouraging point is the fact that canola's value in relation to soybeans, while high, is much below recent highs. While canola's premium in relation to soybeans reached a recent high of $102.61/mt in mid-February, Monday's close was CAD$88.49/mt. At present, this spread continues to hold levels above an upward sloping trendline that began with a July 2012 low.
Cliff Jamieson can be reached at cliff.jamieson@telventdtn.com
(AG)
© Copyright 2013 DTN/The Progressive Farmer. All rights reserved.