Ag Policy Blog
House Ag Ranking Member Disputes Claim He Negotiated Potential Farm Bill Cuts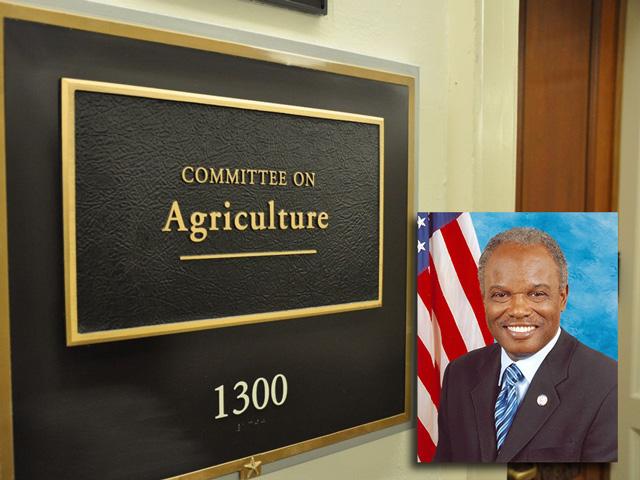 Rep. David Scott, D-Ga., the ranking member on the House Agriculture Committee, on Friday disputed an account in Politico that he has been negotiating with Republicans on cuts to some farm bill programs.
"Reports that ranking member David Scott has agreed to any Republican proposals to cut conservation or nutrition programs are erroneous and misinformed," a Scott spokesman said.
"Updating Democratic members about the latest proposals from Republicans during farm bill negotiations is part of his job. While the ranking member thought rank-and-file members would oppose the most recent proposal, he thought it was important to share it with members nonetheless, considering that Republican leadership appear to have ruled out providing any new funding for the farm bill.
"Sharing information, soliciting member input, and building consensus to come together unanimously, as happened this week, is how ranking member Scott operates."
In an article available to subscribers only, Politico reported Friday that House Agriculture Committee Chairman Glenn "GT" Thompson, R-Pa., had presented the Democrats with a list of programs to be cut in order to provide money for other programs.
Politico said the list of programs include the climate-related programs in the Inflation Reduction Act, the Thrifty Food Plan that determines the level of benefits under the Supplemental Nutrition Assistance Program (SNAP), the Conservation Reserve Program and limits on the Agriculture secretary's use of the Commodity Credit Corporation, USDA's line of credit at the Treasury to make payments to farmers.
Politico described a meeting of Democratic members of the House Agriculture Committee in which some members were "livid" with Scott.
Politico said the proposed clawbacks amount to $50 billion. Thompson declined to comment to Politico on the overall dollar amount of the proposed shifts in spending but confirmed he's "been working really hard to identify different pots of money that should be scrutinized and looked at" with limited new funding available this farm bill season. He also noted the talks about funding options have been "bipartisan."
"Obviously, we need to find some pay-fors," Thompson said. "Because there is real need for safety net, for research, for expanded trade tools."
Thompson added: "The more (funding offsets) that I can find, the better."
"Because I know whatever I identify on this list, we're not going to be able to get all of that or maybe even much of it," Thompson said.
In a statement to DTN, Ben Goldley, a spokesman for Thompson on the House Agriculture Committee, said the list was proposed as options for the committee to consider.
"Almost every single Member of Congress has priorities for the Farm Bill, and those priorities have a cost. There exists no proposal and it's unhelpful that a list of potential reinvestment opportunities was leaked. As the Chairman has said multiple times, any movement on a Farm Bill must reflect the needs of rural America and be bipartisan."
Asked by DTN if Thompson is considering an extension on the farm bill, Goldley said there is nothing to announce at this time.
DTN Ag Policy Editor Chris Clayton contributed to this report.
Jerry Hagstrom can be reached at jhagstrom@nationaljournal.com
Follow him on X, formerly known as Twitter, @hagstromreport
(c) Copyright 2023 DTN, LLC. All rights reserved.