Canada Markets
New-Crop Canola Remains Range-Bound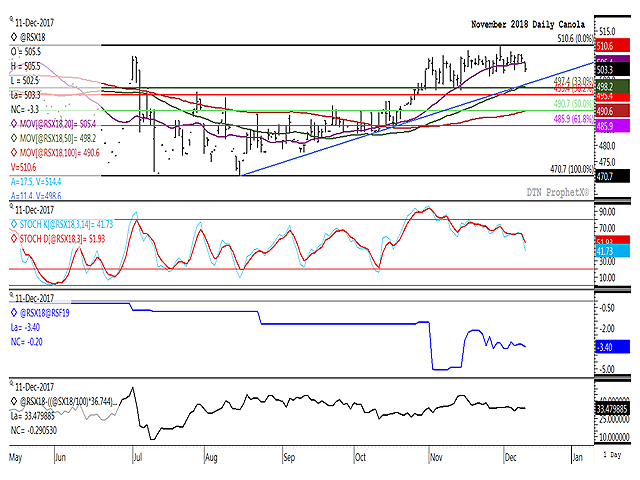 Recent weakness has seen the November 2018 soybean contract slip into a short-term downtrend last week while Monday's close ended lower for the fourth consecutive session, an overall move which has seen new-crop soybeans shed 19 1/4 cents, or 2.4%, since last week's high. The question is will this spill over into new-crop canola trade?
Over the past 18 sessions, beginning Nov. 16, new-crop November canola has traded over a $9.40 per metric ton (mt) trading range between $501.20/mt and $510.60/mt, while continues to hold above the November low of $501.20/mt. Monday's trade did show weakness, with the session's high struggling to sustain a move above the contract's 20-day moving average at $505.40/mt.
While not shown, light commercial buying interest over the course of last week acted to prevent a test of recent lows, with the current Nov18/Jan19 spread reported at minus $3.40/metric ton, or just 33% of the $10.18/mt full carry reported by the ICE Canada Exchange, as seen on the blue line of the second study. This supports a borderline bullish view of fundamentals as determined by the actions of commercial traders.

P[L1] D[0x0] M[300x250] OOP[F] ADUNIT[] T[]

Should the spillover from the soy complex continue and canola price breaks from the lower end of its recent range, new-crop canola could face significant chart support above the $497 level. First is the psychological $500/mt level. Next is trendline support at $498.60/mt, drawn from the contract's low reached in August (upward-sloping blue line). Following that is the 50-day moving average at $498.20/mt, and next is the $497.40/mt level (green horizontal line), which represents the 33% retracement of the move from the August low to November high. Last of all is the $497/mt level, which is seen as the daily low on three different days -- Oct. 30, Nov. 3 and Nov. 15.
For those watching for new-crop pricing opportunities, this bears watching.
**
DTN 360 Poll
This week's poll asks your thoughts on the latest Canadian Federation of Independent Business November Business Barometer Index for agriculture that shows a slight improvement in the Ag confidence index but remains close to the lowest index indicated for the 13 business sectors monitored. You can weigh in with your thoughts on this poll, which is found at the lower right of the DTN Canada Home Page. Thanks for your input!
Cliff Jamieson can be reached at cliff.jamieson@dtn.com
Follow Cliff Jamieson on Twitter @CliffJamieson
(ES/)
© Copyright 2017 DTN/The Progressive Farmer. All rights reserved.