Canada Markets
Algeria Seeks Self-Sufficiency in Durum by 2019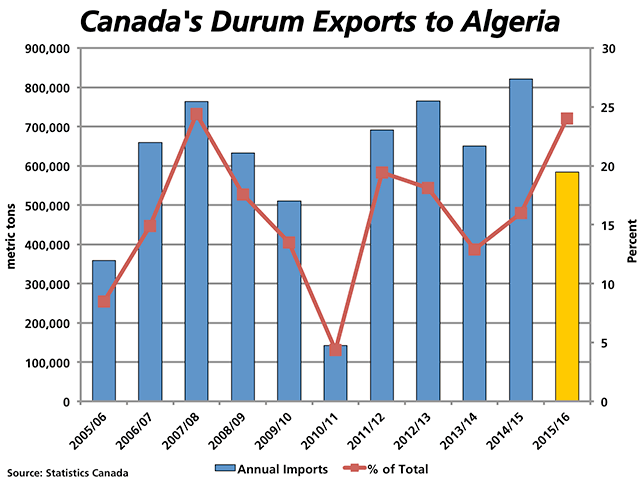 A recent USDA attache report, Algeria Grain and Feed Annual, points out that country's aim to increase cereal production, with a focus on durum, and an aim to be self-sufficient in durum production by 2019.
The USDA Foreign Agricultural Service reports that the country seeds 8.15 million acres annually, with roughly 3.7 ma seeded to durum, 2.5 ma to barley, 1.5 ma to bread wheat and 247,000 acres seeded to oats. Total production of cereals is estimated to be 4 million metric tons in 2015/16, which compares to 3.5 mmt in 2014/15.
This total production of 4 mmt meets roughly 50% of the country's estimated cereal demand of 8 mmt. Over the last five years, Algeria has imported between 6.3 mmt and 7.3 mmt of wheat annually with current estimates suggesting total imports could reach 8.2 mmt in the 2015/16 marketing year. A total of 75% to 83% of this volume is reported to be bread wheat, mostly from France, while durum is sourced from Canada, the U.S., Mexico and France.

P[L1] D[0x0] M[300x250] OOP[F] ADUNIT[] T[]

The country's target is reported to be an increase in grain production (mostly durum) to 7 mmt annually by 2019, a move described as reaching durum self-sufficiency, with government subsidies available to expand irrigation coverage to 4.9 ma or 61% of the total acreage planted.
According to Statistics Canada, Canada has shipped an average of 614,000 metric tons of durum to Algeria over the last five years, while 821,200 mt were shipped in 2014/15 and 584,000 mt have been shipped in the first six months of this crop year, as represented by the yellow bar, with a volume of 316,300 mt reported for shipment in the month of January. The red line with markers indicates this volume as a percentage of total shipments, with Algerian exports in the selected time frame ranging from just 4.3% of total shipments in 2010/11 to as high as 24.4% in 2007/08. During the first six months of this crop year, total exports to Algeria represent 24% of the total volume shipped.
**
DTN 360 Poll
This week's poll asks what you think about the recent release of the final report released by the Canadian Transportation Agency review panel. You can weigh in with your thoughts on this week's poll, found at the lower-right side of your DTN Home Page. We thank you for your input.
Cliff Jamieson can be reached at cliff.jamieson@dtn.com
Follow Cliff Jamieson on Twitter @CliffJamieson
(ES)
© Copyright 2016 DTN/The Progressive Farmer. All rights reserved.