Canada Markets
A Look at HRS CFTC Data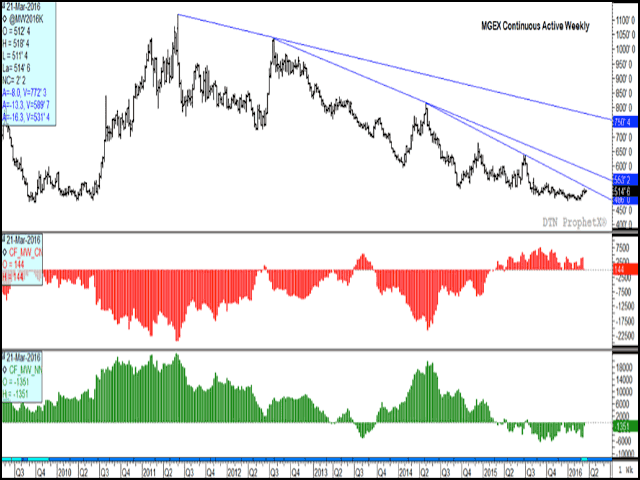 As of the most recent CFTC Commitments of Traders data as of Tuesday, March 15, activity of noncommercial traders, or investors, saw the net-short futures position fall for the second consecutive week for both soft red winter and hard red winter contracts while for the first time in three weeks for hard red spring wheat. Hot and dry weather in the U.S. Southern Plains was behind the move, leading to nervous investors paring bearish positions, where the net-short position in HRW was trimmed to a 21-week low.
As seen on the attached chart, lower study, the net-short position held in hard red spring wheat futures represented by the green bars on the histogram fell to the lowest level seen in seven weeks, while being trimmed by close to 73% from the previous week's report to 1,351 contracts.
DTN analysis, based on the Six Factor Approach, relies on the signals of noncommercial traders, with the actions of this group viewed to have a high correlation to the overall trend of the market. Given further concerns over the health of the Southern Plains winter wheat crop and further short-covering across the three wheat markets, we could soon see this group swing into a bullish net-long futures position, not seen on this weekly chart since July 2015. With last week's close in the lower 7% of the range of prices traded over the past five years for that week, this market could use a dash of bullish optimism.

P[L1] D[0x0] M[300x250] OOP[F] ADUNIT[] T[]

The red bars on the middle study, however, indicate commercial traders sharply reducing their net-long futures position to a mere 144 contracts, down sharply from 4,092 contracts the week prior and the smallest net-long position seen since mid-December. This waning bullish sentiment should be viewed as a concern.
After a near-test of January 2009 lows at $4.77/bu in January trade, the continuous chart indicates a price bounce although longer-term downtrend lines on the continuous chart have yet to be tested. This week's trade has consolidated within last week's trading range, despite the concerns shown related to potential frost damage in the U.S. HRW, with the first level of resistance on the downward-sloping trendlines on the continuous chart at $5.28/bu.
DTN 360 Poll
This week's poll asks whether you think the strengthening of the Canadian dollar against its U.S. counterpart over recent months makes sense. You can weigh in with your thoughts on DTN's weekly poll, found at the lower-right of your DTN Home Page.
Cliff Jamieson can be reached at cliff.jamieson@dtn.com
Follow Cliff Jamieson on Twitter @CliffJamieson
(ES)
© Copyright 2016 DTN/The Progressive Farmer. All rights reserved.