Canada Markets
November Canola Consolidates Near Contract Highs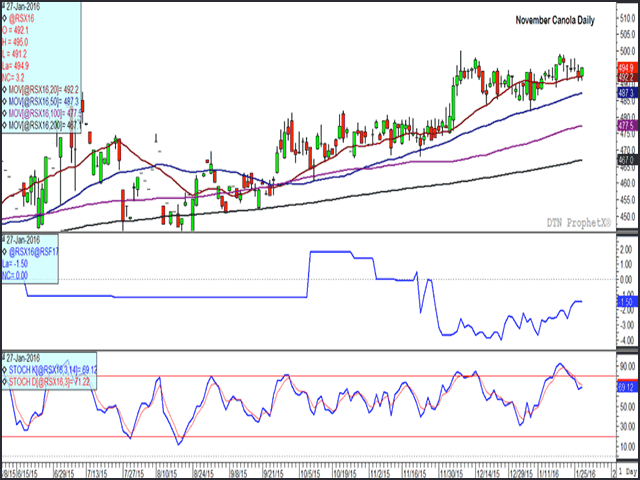 Since Dec. 7, the new-crop November canola contract has traded between a high of $500/mt reached on Dec. 8 and a low of $482/metric ton reached on Jan.7. Wednesday's trade ended at $494.70/mt, up $3.00/mt, with trade consolidating within Tuesday's trading range as well as within last week's trading range.
The nearby March contract has tested various levels of support this week, nearing the lower-end of the range traded over almost eight weeks; the new-crop contract continues to hold within striking distance of the contract high of $500, while holding above the support of major moving averages.
The November contract has finished below $500/mt on the last day of January trade in two of the five years. The November 2015 contract closed at $435.20/mt on Jan. 30 2015 and the November 2014 contract ended at $464.40/mt as of Jan. 31 2014. Over the five years between 2011 and 2015, the November contract averaged a $10.52/mt move higher over February, moving higher in three of the five years. As well, the November contract averaged a $25.62/mt move higher from the end of January through the end of May, with a move higher seen in all five years. This is a period of old-crop seasonal strength, which tends to lend support for new-crop trade.
As seen in the middle study of the attached chart, the November/January spread has remained constant at a $1.50/mt carry over the past three sessions, while has narrowed from a $4/mt carry reached on December 23, a sign of a less bearish response by the commercial trade.

P[L1] D[0x0] M[300x250] OOP[F] ADUNIT[] T[]

Agriculture and Agri-Food Canada's January supply and demand estimates, which includes a first look ahead at the 2016/17 crop year, indicates that canola acres will increase in Canada in 2016, given canola's projected returns which are superior to a number of competing alternatives. Supplies in 2016/17 are expected to be 6.6% lower than the current crop year, given lower carry-in stocks, while an expected reduction in both export and crush demand is expected to result in ending stocks of 1.2 million metric tons, a four-year low which results in a very tight stocks/use ratio of 7%. AAFC's 2016/17 projections include an estimate for producer returns which range from $510 to $550/mt, well-above current levels.
The wild-card could be 2015 production levels, with Producer.com reporting one trade estimate for 2015 production at 16 mmt, well-below the current 17.2 mmt estimate released by Statistics Canada in December. Should this be the case, current government projections for 2015/16 demand and ending stocks could be too high. The Feb. 4 Statistics Canada Stocks of principal field crops report will be watched closely.
**
DTN 360 Poll
This week's poll asks which 2016 crop you are most likely to forward price given current prospects for next crop year. You can weigh in with your thoughts on DTN's Hope Page which is found at the lower right of your DTN Home Page.
Cliff Jamieson can be reached at cliff.jamieson@dtn.com
Follow Cliff Jamieson on Twitter @CliffJamieson
(ES)
© Copyright 2016 DTN/The Progressive Farmer. All rights reserved.