Canada Markets
Stats Canada Seeded Acres Preview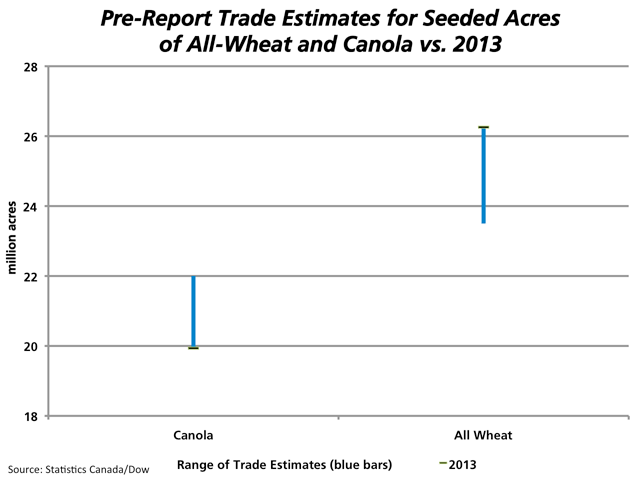 The Dow Jones headline from Monday was "Less Wheat, More Canola Expected in Canada," which explains the bulk of the expected shift in 2014 acres. Bear in mind that this week's release is based on producer surveys conducted in March, with price changes in commodity markets since that time just one of the many factors that can alter the results.
Pre-report trade estimates suggest that canola acres will be 20 million to 22 million acres, up from last year's 19.936 million. The five-year average is 19.01 million acres, with the current record at 22.021 million seeded in 2012. Some in the trade have suggested that producers have little choice but to seed more canola, while some producers have pointed to high seed and fertilizer costs, availability of fertilizer issues and crop rotation issues as reasons why canola acres may fall short of expectations.
While there are often swings between the early March estimates and final seeded acres, Statistics Canada has underestimated canola acres over the past five years, with actual planted acres exceeding the March intentions by 5.1% on average. The commercial trade is indicating a cautious approach, with the Nov/Jan spread trading at minus $6.60/mt (January over the November) after trading as wide as minus $7.70/mt in early March, a less bearish sentiment which may suggest that acres may not be as high as expectations may suggest.
The pre-report trade estimates for all-wheat seeded acres (including durum) suggest acreage of 23.5 million to 25.2 million acres, down from the 26.257 million acres seeded in 2013. The lower end of the range, or 23.5 million acres, happens to be the five-year average for seeded acres of all-wheat. The expected range of trade estimates has pegged durum acres at 4.5 million to 4.9 million acres, down from 4.965 million acres in 2013. This compares to the five-year average of 4.5 million acres.
Statistics Canada data indicates that over the past five years, the actual seeded acres for spring wheat has averaged 5.4% under the March intentions report, while actual acres seeded to durum have averaged 9.5% below the March findings. Perhaps the market is indicating concerns, with the new-crop Sept/Dec HRS spread narrowing from minus 12 1/4 cents to minus 9 3/4 cents since April 9 (December above the September) while the Dec/Mar spread has narrowed from minus 10 1/4 cents to minus 6 1/2 cents since April 10, a sign of a less bearish sentiment within the commercial trade.

P[L1] D[0x0] M[300x250] OOP[F] ADUNIT[] T[]

Other pre-report trade estimates include:
Barley - estimates range from 6.1 to 7.2 million acres, as compared to 7.083 million acres in 2013. The five-year average is 7.328 million acres.
Flax - the trade estimates range from 1.1 million to 1.5 million acres, which compares to the 1.035 million acres grown in 2013 and the 2009 to 2013 average of 1.071 million acres.
Oats - trade estimates range from 2.9 million to 3.6 million acres, with 2013 acres pegged at 3.168 million acres. The five-year average is 3.195 million acres.
Peas - the trade is calling for increased interest in pulse crops, with dry pea acres estimated to range from 3.3 million to 3.8 million acres, up from the 3.285 million acres grown in 2013. The five-year average is pegged at 3.367 million acres.
Lentils - the range of estimates for lentil acres in 2014 is 2.5 million to 2.8 million acres, above the 2.393 million acres seeded in 2013. The five-year average is 2.663 million acres as reported by Statistics Canada.
Statistics Canada will release this report on Thursday, April 24 at 7:30 a.m. Central Time.
Do you think the increase in canola acres as expected by the trade will materialize? You can soon weigh in with your thoughts on DTN's 360 Poll. Watch for it on your DTN homepage in the days to come.
Cliff Jamieson can be reached at cliff.jamieson@dtn.com
Follow Cliff Jamieson on Twitter @CliffJamieson
(AG)
© Copyright 2014 DTN/The Progressive Farmer. All rights reserved.