Canada Markets
Canada's Durum Fundamentals Signal Challenges Ahead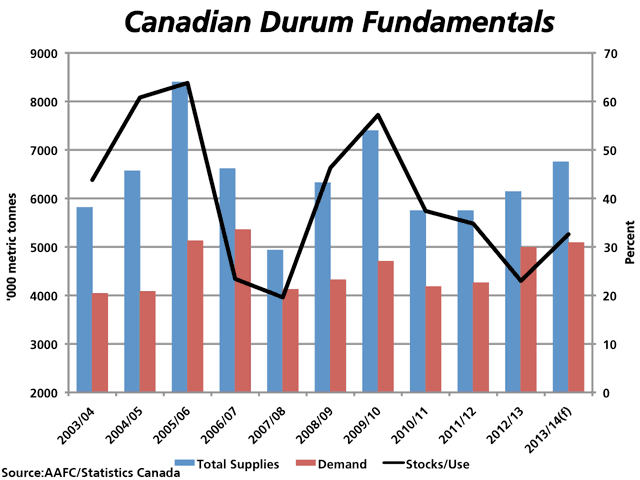 Agriculture and Agri-Food Canada should release updated supply and demand tables this week in the monthly Canada: Outlook for Principal Field Crops. The accompanying chart provides a snapshot of Canadian durum fundamentals given the most recent production estimates from Statistics Canada's September estimates of production of principal field crops, while leaving demand constant as determined by AAFC's September 18 supply and demand tables. After three years of a declining stocks/use ratio, as seen by the move lower in the black line from 2009/10 to 2012/13, this ratio is set to potentially grow from 23% in 2012/13 to over 30% in 2013/14.
2013/14 supplies are set to surge in Canada given the forecast for a 5.579 million metric ton crop, which exceeds the 2012/13 production of 4.627 mmt. This is the largest crop produced since a 5.915 mmt crop was produced in 2005. In a recent Canada Markets blog, we indicated actual production of durum has tended to be 5.2% higher than the September estimate, both in 2012 and on average over the past five years. This indicates that in all likelihood, the December Statistics Canada report will further increase the level of durum production on the Prairies.

P[L1] D[0x0] M[300x250] OOP[F] ADUNIT[] T[]

Demand for the crop may be challenged due to the limited growth in global demand as well as the overall quality of the crop. In the Canadian Grain Commission's October 15 report of durum quality, the mean protein for Prairie durum is 11.8%, with Saskatchewan reporting 550 samples with a mean protein of 11.7% and Alberta reporting 131 samples with a mean protein of 12.1%. The mean protein for Western Canada in 2012 was 12.9%.
Also of significance is the grade spread. Of the 631 samples submitted, 191 or 30.3% graded 1 CWAD, 191 or 30.3% graded 2 CWAD, 198 or 31.4% graded 3 CWAD and 51 samples, which comprised 8% of the submitted samples, were graded a 4 CWAD. This compares to 2012 CGC report suggesting that approximately 20% of the crop graded a 3 CWAD while approximately 8% graded a 4 CWAD.
Exports to date, as reported by the Canadian Grain Commission's Week 9 Grain Statistics Weekly are 595,600 mt, which is below the 692,300 mt shipped at the same date last year and also below the 648,000 mt three year average for the same week.
Cliff Jamieson can be reached at cliff.jamieson@telventdtn.com
(CZ)
© Copyright 2013 DTN/The Progressive Farmer. All rights reserved.