Canada Markets
Field Crop Outlook Reports Improved Pulse Crop Fundamentals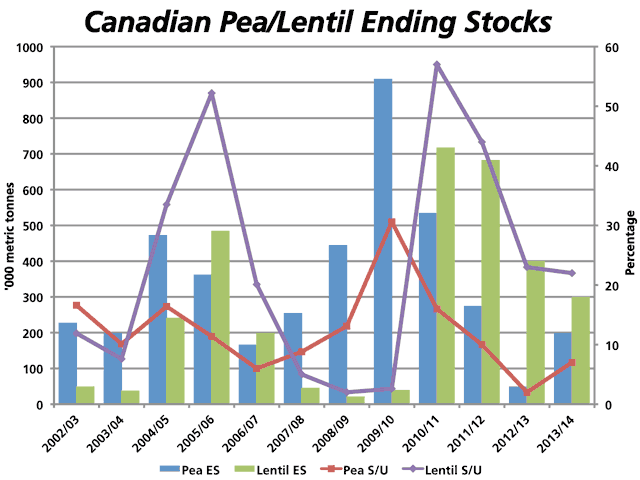 Agriculture and Agri-Food Canada (AAFC) released its monthly outlook for Canada's principal field crops on Friday. This report is based on Statistics Canada's March planting intentions reports, as well as historical production trends in order to create forecasts for the upcoming season. The June report will be of greater interest as acreage forecasts for 2013 will be adjusted to reflect the updated acreage forecasts to be reported in the June 25 Stats Canada acreage report.
The grains saw little change. Wheat exports (excluding durum) were increased 100,000 mt to 14.6 million metric tonnes, which in turn lowers carryout stocks to 3.7 mmt for 2012/13. This also reduces 2013/14 beginning supplies by the same amount which has led to an increased 2013/14 carryout estimate of 4.7 mmt based on an expected rebound in planted acres and a more competitive global marketplace due to an increased global production.
Other shifts since the May report were seen in the pulse crop exports for 2012/13, which have acted to reduce the old-crop carryout, tightened the respective crop's stocks/use ratio and in turn reduced 2013/14 beginning supplies.
Dry pea exports were raised 50,000 mt since the May report to 2.350 mmt. This increase reflects a 2.2% increase over the May forecast, which seems small although it cuts the carryout stocks by 50% to a projected 50,000 mt, leaving ending stocks forecast at just 2% of 2012/13 use. This represents the third consecutive year of tightening stocks, since the 2009 high of 910,000 mt as seen on the attached chart. Both India and China, Canada's top two customers, will have a significant vested interest in the state of the crop given the tight fundamentals. The June 25 acreage report from Statistics Canada will be of particular interest.
The supply situation for lentils remains much more reliable despite the 100,000 mt increase in lentil exports over the May report to reach 1.3 mmt while domestic use has been trimmed by 50,000 mt to 466,000 mt. The end result is a 50,000 mt reduction in the ending stocks to 400,000 mt in 2012/13 which brings the stocks/use ratio to a much more manageable 23%, down from 44% in 2011/12. While the previous decade has seen wild swings in the stocks/use ratio into the 50 to 60% range as seen on the attached chart, the current forecast for 2012/13 stocks/use ratio is just slightly below the average of 23.6% over the past 10 years.
Murad Al-Katib is president and CEO of Saskatchewan-based Alliance Grain Traders that processes pulse crops on five continents and sells to 83 countries. In a recent Business News Network interview, he suggested that a combination of a disappointing rabi or winter crop in India -- combined with a slow recovery from the 2011 financial crisis and the "hangover" which carried into 2012 to batter all commodities -- has led to increased opportunities to move Canadian pulse grain production and tighten supplies.
Watch for an increased focus on the Canadian acreage/production reports as it pertains to Canadian pulse crops as we move forward.
Cliff Jamieson can be reached at cliff.jamieson@telventdtn.com
(AG)
© Copyright 2013 DTN/The Progressive Farmer. All rights reserved.