Canada Markets
Old Crop Corn Market Seeking Support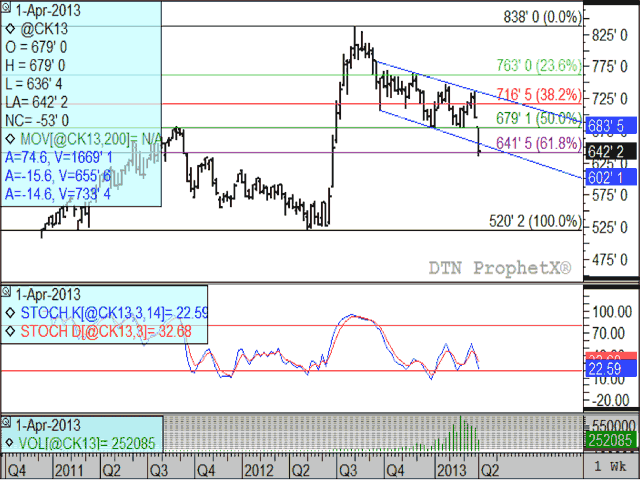 Thursday's USDA Quarterly Stocks report led to an announcement of a 5.4-billion-bushel stock level for U.S. corn, much higher than the trade expectation of 5.03 bb. This report has a huge bearing on the feed grain trade world-wide, while the sell-off in corn has led to spill-over into the wheat and soybean trade which has pulled the entire complex lower. You can run but you can't hide from this.
Upon the release of the report, corn futures quickly found their level by locking the 40-cent limit lower. After a three-day holiday weekend, selling resumed to see May futures fall an additional 53 cents.

P[L1] D[0x0] M[300x250] OOP[F] ADUNIT[] T[]

In the work titled Another Surprising Corn Stocks Estimate by Darrel Good of the University of Illinois, the ongoing difficulties in grain stock estimates are discussed, along with the ramifications. It is suggested that since March 2010, 11 of the past 13 quarterly stocks estimates for corn have varied from trade estimates enough to result in a large price movement. While exports and domestic processing data can be estimated closely, it is the feed consumption that is the wildcard within the analysis.
The March 1, 2013 stocks report was near 370 million bushels higher than the average trade estimate, which was said to be one of the largest variances in 30 years. The problem is compounded when one considers that the swings have taken place in alternating directions. Good goes on to outline the challenges in forecasting feed demand in following periods given the ongoing swings in stocks levels and resulting price moves. Over the past three years, Good indicates that the June quarterly data was used to "correct" the issues from earlier in the year, which indicates that given that scenario, the downside move in corn could be currently exaggerated with improved prices to come later in the crop year.
The attached weekly chart shows prices moving sharply lower on the release of the March 28 data, while continuing the downward move in today's trade with a break-out through the support line of a downward trend channel. Support was found today at the 61.8% retracement of the original May through August rally, at just under $6.42/bu. Conventional technical analysis measuring methods would indicate that a breakout of this nature could lead to a move equivalent to the width of the channel, which would imply a potential 72-cent move below the breakout point, for a target of $5.84/bu.
Cliff Jamieson can be reached at cliff.jamieson@telventdtn.com
(AG)
© Copyright 2013 DTN/The Progressive Farmer. All rights reserved.