Canada Markets
North American Wheat Priced Low Versus European Supplies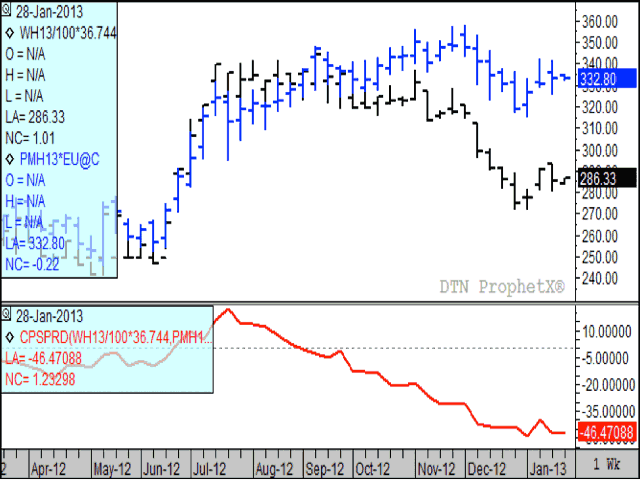 As shown in the attached chart, in July 2012, March soft red winter wheat futures were trading at a $22.62 per metric tonne premium to milling wheat on the NYSE Paris Liffe exchange. That premium has disappeared, with Chicago SRW now trading at a $46.47/mt discount as of the Jan. 28 close. North American wheat supplies are viewed as being competitively priced in comparison to the more expensive internal European supplies of wheat.
Brought on by a lack of availability of wheat imports from Russia and the Ukraine, shortfalls in European corn production and poor harvests in Britain, milling wheat in Europe is trading at levels below some feed wheat markets, with some supplies of milling wheat ending up in feed channels. It is suggested by market watchers in Europe that the EU could potentially import North American supplies of wheat that are actually cheaper in price.

P[L1] D[0x0] M[300x250] OOP[F] ADUNIT[] T[]

It's hard not to get excited when a major producing and export region is considering imports. As suggested by an unidentified trader in a Reuters interview, "It may sound like selling sand to Abu Dhabi, but if the price is attractive, U.S. wheat will be imported." U.S. SRW wheat at $315/mt FOB the Gulf of Mexico is compared to French wheat at $342 and German wheat at $361/mt. German feed wheat is priced at $363/mt.
This imbalance of supplies should prove to be supportive to our markets for some time. Examples of just how trade patterns can be altered include a recent announcement from Hovis, who is one of Britain's top bread producers, who was forced to abandon a strategy of utilizing supplies sourced strictly from the United Kingdom, now forced to seek imports to compensate for the 14% yield losses faced in the U.K. due to excessive rains. Yet another example is suggestions that Russia is entertaining the notion of reducing or eliminating their 5% import tariff on wheat in order to import stocks to help control their escalating internal prices, also due to restricted supplies.
They say that high prices cure high prices, although the global response to the tightened supplies in the Northern Hemisphere may not be felt until the last half of this calendar year at the earliest.
Cliff Jamieson can be reached at cliff.jamieson@telventdtn.com
© Copyright 2013 DTN/The Progressive Farmer. All rights reserved.