Technically Speaking
A Technical Look at the Oils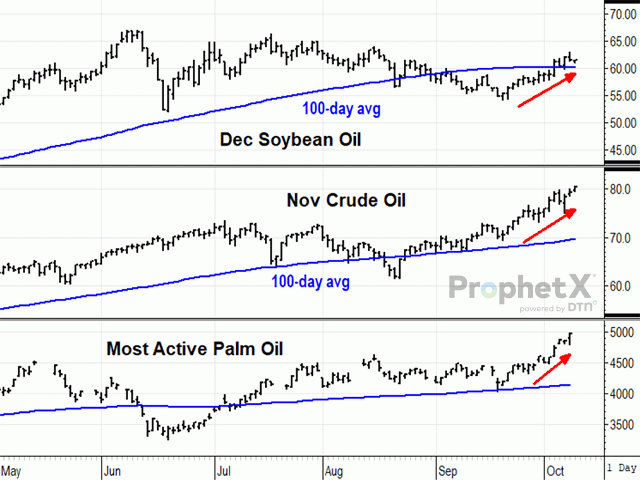 SOYBEAN OIL:
December soybean oil closed up 2.69 cents last week to 61.51 cents, the highest weekly close in more than a month. Soybean oil found support from last week's higher crude oil and higher vegetable oil prices, both of which found support from an unexpected lack of fuel in several major economies this fall. The ongoing pandemic, drought and Hurricane Ida are some of the contributing factors. In China, soybean oil prices jumped to a new high after soybean crush facilities were closed, part of a national effort to conserve energy. Technically, December soybean oil is trading back above its 100-day average and continues to show the most bullish price behavior in the soy complex. Last week's higher prices turned the weekly stochastic bullish, increased the crush incentive for soybeans and provided soybean prices an important source of support ahead of what is expected to be a bearish WASDE report on Tuesday.
CRUDE OIL:
November crude oil closed up $3.47 last week to $79.35 Friday, a new contract high and the highest spot close in nearly seven years. As mentioned above, several countries are finding themselves short of fuel heading into winter. U.S. crude supplies are down 15% from last year's bloated levels as economic activity and the demand for oil have rebounded quicker than the country's ability to produce oil. Technically, November crude oil prices suffered a brief sell-off in August, related to concerns about the Delta variant spreading through China. Prices returned back above the 100-day average on Aug. 24 and have been riding higher since. The weekly stochastic is in over-bought territory, but there has been no bearish change of momentum yet.
MALAYSIAN PALM OIL:
December palm oil closed up 461 ringgits last week, ending at a new all-time high of 4,966 ringgits. Palm oil has come a long way from last year's spot low of 1,939 ringgits and continues to lead the vegetable oil sector higher. Initially, palm oil prices rebounded as a result of protective health measures in Malaysia that restricted palm oil production by keeping immigrant workers out of the country. More recently, the unexpected lack of fuel described for crude oil above has provided fresh bullish support. As one example, China temporarily closed soybean crush facilities to conserve energy. Dow Jones reported Chinese buyers short of soybean oil then turned to Malaysia for palm oil. Technically, palm oil's all-time high prices are the prime example of a bullish chart but are also strong incentives to encourage increased production. These same record highs that look so bullish also make prices dangerously susceptible to a sudden reversal.
Comments above are for educational purposes only and are not meant as specific trade recommendations. The buying and selling of grain or grain futures or options involve substantial risk and are not suitable for everyone.
Todd Hultman can be reached at: todd.hultman@dtn.com
Follow him on Twitter @ToddHultman1
(c) Copyright 2021 DTN, LLC. All rights reserved.