Canada Markets
Canada's Canola Yield Potential Based on Historical Trend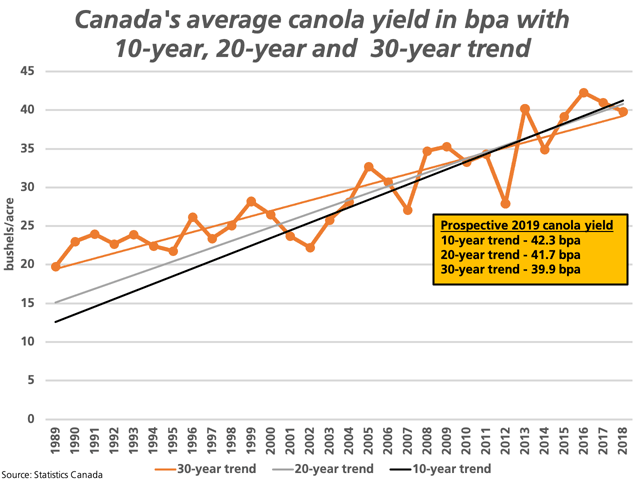 The attached chart points to historical trends in Canada's canola yields based on linear trends produced on an Excel chart, while extending these trends to reach a prospective yield for 2019.
The 30-year trend shows yields advancing by .7 bushels/acre per year, which can be extrapolated to indicate the potential for a 39.9 bpa yield in 2019. This is equal to the yield achieved in 2018 and only slightly higher than the 39.4 bpa average that AAFC has used in their 2019-20 forecasts, which is also the 5-year average yield reported by Statistics Canada.
The 20-year trend shows yields advancing .9 bpa/year, which projects to a 41.7 bpa yield in 2019, while the 10-year trend calculation shows yields increasing by close to 1 bpa on an annual basis, leading to a prospective yield of 42.3 bpa.
Given Statistics Canada's March seeding intentions estimates, which point to an estimated 21.314 million acres to be planted in 2019, down 6.6% from 2018, estimated production given AAFC's harvested acre ratio and the three trends discussed would lead to production ranging from 19.1 million metric tons to 20.3 mmt. This compares to the 20.3 mmt produced in 2018; the five-year average is calculated at 19.2 mmt.
Production potential such as this, when added to 2018-19 ending stocks that could reach the 3.5 mmt to 4 mmt level, could lead to burdensome supplies in the upcoming crop year without relief on the export side. The federal government named Japan and South Korea as potential targets for a canola trade mission in Wednesday's announcements aimed partially at boosting trade while diversifying away from China.
Dry soil conditions across the Prairies could remain a factor limiting production potential and limit yield potential to levels below trend.
DTN 360 Poll
This week's poll asks if you think the Canadian government has done enough to seek a return to normalized trade with China. You can weigh in with your thoughts on this week's poll, found at the lower right of your DTN Canada Home Page. We thank you for your input.
Cliff Jamieson can be reached at cliff.jamieson@dtn.com
Follow Cliff Jamieson on Twitter @Cliff Jamieson
(CZ)
© Copyright 2019 DTN/The Progressive Farmer. All rights reserved.