Canada Markets
USDA Updates Global Wheat Fundamentals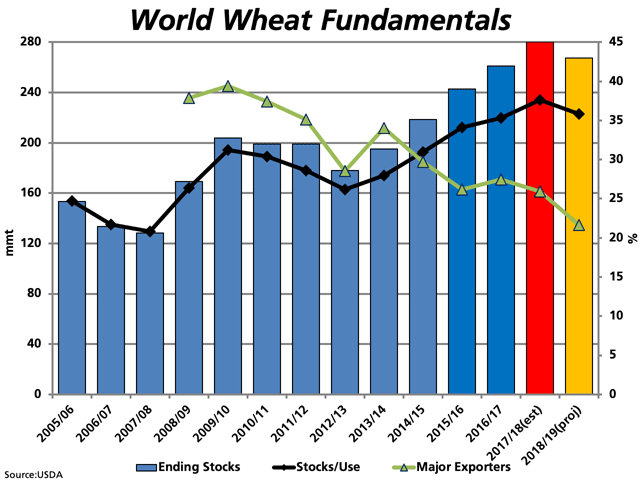 The USDA's February WASDE report, providing data since the December report due to the U.S. government shutdown, saw the global stocks estimate projection for wheat released at 267.53 million metric tons in 2018-19, slightly lower than expected and down from December's 268.1 mmt. As seen on the attached chart, ending stocks are forecast to fall for the first time in six years in 2018-19, down 12.5 mmt or 4.5% from the previous crop year.
While not shown on the attached graphic, a positive feature in this market is a steady increase in forecast demand. This month saw global demand hiked by close to 2 mmt since December to 747.23 mmt, up .4% from 2017-18 and 12.5 mmt or 1.7% higher than global production.
The current data implies stocks as a percent of use falling to 35.8% in 2018-19, down from 37.6% in 2017-18. This remains a bearish situation overall with ending stocks in 2018-19 still close to record levels.
One bright spot in this data is seen in the stocks of eight major exporters (Argentina, Australia, Canada, E.U., U.S., Russia, Ukraine and Kazakhstan). Combined, these stocks made up 34.1% of total global stocks in 2013/14, while February data shows these countries holding just 21.6% of the total global stocks at the end of this crop year. The pendulum may be swinging to the side of the exporters.
DTN 360 Poll
This week's poll asks how you think Canada's exports will be affected by the diplomatic spat with China seen in recent weeks. You can weigh in with your thoughts on this week's poll on the lower right of your DTN Canada Home Page.
Cliff Jamieson can be reached at cliff.jamieson@dtn.com
Follow Cliff Jamieson on Twitter @Cliff Jamieson
(CZ)
© Copyright 2019 DTN/The Progressive Farmer. All rights reserved.