Canada Markets
Does New-Crop Spring Wheat have Legs?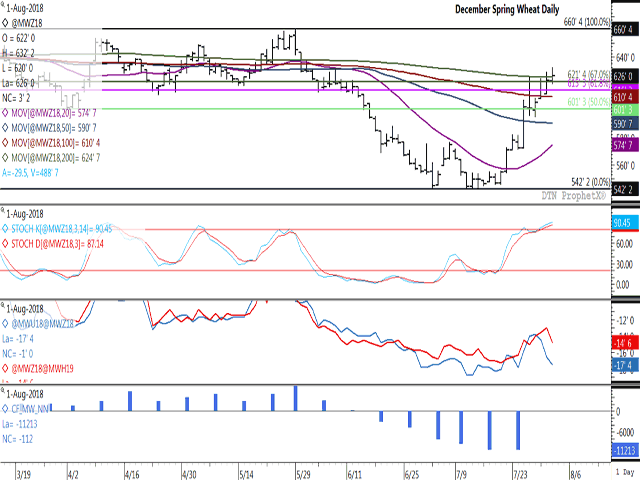 A DTN customer asked whether the December spring wheat chart has the potential to test the May high of $6.60 1/2/bushel. From a technical perspective, this week's move seems positive but sustaining the move could be a challenge.
Monday's trade saw the December price breach the 61.8% retracement of the move from the May high to July low, calculated at $6.15 1/4/bu. Tuesday's trade saw a close above the 67% retracement of the same downtrend, calculated at $6.21 1/2/bu. Wednesday's trade resulted in a close above the contract's 200-day moving average at $6.25/bu, the first such close seen since May 29, or over two months.
In between Wednesday's close and the May high is potential resistance at $6.32 1/2/bu, which represents the June high on the daily chart. Wednesday's high fell just 1/4 cent from testing this level, which could clear a path to the May high.
At the same time, the studies below the chart would suggest caution should be exercised. The blue bars of the histogram in the lower study showed investors or noncommercial traders holding the largest net-short position seen in the history of CFTC data as of July 24. This week's upside is tied to the activity within this group covering these positions, while the first study shows stochastic momentum indicators on the daily chart in over-bought territory, which could act to slow this activity.
The middle study, or the spread chart, could be viewed as concerning. Despite the bullish reports of reduced production forecasts for global crops such as the E.U., Australia, Russia, Ukraine and China, weakening spreads this week point to a growing bearish sentiment held by commercial traders. The blue line represents the Sept/Dec spread, which has weakened 4 1/4 cents this week to minus 18 cents (March above the December). Nearby support lies at minus 18 3/4 cents, a level reached earlier in July. This weakness has spilled into the Dec/March spread (red line), which weakened 2 cents on Wednesday to a spread of minus 15 cents.
Cliff Jamieson can be reached at cliff.jamieson@dtn.com
Follow Cliff Jamieson on Twitter @Cliff Jamieson
(ES/)
© Copyright 2018 DTN/The Progressive Farmer. All rights reserved.