Canada Markets
Malaysian Palm Oil Leading the Way Lower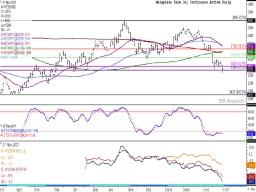 Mondays are not a particularly good day for Malaysian palm oil trade, with Monday's trade forming a bearish gap lower with a 1.6% drop reported this session to the lowest level reached in almost four months. The continuous active chart shows a daily loss in each of the past three Mondays, with the November 20 trade also resulting in a bearish gap lower that resulted in a 3.2% drop that saw price tumble below the contract's 200-day moving average.
This weakness is linked to a combination of expected increasing production in November while exports are viewed as sluggish, with estimates suggesting November exports will be down 8.5% from last month. Last week, India substantially hiked import tariffs on imported vegetable oil, both crude and refined, in order to protect domestic industries and farmers. India is the world's largest vegetable oil importer.
As seen on the attached graphic, Monday's trade dipped below but retraced to close above 2,580 ringgits, a price level that represents the 67% retracement of the move from the June low to September high on the continuous active chart. This session's move represents a three-month low. A move below this level may not be good news for this market and could point to a continued grind lower.
In total, this market has moved 10.6% below its September high. A look at the lower-study on the attached chart shows weakening futures spreads (Jan/Feb, Feb/March and March/April), which points to bearish commercial activity weighing on the market and very much resembles the spread chart for the canola market.
For comparison's sake, the continuous active soybean oil chart shows Monday's move reaching a five-week low, the continuous active Euronext rapeseed price hit a five-week low while the continuous active canola chart also shows a five-week low reached in today's trade. Key support levels are also being testing on these charts. The December soybean oil future traded below its 200-day moving average and closed at a level that was equal to this moving average on Monday. January canola move below trendline support drawn from the contract's September low while is nearing the 50% retracement support line based on the move from the contract's September low to November high.
DTN 360 Poll
This week's poll asks if you think cash rent costs will change over the upcoming crop year. You can weigh in with your thoughts on this week's poll, found at the lower right of the DTN Canada Home Page.
We thank you for you input!
Cliff Jamieson can be reached at cliff.jamieson@dtn.com
Follow Cliff Jamieson on Twitter @CliffJamieson
(AG)
© Copyright 2017 DTN/The Progressive Farmer. All rights reserved.