Canada Markets
March 31 Canola Inventory to be Closely Watched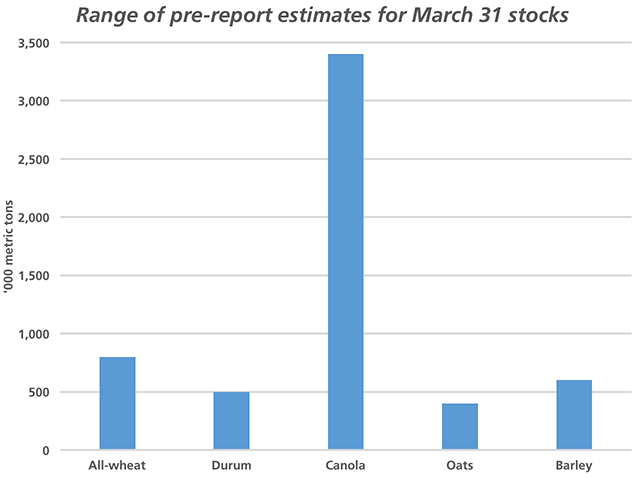 As seen on the attached graphic, the range of estimates from the lowest to the highest for March 31 stocks as seen in pre-report surveys reported by the media ranges from 400,000 metric tons to 800,000 mt for Canada's all-wheat, durum, oats and barley. At the same time, the range of canola stocks as of March 31 is reported from 5 million metric tons on the low end of estimates to 8.4 mmt on the high end for a range of 3.4 mmt, which points to varying opinions that could have huge implications for the market prior to available new-crop.
PI Financial's Morning Oilseed/Grain/Livestock Outlook reported on DTN, suggests stocks will be in the area of 6.8 mmt, while the five-year average is 7.218 mmt. Stating the obvious, the March 31 stocks will provide an estimate of what is left to cover needs through the end of the crop year (July 31) and through to the availability of new crop. The record pace of demand in 2015/16 saw April through July demand or disappearance (crush and exports) total 6.549 mmt, while the five-year average disappearance is calculated at 5.440 mmt, based on Statistics Canada data. Given that the pace of disappearance in 2016/17 is even higher to-date, it is easy to see how Friday's report could point to a level of stocks that could approach zero by the end of the crop year without serious rationing, as compared to the current AAFC estimate of 1.1 mmt.
All of this is based on current 2016 production estimates, which could also be in need of revision, although a case could be made for a cut or increase made to 2016 production. First, the final production estimate released in December was roughly 400,000 mt lower than the average of pre-report estimates, which points to the possibility that production was under-estimated from the start. Secondly, the production estimates for 2016 included a significant acreage that was left unharvested over winter. Some of these acres may not be harvested, while some of the spring-threshed product may be of limited value to exporters and crushers.
One hint may come from producer deliveries. As of week 38 or the week ending April 23, cumulative deliveries of canola are close to 1.6 mmt higher than the same week last year, while weekly deliveries into licensed facilities in week 38 totaled 411,300 mt, a 12-week high. While it has been expected that this pace of activity must slow drastically, this has yet to happen.
Given the average of pre-report estimates for March 31 stocks of both barley and oats, Friday's results could be in-line with current AAFC supply and demand estimates for the crop year. Wheat and durum estimates could, however, prove bearish. Given the average of pre-report estimates of 18.3 mmt for all-wheat and 5.2 mmt for durum, the April through July disappearance realized in 2015/16 and on average over the past five years would lead to a substantially higher 2016/17 ending stocks figure than currently estimated by AAFC.
DTN 360 Poll
DTN's latest poll asks what best describes the spring planting conditions in your area. This poll can be found at the lower right of your DTN Home Page.
Cliff Jamieson can be reached at cliff.jamieson@dtn.com
Follow Cliff Jamieson on Twitter @CliffJamieson
(CZ)
© Copyright 2017 DTN/The Progressive Farmer. All rights reserved.