Canada Markets
No Bad News Needed in Wheat Markets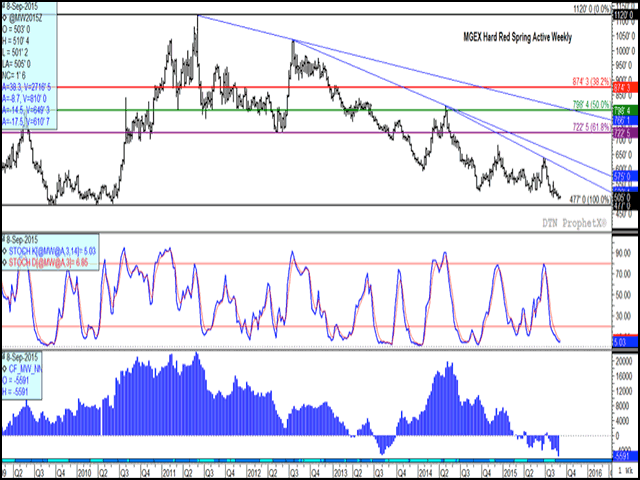 Wheat buyers are putting on a brave face ahead of this week's USDA report on Friday, with soft red winter contracts leading the other two wheat markets higher for the second day today after reaching fresh contract lows last week. As seen on the continuous active weekly HRS chart, today's trade in the December has consolidated within last week's trading range as traders look towards the next release of fundamental data.
The August report increased the size of the U.S. crop by 5.4% from the previous year, while revising global production higher by .6% or 4.59 million metric tons. The overall end result was an estimate which suggests a global record level of production of 726.55 mmt, as well as a global record for ending stocks of 221.47 mmt. The global stocks/use ratio estimated for 2015/16 is calculated at 31%, among the highest levels seen since the 2001/2002 crop year.
The global situation has led to intense competition in export markets, with last week's export inspections in the U.S. reported to be 23% behind the same week last year, when USDA has forecast an 8% increase in wheat exports over the course of the 2015/16 crop year. Canadian exports are also behind last year, although weakness in the Canadian dollar may have eased the pain, with the Canadian Grain Commission reporting week 4 licensed exports at 1.6703 million tons, down 8.4% from last year although 34.7% above the average level of exports reported over the past four years.
More bad news this week could result in further pressure in wheat markets. Should the $5/bu level fail to hold given the potential for further downside, perhaps the obvious move would be to a test of support in the $4.77/bu to $4.85/bu range. As seen on the attached chart, there are eight weekly lows between $4.77/bu and $4.85/bu which range from the week of September 8 2009 to the week of June 7 2010.
The histogram in the lower study indicates noncommercial traders or investors increasing their net-short position of HRS wheat by 35.7% in the past week to 5,591 contracts net short (futures only), which reflects a growing bearish sentiment within this group as of the week ending September 1. While this group of investors has held a bearish, net-short position in all but four of the past 26 weeks, this is the largest net-short position held since the week of April 20, 2005, a period of over ten years.
Commercial traders on the other hand, showed signs of supportive buying this session across all three markets while seeing value at today's low prices. Recent CFTC data shows commercial traders holding a net-long position in HRS of 7,074 contracts as of September 1 (not shown), a significant jump from the previous week and the largest net-long commercial position held since April 2005.
DTN 360 Poll
This week's poll asks what you feel was the biggest surprise in Thursday's Statistics Canada July 31 stocks. You can weigh in on this poll which is found at the lower right of your DTN Home Page.
Cliff Jamieson can be reached at cliff.jamieson@dtn.com
Follow Cliff Jamieson on Twitter @CliffJamieson



(CZ)
© Copyright 2015 DTN/The Progressive Farmer. All rights reserved.