Canada Markets
Weaker Canadian Dollar Trade Boosts Prospects for Canadian Exporters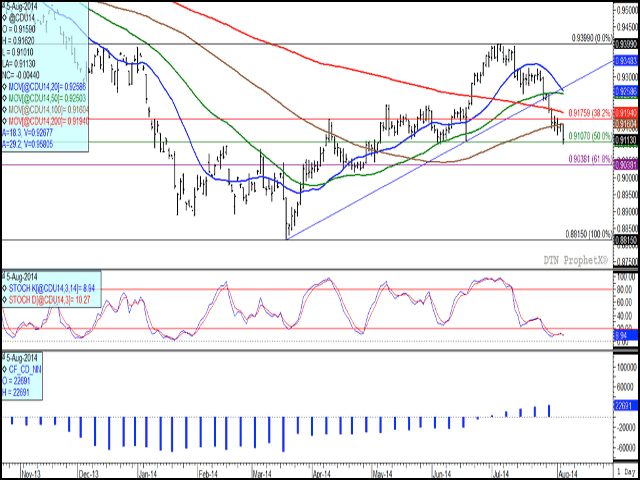 The Canadian dollar hit a three-month low today, with electronic trade reaching a low of $.9101 CAD/USD, the lowest level seen since early May. Since reaching a high of $.9399 CAD/USD on July 3, the Canadian dollar has slipped 3.2%.
Signs exist that further weakness could play itself out in the months to come, which would be a boon to grain producers whose product is destined for world markets.
One indication comes from The Economist Magazine's Big Mac Index. The magazine calls this a "light-hearted, protein-rich analysis," while focusing on the purchasing power parity between currencies. The cost of a Big Mac around the world in local currencies are converted to U.S. dollars in order to make comparisons, with the most recent analysis suggesting the Canadian dollar is overvalued by 9.4%.

P[L1] D[0x0] M[300x250] OOP[F] ADUNIT[] T[]

Some banks and economics firms also continue to foresee the Canadian dollar trading in the 85-to-88-cents range moving forward. A lack of inflation as well as ongoing pressure on oil prices may also weaken interest in the dollar, with West Texas Intermediate reaching a low in Tuesday's trade near a test of the contract's 200-day moving average.
As seen on the attached chart, the September Canadian dollar tested the 50% retracement of the move from the March low to the July 3 high, which is found at $.9107 CAD/USD in today's trade, after breaking below all major moving averages as well as trendline support in recent weeks. After crossing below the contract's 100-day moving average on Aug. 1, electronic trade has tested the resistance of this moving average on Aug. 4 and 5, with a buildup of resistance at this level pushing the exchange rate to lower levels today. While prices have held at the support level of the 50% retracement so far, a slip below this could see a further move to $.9038 CAD/USD, the 61.8% retracement of the same rally.
The middle study on the chart indicates that the daily contract is oversold, which does leave prices exposed to a sudden move higher, although the weekly chart (not shown) would indicate that momentum indicators are trending lower while in neutral territory and there remains room for further downside.
The lower study is of interest. Noncommercial traders or investors have remained net-short or bearish starting from the week of May 27, 2013 to the week of June 18, 2014. At this point they turned bullish the loonie and have since held a net-long position, with recent data indicating a net-long position of 22,691 contracts as of the week of July 30. This is the largest net-long positions seen since the week of Feb. 13, 2013. Should this group become discouraged with this recent change in direction with respect to the future direction of the Canadian dollar, this group may act to conduct further selling which could place further weakness on the currency.
Canadian market watchers will be waiting patiently for Canada's employment data to be released Friday. Canadian economists have already reported an expected average increase of 25,000 positions, while unemployment is expected to nudge lower to 7%.
Cliff Jamieson can be reached at cliff.jamieson@dtn.com
Follow Cliff Jamieson on Twitter @CliffJamieson
(ES)
© Copyright 2014 DTN/The Progressive Farmer. All rights reserved.