Canada Markets
Has all of the Bearish News Hit the Wheat Market?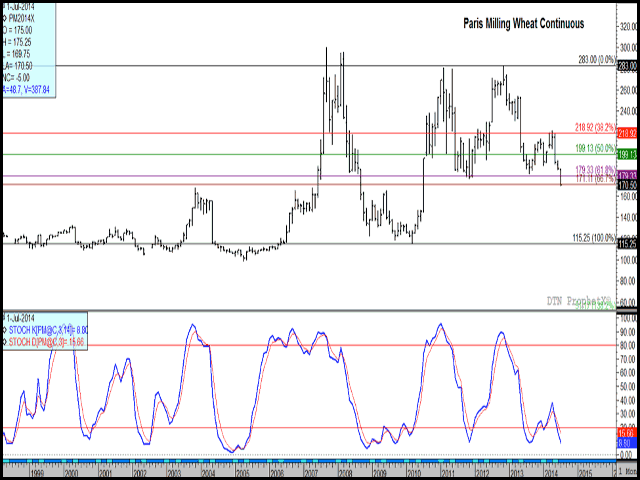 July was not friendly to the wheat markets, with losses in the nearby contracts ranging from 8% to 10.6% in the hard red winter, soft red winter, hard red spring and the Paris milling wheat market, as shown on the attached chart. The HRW market led the move to the downside, but interestingly, the September HRW contract is the only one of the three U.S. markets which has held above the lows reached in January this year.
Of interest today is the monthly release from the International Grains Council. The ICG raised 2014/15 global production by 3 million metric tonnes to 702 mmt, which is a 1% drop from its 710 mmt estimate for 2013/14. At the same time, its 2014/15 global consumption figure was boosted 2 mmt to 699 mmt since June, a 1.2% increase over the estimated consumption of 691 mmt for 2013/14. The bottom line -- despite an expected boost in production, the ICG actually cut expected ending stocks by 1 mmt since last month to 193 mmt, perhaps a sign that the flow of bearish news to the market is in decline.

P[L1] D[0x0] M[300x250] OOP[F] ADUNIT[] T[]

Also of interest are reports from Agrimoney suggesting that one cargo of United States SRW to Egypt's central buyer GASC was actually lower in price than the Russian origin wheat purchased, while it was only the freight differential which lost the business.
It would appear that the world will be covered with ample stocks of available wheat in the upcoming crop year and wheat trade will remain competitive, although technically, wheat markets remain deeply over-sold and price remains vulnerable to a sudden change in direction.
---
DTN 360 Poll: How do you view the potential of the crop in your area? Average? Above average? We invite you to share your thoughts in DTN's 360 Poll found at the lower-right of your DTN Home Page.
Cliff Jamieson can be reached at cliff.jamieson@dtn.com
(ES)
© Copyright 2014 DTN/The Progressive Farmer. All rights reserved.