Canada Markets
Canola Cash Basis Strengthens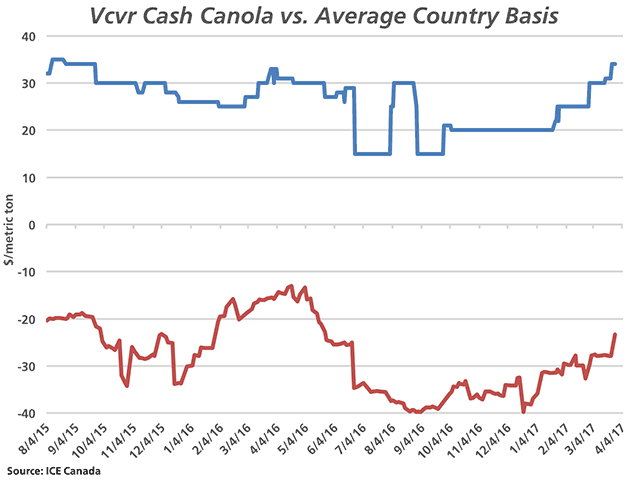 What a difference a week makes! As of Monday's May canola low, the contract had fallen $40.90 per metric ton during March while basis remained flat at roughly $28/mt under the May contract. Over the past few weeks, the nearby future reached the top one-third of the range of prices shown over the past five years, as indicated by DTN's Canola Price Probability chart, only to end last week in the lower 53% of the range traded over the past five years. Cash prices were allowed to free-fall, with little indication that anyone would chase after supplies.
Until today.
Stronger cash basis from both crushers and exporters, mostly situated in the western Prairies, led to the average prairie basis strengthening $4.51/mt since last week to an average of $23.35/mt under the May contract. This remains $7.86/mt weaker than calculated this time last year, despite a higher level of stocks available last year combined with a slower pace of producer deliveries. One company narrowed basis by approximately $10/mt across western locations today, while according to one customer, is not the company that would normally lead such a move. Further, such moves are likely as other companies position themselves to compete.
The latest week's COPA crush was reported at an all-time weekly record of 208,268 mt, while Vancouver cash strengthened $3/mt during the past week to $34/mt over the May contract, the strongest basis seen since September 2015. It seems ironic that this was taking place at the same time that Reuters was talking about potential sales cancellations to China, a story that does not appear to be verified at this time.
As seen on the attached chart, the trend in the average prairie basis (red line) is following the similar move seen in the Vancouver cash basis (blue line). Of interest may be the spread, which is calculated at $57.35/mt on Tuesday. This time last year, this spread was calculated at $48.49/mt under, while was calculated as narrow as $40.77/mt in mid-February 2016. This was during a time when AAFC was estimating a 1.750 mmt carryout in February while increasing this estimate to 1.850 mmt in March, well above the current 1.1 mmt estimate they have released for the current crop year.
One further sign of a change in sentiment is the May/July spread has strengthened from minus $6.80/mt Friday to minus $4/mt Tuesday, a further sign of bullish commercial activity. This alters a trend of bearish commercial behavior that has been in place since March 6, given the weakening spread.
Cliff Jamieson can be reached at cliff.jamieson@dtn.com
Follow Cliff Jamieson on Twitter @CliffJamieson
(ES)
© Copyright 2017 DTN/The Progressive Farmer. All rights reserved.