Canada Markets
December Spring Wheat Struggles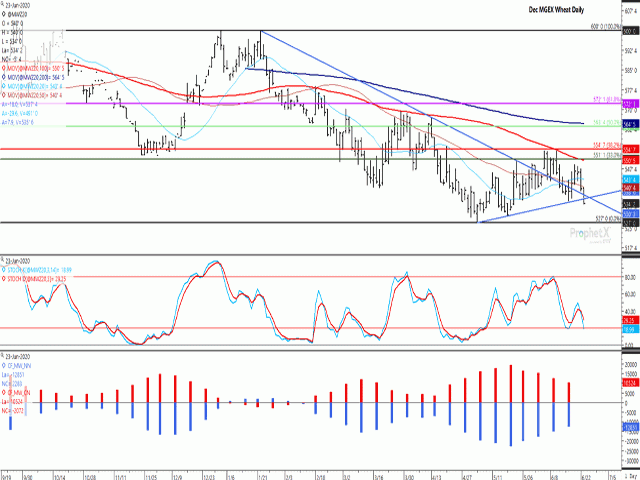 December MGEX spring wheat ended 4 3/4 cents lower in Tuesday's trade to close at $5.35 per bushel (bu), following a 6 1/4-cent loss in Monday's session. This is the lowest level reached in 23 trading sessions. Tuesday's move also resulted in a move that fell below the 67% retracement of the move from the contract's May low to June high (not shown), calculated at $5.36/bu, which clears a path for a further move to the May contract low.
Between June 4 and June 10, December spring wheat broke higher from a triangle chart pattern, while prices met their match at the 38.2% retracement of the move from the contract's January high to May low at $5.55/bu. Despite the moves higher, the December contract has posted losses on the weekly chart (not shown) in two of the past three weeks, while has also closed lower in each of the past two days.
This week's move has seen price fall below the last of the major moving averages with a close below the 20-day and 50-day in Monday's trade. Tuesday's close also landed below the upward-sloping blue line on the chart, trend line support drawn from the contract's May low.
A further move lower could result in a test of the May 18 low at $5.29 1/2/bu, the last line of defense prior to a test of the May 4 contract low at $5.27/bu.
The blue bars of the histogram on the lower study shows the noncommercial net-short position being reduced over four consecutive weeks as of June 16. It is possible that this group has turned increasingly bearish, with favorable forecasts pointing to widespread precipitation for the Northern states and Canadian prairies for the week ahead.
Despite the six-point reduction in the good-to-excellent crop condition rating reported for United States spring wheat in the week ended June 21, the 75% rating remains just below the 77% reported for the same week in 2018, which was the highest condition rating seen for this week over the past five years. The five-year average is calculated at 67.2% good to excellent. The potential for an above-average crop, along with bearish global forecasts, may prove a bearish combination for spring wheat trade.
Cliff Jamieson can be reached at cliff.jamieson@dtn.com
Follow him on Twitter @Cliff Jamieson
© (c) Copyright 2020 DTN, LLC. All rights reserved.