Canada Markets
Global Wheat Stocks Revised Lower, Boosting Prices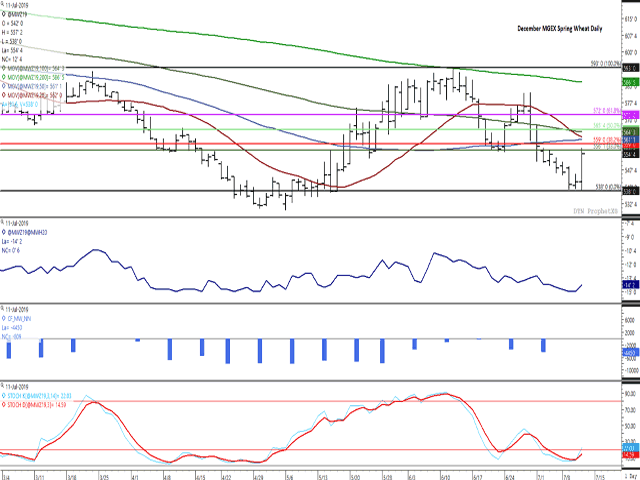 Wheat markets clearly received a sought-after boost following the release of the monthly World Agricultural Supply and Demand Estimate (WASDE) report by the USDA. September and December hard red spring wheat closed 12 1/2 cents higher, September soft red winter closed 16 3/4 cents higher and September hard red winter finished 20 cents higher. While the winter wheat contracts named reached their highest levels in seven sessions, December spring wheat reached its highest level in six sessions.
This month's report saw the USDA reduce 2019-20 global ending stocks of wheat by 7.88 million metric tons from last month to 286.46 mmt, a steeper cut than expected in pre-report estimates and supportive of the price moves realized in Thursday's trade.
There may be reason to be cautious of the exuberance seen in Thursday's wheat trade. The estimated 286.46 mmt carryout remains at a record level and represents a year-over-year increase of 11.3 mmt, or 4.1%, from estimates for the current crop year. As well, global consumption was revised close to 3 mmt lower this month from last month's report as feed wheat consumption is revised lower globally, although remains 3.2% higher than the current crop year, also at a record level.
Global stocks/use is calculated at 37.7% in 2019-20, up close to 0.4 percentage points from the estimates for 2018-19 and very close to unchanged over a three-year period as stocks remain stubbornly high.
Also a concern, while U.S. stocks of wheat are expected to fall year-over-year in 2019-20, from 1.072 billion bushels to 1 bb, stocks of both spring wheat and durum are seen bucking this trend, with U.S. hard red spring wheat stocks forecast to rise by 21.9%, to 323 million bushels (8.791 mmt), the largest carryout since 1987-88. This represents a bearish 58.5% of estimated disappearance, up sharply from the 45.6% estimated for the 2018-19 crop year.
Durum stocks are expected to rise by a more modest 9.1%, to 60 mb (1.6 mmt), which would be the highest carryout realized since 1990-91, representing a bearish 55.6% of estimated disappearance.
The August report is viewed as the report to watch when the USDA is expected to adjust seeded acres.
**
DTN 360 Poll
DTN's latest 360 Poll asks what you think of the latest Statistics Canada preliminary acreage estimates and where you think the biggest revisions will be seen for 2019. Feel free to weigh in with your thoughts on this topic, with the poll found on the lower-right side of your DTN Canada Home Page.
Cliff Jamieson can be reached at cliff.jamieson@dtn.com
Follow him on Twitter @Cliff Jamieson
(ES)
© Copyright 2019 DTN/The Progressive Farmer. All rights reserved.