Cottonseed in Heart of Texas
Lone Star Ag Leader Waiting to See if Perdue Will Change Cotton's Fortunes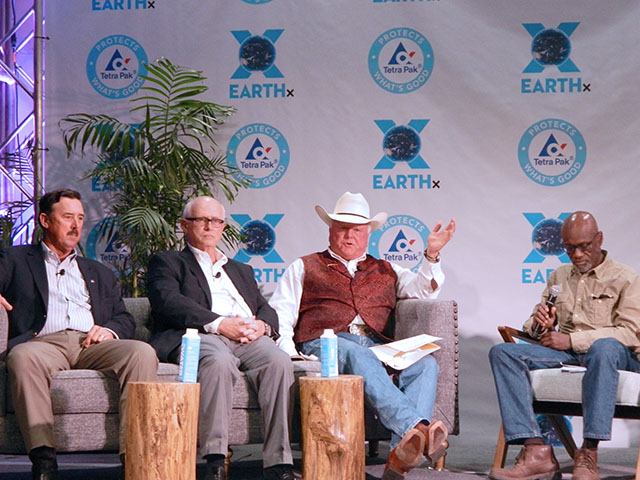 DALLAS (DTN) -- Texas agricultural leaders will be watching Washington, D.C., to see if Sonny Perdue -- about to be confirmed and sworn in as Agriculture secretary -- will declare cottonseed as an oilseed eligible for farm bill programs before the next farm bill legislation.
State Agriculture Commissioner Sid Miller spent part of Saturday at Earth Day Texas events at the Texas State Fairground in Dallas. Miller gave a speech, then sat down in a forum with leaders and members of the Texas and American Farm Bureau Federations. Talking to DTN afterward, Miller said cotton is a foremost issue for Texans and the farm bill.
"Cotton is still king here, just like Elvis," Miller said. "If we get a new secretary in, he might fix it before the next farm bill, but that will be one of the priorities for Texas."
After more than three months without a chief, most people in agricultural policy are waiting anxiously for the confirmation vote of Sonny Perdue, which is expected late Monday. The White House and U.S. Department of Agriculture are already planning swearing-in events in Washington on Tuesday.
Cotton industry groups opted out of commodity payments in the 2014 farm bill. Prices for cotton fell as transitional Direct Payments ended, and industry groups began calling for former Agriculture Secretary Tom Vilsack to designate cottonseed as an "other oilseed" that would open up cottonseed to enroll in the Price Loss Program to collect payments. Vilsack declined to do that, instead opting to help cotton with $300 million in payments to producers through a cotton-ginning program last year.
Cotton producers would still like to see the new Agriculture secretary open up cottonseed for commodity programs. Russell Boening, president of the Texas Farm Bureau Federation, said the program issues surrounding cotton are especially important to growers in western Texas. Boening added, "It's a little above my paygrade" to know if Perdue is going to tackle the cottonseed designation. But Perdue is certainly going to hear about it.
"We're hoping he will. I know it's going to be mentioned to him," Boening said. "So that's kind of what we're looking forward to and if that doesn't happen, of course we will be looking to address it in the farm bill."
Cotton prices reached a high this month of 79.63 cents a pound for old-crop cotton on the May contract. The December contract hit a high of 75.72 last week. That compares with a low of 54.53 cents a pound in February 2016. Ending stocks for the 2016-17 crop are pegged to come in at 3.7 million bales, down 10 million bales from last year. But cotton planting is expected to grow to 12.2 million acres, up 1.9 million acres from last year.
Texas agriculture "is in kind of a tough spot right now" because of overall low commodity prices in several crops Boening said. The bright side, however, is Texas also has had a lot of rain. That may have slowed planting for cotton, but the wet spring means the winter wheat, planted corn, hay and pastures are all doing well.
Overall, Boening said he believes the farm bill has worked pretty well outside of cotton and dairy. Right now, he would just like to see the legislation keep its current spending levels.
"Right now, we just don't want to see any more cuts," Boening said. "We feel like we gave up in the last go-round, and we don't feel like ag should be in line for any more cuts. Commodity prices are low right now, so that's where we are on it."
Miller called the farm bill, "a massive undertaking" due to both the agricultural parts of the bill and the spending on nutrition programs such as the Supplemental Nutrition Assistance Program.
Miller added he is a friend of House Agriculture Committee Chairman Mike Conaway, R-Texas. Conaway's influence on the farm bill will help the Lone Star State, Miller said.
"I think Texas is in a good spot, I guess, on having influence on the new farm bill," Miller said.
Speaking to DTN after the forum, Miller also wants to see if the farm bill can reduce some of the inspection burdens under the Food Safety Modernization Act. His agency inspectors are going to have to spend more time inspecting fruits and vegetables in the farm fields.
"I would like to see them roll back FSMA," Miller said. "This new inspection work we are going to have to do is going to be ginormous. It's growing too much government."
Boening also added that the farm bill has to encompass all of agriculture. While money may be tight legislatively, Boening said it is important to understand agriculture has to work together to get a bill passed.
"We have to make sure whatever works for Texas cotton is going to work for Iowa corn," Boening said.
Miller also touched on issues such as trade, especially with Mexico. Miller, a member of President Donald Trump's advisory team for agriculture, indicated he was a little concerned about Trump's tough talk toward Mexico. Miller said he had worked extensively with Mexican agricultural leaders on trade issues.
"I differ from our president this way," Miller said. "I believe in a kinder, gentler approach with our neighbors and keeping those trade doors open."
This year marked the second year in a row the Texas Farm Bureau had participated in the Earth Day Texas events. Boening said the event opens up some uneasy conversations over issues such as biotechnology, for instance. Still, Boening thought the Earth Day events provided a good forum for rural-urban engagement.
"We need to be part of these types of events," Boening said. "We need to go to talk to our urban folks. Where else are you going to go?"
Boening added, "At the end of the day, we need to talk to some of these folks and you won't change everybody's mind, but at the end of the day, you will get some of them thinking. We don't mind talking about controversial topics as long as we get a fair shake."
Miller also said it was important for people in Texas agriculture and state officials to participate and play a larger role in Earth Day Texas events. Miller reiterated that Republicans want clean water and clean air, as well as conservation practices in agriculture. Miller noted he's planted more than 20,000 trees.
"I grow trees!" Miller said. "I'm a Republican and I grow trees, hey!"
Chris Clayton can be reached at Chris.Clayton@dtn.com
Follow him on Twitter @ChrisClaytonDTN
(AG)
© Copyright 2017 DTN/The Progressive Farmer. All rights reserved.