Poet Joins Navigator Carbon Pipeline
Poet Signs on to Navigator Carbon Pipeline Project for 18 Ethanol Plants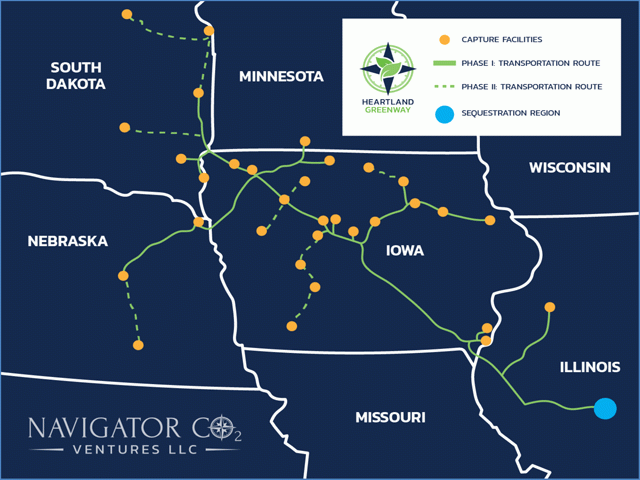 OMAHA (DTN) -- Poet, the world's largest ethanol producer, has signed a letter of intent to capture, ship and store carbon for at least 18 of Poet's ethanol plants with the Navigator CO2 Ventures LLC pipeline that would store the carbon in Illinois.
Under the letter of intent, Navigator will ship and store approximately 5 million metric tons (mmt) of carbon dioxide annually from POET ethanol plants in Iowa, Nebraska and South Dakota as part of Navigator's proposed pipeline called the Heartland Greenway system. In a news release, Navigator stated the collaboration between the two companies also would work on the development of a "central carbon offset marketplace and carbon use logistics platform." Navigator projects its pipeline system will be operational by 2025.
The announcement reflects somewhat of a shift for Poet, which had been noncommittal about signing with the pipeline project because Poet also has developed a market in recent years to provide CO2 to companies such as food processors.
TIME TO TAKE BOLD ACTION
"We recognize that now is the time to take bold action to preserve our planet for future generations," said Jeff Broin, founder and CEO of Poet. "Poet has been a leader in low-carbon biofuels and CO2 capture for commercial use for decades, and this project is another significant step in utilizing bioprocessing to accelerate our path to net-zero. We choose our partners carefully, and we believe Navigator has the expertise to deliver long-term value to rural America by further positioning agricultural commodities as a viable source of low-carbon liquid fuels to power our future."
Navigator is one of several pipeline companies signing contracts with ethanol plants and other companies to capture and store carbon. Across Iowa alone, at least three pipeline projects to capture and ship carbon have been proposed. In other states, companies are repurposing natural gas lines for carbon storage.
Navigator and Summit Carbon Solutions are the two largest projects, both proposing to crisscross multiple states. Navigator proposes a 1,300-mile pipeline to connect ethanol plants and other businesses in South Dakota, Nebraska, Minnesota, Iowa and Illinois, and sink the carbon in central Illinois, near Decatur. Summit plans to move in the opposite direction, heading into North Dakota to sink carbon for its pipeline, which is projected to run more than 2,000 miles and cost $4.5 billion.
POTENTIAL TO SELL AT HIGHER VALUE
For ethanol plants, the ability to ship carbon through a pipeline and sink it in the ground opens up the potential to sell ethanol at a higher value, especially in states that have low-carbon fuel standards such as California and Washington State.
Carbon pipelines also are eligible for a federal tax credit known as Q45 that would pay $50 a ton for captured carbon that is permanently stored.
While touted as a benefit to farmers because of low-carbon fuels, carbon pipelines also have sparked landowner opposition in the states as well. In Iowa, Nebraska and South Dakota, there are questions over whether carbon pipelines have the right of eminent domain. Each state also has a different process for pipeline permits and public hearings on those projects.
While Summit has submitted an application seeking approval from the Iowa Utilities Board, Navigator has yet to submit an application. Still, hundreds of residents and multiple county boards have filed complaints with the utility board about the projects.
In its news release, Navigator noted it has now signed up more than 30 industrial users in agriculture and food production involving more than 10 mmt of annual carbon dioxide emissions. Navigator now projects its projects will end up capturing and storing as much as 15 mmt annually.
"This agreement is a testament to two industries coming together and using their resources to pave innovative pathways toward carbon neutrality and a more sustainable future," said Matt Vining, CEO of Navigator. "The breadth, scale and technical acumen of each party's platform is unmatched."
Information on Navigator CO2 Ventures: https://www.navigatorco2.com/…
Chris Clayton can be reached at Chris.Clayton@dtn.com
Follow him on Twitter @ChrisClaytonDTN
(c) Copyright 2022 DTN, LLC. All rights reserved.