Vilsack, USTR's Tai Hear About Ag Trade
Farmers Stress Fertilizer, Mexican Corn Concerns with Biden Cabinet Members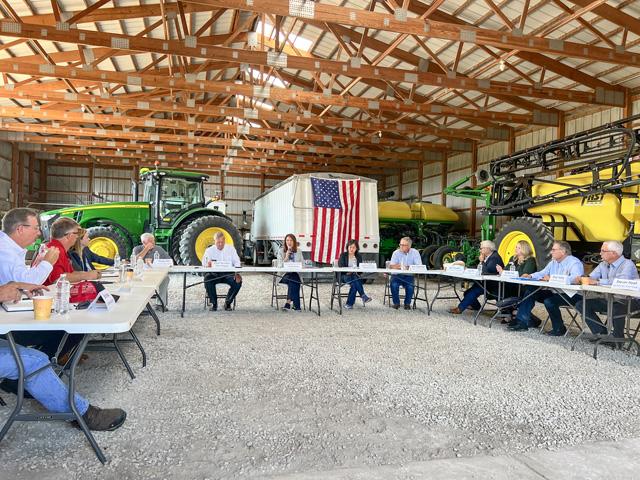 WOODWARD, Iowa (DTN) -- Farmers stressed the pressures they are facing with fertilizer prices, including import tariffs, as well as Mexico's stance on genetically engineered crops and the need for continued access to foreign markets as an Iowa congresswoman hosted U.S. Trade Ambassador Katherine Tai and Agriculture Secretary Tom Vilsack on Thursday.
Farmers representing at least a dozen agricultural groups met with the two Biden administration Cabinet members along with Rep. Cindy Axne, D-Iowa, as they championed the recently signed legislation on energy and climate change, as well as semi-conductor legislation and infrastructure.
"A state like Iowa is already a leader in ethanol, biodiesel and wind power," Tai said, highlighting the Inflation Reduction Act. "This law will further our leadership."
FARMERS CONCERNED ABOUT TARIFFS, COSTS
Farmers, though, spoke more about high input prices. Sam Spellman, who hosted the event in his machine shed, told Tai that some details on worst-case scenarios should be provided when tariffs are enacted.
"Tariffs sometimes are quite disruptive to our farming operations," Spellman said.
Daniel Heady, head of government relations for the Iowa Farm Bureau, said farmer leaders of the groups have seen their fertilizer costs rise 300% during the past year. "One of the things we are pushing the administration to do is reduce tariffs on necessary ag products," Heady said.
Farmers and members of Congress have repeatedly called on the administration to waive the 20% tariffs on phosphate from Morocco that the International Trade Commission placed on Morocco in spring 2021. The ITC's ruling is under review from a trade judge, but farm groups sent a letter to President Biden in late July calling on him to waive the tariffs.
"Those things are extremely important to our members," Heady said.
Lance Lillibridge, president of the Iowa Corn Growers Association, touched on his fertilizer costs and echoed Heady's comments.
"The costs on my farmer are up about 325%," Lillibridge said. "It's getting to be unbearable."
Tai noted anti-dumping and countervailing duty tariffs fall under the purview of the Commerce Department, "but I think it's reasonable for us to take a look at the health and functioning of the market here domestically in light of changes that have happened in the international context and how healthy competition is here," Tai said.
As DTN Retail Fertilizer Trends reports this week, DAP and MAP prices have come down from their spring peaks, but both products are still running 26% to 30% higher than they were a year ago. (See https://www.dtnpf.com/…)
Vilsack said USDA will be rolling out some support this fall to help advance some new fertilizer plants and mining operations either in the process of construction or permitting that will help alleviate some of these pressures on imported fertilizer.
MEXICO'S BIOTECH POLICIES
Bob Haus, representing Corteva, which employs about 3,000 people in central Iowa, raised the issue with officials over Mexico's delays or refusals to approve 14 biotech crop traits involving corn, soybeans and cotton.
"As our customers will attest, this will affect their decisions going forward on what to plant," Haus said.
Lillibridge also noted Mexico is the top U.S. market for corn and dried distillers' grain exports. Lillibridge said he is concerned about statements and executive orders that Mexican President Andres Lopez Obrador has made about biotech crops.
"With these decrees, farmers are very, very concerned about what will happen," Lillibridge said.
Vilsack said he has repeatedly spoken to Mexican Agriculture Secretary Victor Villalobos about biotech corn. "I have talked to him so many times that we don't know how many times," Vilsack said.
Vilsack also talked to Obrador on the issue, stressing that any disruption of U.S. corn flowing to Mexico would drive up higher food prices for Mexican consumers. Vilsack touched on the Mexican president's populist politics that highlights his support for small farmers. Obrador sees the issues of white corn versus yellow corn differently. "Part of it is his heritage," Vilsack said. "For him, it's about white corn because (Mexico) is where white corn was first developed."
Regarding the United States-Mexico-Canada Agreement (USMCA), Tai said the deal has strong enforcement mechanisms. "There is a very challenging dynamic that we have on biotech and corn trade with Mexico," Tai said, pointing to Vilsack's comments. "On these very important issues in the USMCA, USDA and USTR are working hand in glove."
Vilsack pointed out Tai already has shown a willingness to use USMCA rules to resolve disputes as the USTR did regarding dairy markets with Canada.
"So, I think that's a strong point that I continually reinforce to my colleagues and my friends in Mexico is that the U.S. Trade Representative's Office is not fearful of using those processes."
TRADE TALKS IMPORTANT
Steve Noah, president of Farmers for Free Trade, credited the Biden administration for creating the Indo-Pacific Economic Framework for Prosperity, but Noah pointed out that's not a specific trade deal that would open new markets and lower tariffs.
"Our competitors have entered into trade deals left and right," Noah said.
Noting the issues the U.S. had with China during the trade war, Brian Kemp, representing the U.S. Soybean Export Council (USSEC) called for developing new markets as well. He spotlighted that since the 2018 trade war, USSEC has worked to increase markets elsewhere, and now Egypt has become a top 4 market for U.S. soybeans.
Vilsack later pointed out that increased market access remains a priority, but he also added the U.S. also is heading towards another year of record agricultural exports as well.
JOHN DEERE PRODUCTION MOVE
Tai also touched on an earlier announcement from John Deere that the farm machinery manufacturer will move some production from two Iowa facilities to Mexico. Tai said agriculture has been a more successful winner in the trade economy than manufacturing, but the CHIPS and Science Act signed into law last month will help because it will increase investment in domestic manufacturing of technology such as semiconductors.
"All of these machines behind me don't run without chips," Tai said, sitting in front of a couple of Deere tractors.
Also see, "Vilsack: IRA Amounts to Biggest Investment in Conservation Since Dust Bowl" https://www.dtnpf.com/…
Chris Clayton can be reached at Chris.Clayton@dtn.com
Follow him on Twitter @ChrisClaytonDTN
(c) Copyright 2022 DTN, LLC. All rights reserved.