Ag Weather Forum
Favorable Trend for South America Soybeans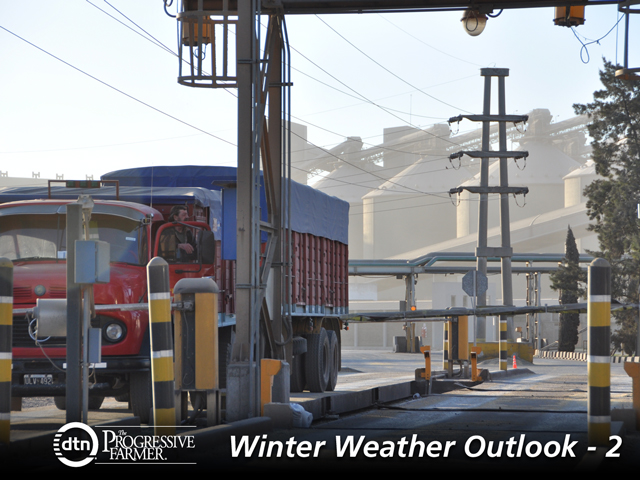 OMAHA (DTN) -- U.S. soybean production hit a record 3.36 billion bushels in 2009, and came close to matching that with 3.33 bb in 2010. This year, U.S. production will again be near that 2010 production mark.
That's a lot of production, but that's where Brazil's soybean crop is headed this season; it's projected in the trade as high as 90 million metric tons or 3.3 billion bushels. That will mean two huge crops in the Western Hemisphere to be marketed within the same production cycle.
Add in a projected Argentina soybean crop size of around 55 mmt, or the range of 2 bb, and the total production of the two largest row-crop producers in South America is 145 mmt, or 5.3 bb.
"The South American crop looks like a monster that could crush the soybean market once it makes its way to port," said DTN Senior Analyst Darin Newsom.

P[L1] D[0x0] M[300x250] OOP[F] ADUNIT[] T[]

That's big production, and as of early January there are no weather-related issues after southern Brazil and Argentina crops received milder temperatures and better rainfall following a December heat wave worried some farmers.
December rain came in below average in south-central Brazil provinces of Parana (54% of average) and Mato Grosso do Sul (84% of average). However, the rain was above average elsewhere in Brazil: by 47% in Goias; 14% in Mato Grosso; 54% in Santa Caterina; and 18% higher in Rio Grande do Sul.
Argentina had below-average rains for December in all major crop provinces except for Cordoba in the west (which was 33% above average). However, moderate to heavy rainfall developed around the New Year's holiday in the northern two-thirds of the country, giving notable improvement to soil moisture supplies.
Forecast details suggest continued rain chances during the rest of January into February, due to the Pacific Ocean showing a weak but definite trend toward warmer sea surface temperatures -- one of the characteristics of an El Nino event. Statistically, El Nino has a high correlation to favorable rainfall in the central Argentina crop belt; a similar relationship exists for southern Brazil as well.
"With the Pacific giving those hints of movement toward El Nino, it's a much more favorable trend for corn and soybeans (production) in Argentina along with especially Rio Grande do Sul in southern Brazil," said DTN Senior Ag Meteorologist Mike Palmerino.
South America's maturing soybean crop -- of possibly 5 billion bushels or higher -- added to the U.S.'s recent harvest of 3 billion bushels or better, implies a market weather factor that leans decidedly bearish even with more than half the season to go in many locations in South America.
Bryce Anderson can be reached at Bryce.anderson@dtn.com
(ES/AG/CZ)
© Copyright 2014 DTN/The Progressive Farmer. All rights reserved.