DOJ Loses Case to Stop Sugar Co. Sale
Federal Judge Rules Southeastern Sugar Refinery Sale Can Move Ahead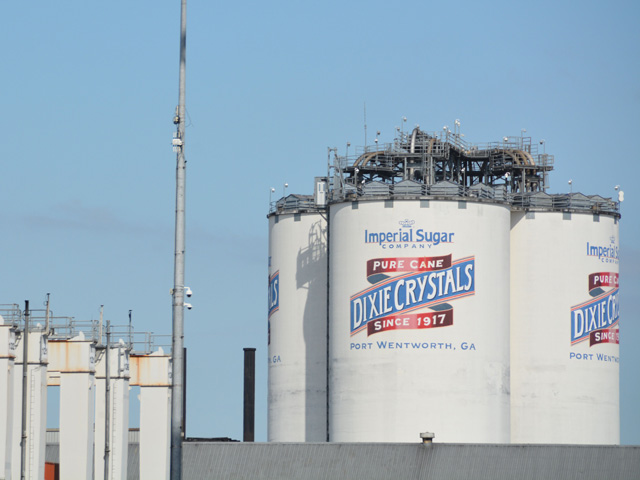 This article was originally posted at 2:41 p.m. CDT on Friday, Sept. 23. It was last updated with additional information at 10:27 a.m. CDT on Monday, Sept. 26.
**
OMAHA (DTN) -- An attempt by the U.S. Department of Justice to block the sale of a large sugar refiner to a competitor failed Friday when a U.S. district judge in Delaware ruled the merger was not anti-competitive.
U.S. District Judge Maryellen Noreika in Delaware on Friday ruled that privately held U.S. Sugar Corp. can move ahead with its $315 million acquisition of Imperial Sugar Co. from Louis Dreyfus Co. Noreika ruled the purchase did not violate Section 7 of the Clayton Act, an antitrust law meant to stop mergers that could substantially lessen competition or create a monopoly.
Noreika's ruling was brief, as the rationale for her decision was placed under seal "to protect third-party confidentiality information" from being publicly released.
The decision was a blow for the Department of Justice's Antitrust Division, which sued last November to block the sale. In its initial filing, DOJ stated U.S. Sugar and Imperial were two of the three largest sugar companies supplying a region stretching from Mississippi to Delaware. Allowing the sale would put sugar buyers in Southeastern states, "At the mercy of a cozy duopoly," DOJ stated in its complaint.
In a statement to DTN, U.S. Sugar stated the company is pleased with Friday's ruling. The company also challenged some comments released by the Department of Justice.
"The people of U.S. Sugar are pleased that Friday's court ruling will allow our acquisition of Imperial Sugar to proceed as planned: enabling us to increase our sugar production, enhance the local Georgia economy and benefit our employees and customers."
U.S. Sugar said Assistant Attorney General Jonathan Kanter issued a statement that "contained flawed information which was included in other media stories."
Kanter issued the following statement regarding the District Court's decision, saying DOJ is disappointed that the court did not block the merger. Kanter said the merger "would combine the world's largest sugar cane refiner with one of its primary competitors in the Southeastern United States and increase reliance on foreign imports. Further consolidation in the market for this important kitchen staple will have real-world consequences for millions of Americans. We are reviewing the opinion and will determine next steps shortly."
U.S. Sugar countered that neither it nor Imperial Sugar are the largest cane sugar refiners in the world. U.S. Sugar noted both refineries produce about 3,000 tons of sugar a day. Another separate refiner in New Orleans producers 3,650 tons a day. U.S. Sugar cited another source putting U.S. Sugar as the 50th largest refiner in the world. hardly "the largest." U.S. Sugar added, "Al Khaleej Sugar in Dubai is considered the largest cane sugar refinery in the world with 6,000 tons per day capacity, which is double the size of ours."
Also, Imperial currently relies almost exclusively on foreign imported sugar to feed its refinery, but if acquired by U.S. Sugar, there would be an "in-house" supply of domestic raw sugar for Imperial. This would seem to decrease rather than increase the need for foreign imports, U.S. Sugar noted.
U.S. Sugar added, "Kanter did not have the facts to or the very basics of their case to prevail in court, and it is clear they still do not have their basic facts straight on sugar issues."
U.S. Sugar, based in Clewiston, Florida, is a member and owner of United Sugars Corp., a cooperative that sells and sets the prices for sugars produced by U.S. Sugar and three other sugar refiners. DOJ described U.S. Sugar as the world's largest vertically integrated sugar miller and refiner.
U.S. Sugar offered to buy Imperial's assets from Louis Dreyfus in March 2021. U.S. Sugar then entered into an agreement with United to market all of Imperial's sugar if the sale were completed.
Justice officials argued that if U.S. Sugar were allowed to acquire Imperial and fold its production into the United cooperative, then United and one other company, American Sugar Refining, would account for nearly 75% of sugar sales across the Southeast, a region that buys roughly 5.5 billion pounds of refined sugar each year. That would further strain supply chains and increase the prices for sugar, as well as foods and beverages.
While the merger primarily affects U.S. Sugar and Imperial in the Southeast, the cooperative United Sugars also includes northern sugar beet producers. American Crystal Sugar Co., Minn-Dak Farmers Cooperative and Wyoming Sugar Co. co-own United Sugars with U.S. Sugar.
The lost case was the second in the same week for the Department of Justice Antitrust Division. Earlier in the week, a separate U.S. District Judge rejected DOJ's attempts to stop UnitedHealth's roughly $8 billion acquisition of Change Healthcare.
The original DOJ complaint can be viewed at https://www.justice.gov/….
Chris Clayton can be reached at Chris.Clayton@dtn.com
Follow him on Twitter @ChrisClaytonDTN
(c) Copyright 2022 DTN, LLC. All rights reserved.