Deal on Livestock Marketing Legislation
Senators Forge Ahead on Deal to Mandate Fed Cattle Negotiated Cash Trade Regionally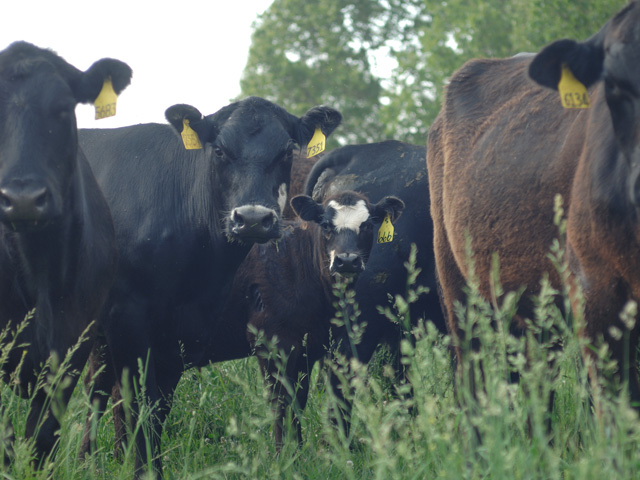 OMAHA (DTN) -- Four U.S. senators have struck a deal on a livestock price discovery bill to expand negotiated cash trade for cattle and a library to provide producers details of marketing contract premiums and discounts being set by packers.
The four main sponsors include Sens. Chuck Grassley, R-Iowa; Deb Fischer, R-Neb.; Jon Tester, D-Mont. and Ron Wyden, D-Ore. Grassley and Tester had previously introduced a bill that competed with one led by Fischer.
The four senators' bill, dubbed the Cattle Price Discovery and Transparency Act, would establish regional mandatory minimum thresholds for negotiated cash and grid trades based on each region's 18-month average negotiated cash trade volumes.
To set those levels of cash and grid trades, USDA would seek public comment and set the minimum levels, though no regional minimum could be more than three times that of the lowest regional minimum, and no regional minimum could be lower than the 18-month average trade at the time the bill is enacted.
Grassley had been pushing for each state to achieve 50% negotiated cash trade, while Fischer has pushed for a more regional approach that was struck in the deal. Still, Grassley told reporters that negotiated cash trade in a state such as Texas is down to just about 6% of the state's fed cattle sales, and the bill would increase that level significantly.
Fischer, in a statement, said robust price discovery can help everyone in the supply chain, and the foundation of that comes down to negotiated cash sales. While cash sales are getting thinner in parts of the country, they are still the basis for marketing agreements between packers and feeders as well.
"One or two regions of the country should not have to shoulder the burden of price discovery, and that's exactly what has been happening," Fischer said. "Furthermore, even regions that primarily use alternative marketing arrangements (AMAs) such as formula contracts predominantly rely on negotiated cash sales to set their base prices. Our compromise proposal takes regional differences into account and ensures fairness for every segment of the supply chain."
While the four senators struck a deal for them to jointly introduce a bill, it remains to be seen how the chairwoman and ranking member of the Senate Agriculture Committee will treat the legislation. Congress has been unable to strike an agreement for a five-year reauthorization of the Livestock Mandatory Price Reporting Act (LMR). Instead, Congress has passed multiple short-term extensions to keep the law in place without making any changes to the bill.
Grassley said the senators "have had very promising discussions" with Sen. Debbie Stabenow, D-Mich., chairwoman of the Senate Agriculture Committee.
The North American Meat Institute, which lobbies for meatpackers, stated that the bill ignores recent analysis of the beef and cattle markets and "the bill's mandated government intervention will have unintended consequences that will hurt livestock producers and consumers." NAMI has consistently maintained there is no need for new legislation to address the balance between packers and producers in the market.
"Beef and cattle markets are dynamic. This fall, prices cattle producers received for their livestock have risen without any government interference," said Julie Anna Potts, president and CEO of NAMI. "In a rush to do 'something,' this bill would replace the free market with government mandates and harm those it is intended to protect: livestock producers."
Groups representing cattle producers and members of Congress have been trying to strike a balance to stimulate more negotiated cash cattle trade, especially over the past two years, as the spread between live cattle prices and boxed beef prices reached record levels following multiple market disruptions such as the Tyson packing-plant fire in Kansas in 2019 and COVID-19 last year.
Ethan Lane, vice president of government affairs for the National Cattlemen's Beef Association, stated that the group is still reviewing the language of the bill and comparing it to NCBA's policy, though "It would appear that -- as in previous versions -- we can support much of this bill."
Lane added, though, that NCBA's policy book also directs the group to oppose government mandates on cattle marketing methods.
"We take the discussions and deliberations that go into our grassroots policy process seriously, and we will hold this bill -- as we would any other -- up against the policy of this association," Lane said.
Lee Reichmuth, a Nebraska cattle producer and a regional director for the U.S. Cattlemen's Association, credited the senators for reaching a bipartisan solution that has a chance to reform cattle markets. Reichmuth said the bill will "restore robust price discovery" and provide producers more information to make marketing decisions.
"Reforming the cattle marketplace to drive transparency and true price discovery is a core tenet of how we can strengthen the U.S. cattle producer's bottom line, and we look forward to working with members of the Senate and House Agriculture Committees to quickly advance this bill," Reichmuth said.
Prices for live cattle and boxed beef are both higher than a year ago with USDA's 5 Area Daily Weighted Average for Slaughter Cattle showing negotiated cash sales at $130 per cwt on Monday, while Choice Boxed Beef Cutout prices were at $288.65 on Monday. But packers processed 36,962 head in the 5 Area (Texas/Oklahoma/New Mexico, Kansas, Nebraska, Colorado, Iowa/Minnesota) while USDA reported negotiated cash trade amounted to 2,578 head, or only about 7% of the cattle slaughter stated in those USDA 5 Area reports.
The Senate bill would also create a public library of marketing contracts between packers and cattle producers while protecting the confidentiality of those involved in the contracts. The Senate bill, though, would prohibit USDA from using confidentiality as justification for not reporting and make it clear USDA must report all Livestock Mandatory Reporting information.
The House Agriculture Committee late last month advanced a standalone bill that would create a contract library for cattle producers reflecting any premiums or discounts associated with a contract. The House bill, HR 5690, would provide those contract details in weekly or monthly reports.
The Senate bill also would require USDA to release more timely information on carcass weights as well as require a packer to report the number of cattle scheduled to be delivered for slaughter each day for the next 14 days.
Senators also would increase penalties packers face in the beef and swine industries for violations under the Packers and Stockyards Act to the same level that a poultry dealer faces when USDA finds a violation.
Some groups that have already announced they back the senators' bill include the American Farm Bureau Federation, the National Farmers Union and the U.S. Cattlemen's Association. Some state groups such as the Iowa Cattlemen's Association also back the bill.
"The provisions outlined in this legislation are based on feedback from the cattle industry, specifically taking into account testimonies shared by independent cattle producers at the Senate Agriculture Committee and Senate Judiciary Committee hearings this summer. We believe this legislation effectively addresses several challenges within the cattle industry. Congress must take swift action to advance this legislation," said Bob Noble, president-elect of Iowa Cattlemen's Association.
Grassley told reporters on Tuesday that the agreement on negotiated cash trade would not solve all of the producers' problems with industry concentration. Asked about efforts to build new independent packing plants in Iowa and Nebraska, Grassley said those efforts are needed.
"These additional slaughters are going to reduce the monopoly impact of the four big packers," Grassley said.
Chris Clayton can be reached at Chris.Clayton@dtn.com
Follow him on Twitter @ChrisClaytonDTN
(c) Copyright 2021 DTN, LLC. All rights reserved.