GOP, White House Pitch Infrastructure
President Says Time Running on Talks as White House Seeks Bold Infrastructure Investment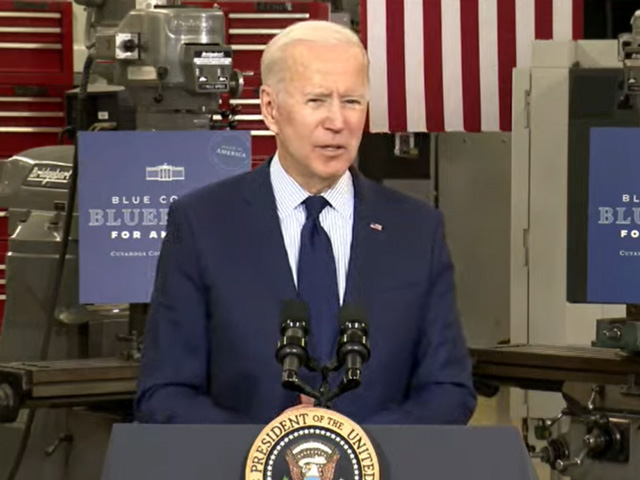 OMAHA (DTN) -- President Joe Biden on Thursday continued to push for a larger infrastructure package to make "generational investments" after Senate Republicans offered a new counterproposal focusing on "core physical infrastructure" that drew lukewarm response from the White House.
The GOP plan and a related bi-partisan highway bill have tens of billions of dollars in road infrastructure, spending on waterways and broadband expansion investment for rural America. Looking to boost funding for USDA programs, a group of Democrats in Congress also wants $200 billion set aside in an array of areas such as conservation, rural development, research and renewable energy.
Republican senators early Thursday pitched a $928 billion spending plan for infrastructure over eight years, still nearly half the cost of Biden's latest proposal that tops $1.7 trillion, though the gap has narrowed. The Republican plan includes new spending of about $257 billion and is nearly double the size of an earlier GOP proposal. Sen. Shelley Moore Capito, R-W. Va., who has been leading talks for Republicans, said the new plan meets goals outlined by the president in a recent meeting.
The Republican plan would increase "baseline spending" for roads and bridges by $91 billion over eight years, as well as $48 billion for water infrastructure, such as ports. Another $25 billion would go to airports, and $65 billion for broadband. The plan would also spend $22 billion for freight and passenger rail and another $6 billion specifically for water capacity infrastructure in western states.
"We believe this counteroffer delivers on what President Biden told us in the Oval Office that day, and that is to try to reach somewhere near $1 trillion over an eight-year span that would include our baseline spending. We have achieved that goal with this counteroffer," Capito said.
Funding, though, is another area where the White House and Senate Republicans are divided. GOP senators proposed taking roughly $700 billion of their funds from current aid and program balances that are not spent yet from prior aid packages.
"We believe that repurposing these funds needs to be a really important part of how we fill this gap," said Sen. Pat Toomey, R-Pa.
Biden, before traveling to Cleveland, Ohio, to make his pitch with another economic speech, said he had not reviewed the details of Capito's counteroffer. He planned to meet again with Republicans next week, but he also had a short conversation with Capito as well.
"I told them to contact me next week. I told her we have to finish this very soon, and there's another Republican group that also wants to talk. But we're going to have to close this down soon," Biden said.
In his speech Thursday, Biden spoke about economic recovery since January as roughly half of the country is fully vaccinated. "We're getting our lives back. We're getting our economy back." Biden, though, said the country need to rebuild, and the middle class needs to be rebuilt.
"Drive anywhere and you can view why we're rated 13th in the world in infrastructure -- the United States of America. You have the 13th best infrastructure in the world, come on," Biden said.
The president noted a GOP Congress "had no problems" passing a $2 trillion tax cut that benefited wealthier Americans and corporations, he said.
While Republicans have said they reject any plans to revisit the 2017 tax cuts, Biden still champions raising the capital gains tax rate from 21% to 28%, which he said would generate $90 billion a year in federal taxes to help pay for his infrastructure plan.
"That would put hundreds of thousands of people to work, modernize our roads, our bridges, our ports, our airports, and pay for it," Biden said.
Biden reiterated now is the time to plan and make a "bold investment" in long-term infrastructure.
"This is the right time to invest when we have historically low interest rates," he said.
In a statement, Jen Psaki, the White House press secretary, said the GOP plan has "several constructive additions" on areas such as roads, bridges and rails. But the plan does not deal with other priorities that the White House considers infrastructure, including "fixing our veterans' hospitals, building modern rail systems, repairing our transit systems, removing dangerous lead pipes, and powering America's leadership in a job-creating clean energy economy, among other things." Lastly, Psaki stated the GOP proposal would lead to major cuts in COVID relief funds for small businesses, restaurants and rural hospitals.
Biden also talked about investment in community college and broadband internet to help youth get the education that American businesses will need to compete when it comes to innovation and technology. He also renewed his call to increase the minimum wage to $15 an hour.
Tying into the series of bills that will eventually become part of a larger infrastructure package, the Senate Environment and Public Works Committee on Wednesday also unanimously passed a $303.5 billion, five-year bill to reauthorize the Surface Transportation Reauthorization Act, commonly known as the highway bill.
The bill increases funding for U.S. Department of Transportation road and bridge programs. The bill also includes some funding for electric charging stations and reducing overall transportation emissions. In rural areas, the bill sets up a new $2 billion competitive grant program, as well as a rural council.
"STRA is further proof that a bipartisan infrastructure deal is possible. I'm hopeful this bipartisan product can be the anchor of a larger infrastructure package moving forward, and I look forward to moving this across the finish line on the Senate floor soon," said Capito, who is ranking member of the committee.
While the White House and Senate Republicans made their separate pitches, a group of congressional Democrats also picked up the mantle for 450 different farm and rural development groups. The 34 House and Senate Democrats on Thursday wrote congressional leaders calling for $200 billion for USDA in any infrastructure and climate package. In their letter, the Democrats championed a pair of climate bills, the Agriculture Resilience Act by Rep. Chellie Pingree of Maine and Sen. Martin Heinrich of New Mexico, and the Climate Stewardship Act, by Rep. Abigail Spanberger of Virginia and Sen. Cory Booker of N.J.
"President Biden's American Jobs Plan seeks to position American agriculture 'to lead the shift to net-zero emissions while providing new economic opportunities for farmers.' We agree that now is the moment to be ambitious on this front," said the lawmakers in their letter.
"Specifically, we request that this infrastructure and climate package include $200 billion over the next decade for new and existing U.S. Department of Agriculture (USDA) conservation, research, renewable energy, tree planting, and food systems initiatives, in addition to robust funding for rural development programs including investments in USDA rural water, broadband, business, and electric programs."
The National Sustainable Agriculture Coalition had spearheaded a similar request with 450 organizations just a few days before the House and Senate Democrats made their case.
Chris Clayton can be reached at Chris.Clayton@dtn.com
Follow him on Twitter @ChrisClaytonDTN
(c) Copyright 2021 DTN, LLC. All rights reserved.