Best Young Farmers, Ranchers Announced
DTN/Progressive Farmer Announces 2022 Class of America's Best Young Farmers and Ranchers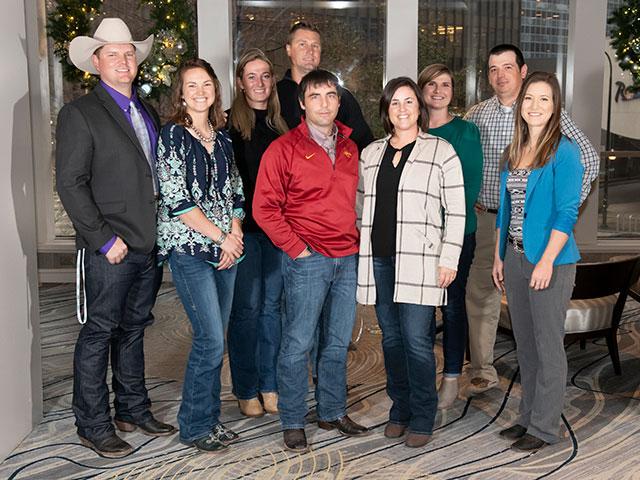 CHICAGO (DTN) -- The 12th class of America's Best Young Farmers and Ranchers will be announced Tuesday during NextGen Celebration, the closing dinner of the DTN Ag Summit in Chicago.
The annual award recognizes five farmers and ranchers who best represent the pioneering promises of American agriculture: Farmers and ranchers who are innovative, imaginative and who work to improve their communities.
"We look for farmers and ranchers who are meeting the promise and challenges of 21st-century agriculture," said Gregg Hillyer, editor-in-chief of Progressive Farmer. "As much as any class before them, we believe this class will take agriculture to the new levels of professionalism required of them as they work to feed a hungry and growing world."
The following are America's Best Young Farmers and Ranchers class of 2022.
AJ AND KELLIE BLAIR
Dayton, Iowa
Children: Wyatt, 12, and Charlotte, 10
Farm: Corn, soybeans, cattle, soybean seed, oats, alfalfa, cover crops
AJ and Kellie Blair manage a diverse, conservation-oriented operation. They produce corn, soybeans, oats, soybean seed and alfalfa. They also plant cover crops. The Blairs manage a large beef feedlot and, more recently, cow-calf enterprise. A new COVID-era direct-to-consumer frozen meat business has been operating for the past few months.
"Our focus on Blair Farm has been on conservation and continual improvement," Kellie said. "Diversification on our farm has the most benefit for our farm."
ADAM JONES
Maywood, Missouri
Spouse: Heather (teacher)
Children: Jackson, 8; Wade, 6; and Hadley, 5
Farm: soybeans, cover crops, corn
Jones Farm is 650 acres in far northeast Missouri. Cover crops play a big role in improving organic matter in the farm's lighter soils. Wetlands, CRP and timber improvement are important land management practices on the farm.
Jones remembers his father discouraging him from farming. "I remember my dad saying, 'You can't make a living doing this,'" said Jones. He did leave -- as did many others. "In northeast Missouri, we did a really good job running my generation off."
Now, he returns, with 2021 marking his first harvest and the first Jones family member to work these soils in 20 years. "There's a hill to climb," he admitted. "The plan is to invest in the farm, with production from the farm. It's got more yield potential in the bank."
SHELLY KELLY
Westerville, Nebraska
Child: Conley, 4
Ranch: Cattle and Executive Director of the Sandhills Taskforce
Shelly Kelly is a fourth-generation rancher rebuilding native grass stands and a cattle operation on land in Nebraska. Sixty cow-calf pairs graze near Kelly's homestead at Westerville and 50 miles away at Brewster, in the Nebraska Sandhills.
"The changes that we'll be able to make on this place are going to be really exciting to watch," she said.
As executive director of the Sandhills Task Force, Kelly works for a 16-member board that promotes private, profitable ranching and land conservation and stewardship in the Sandhills.
"The Sandhills is a landscape where we can literally take sunshine and turn it into some of the highest-quality protein in the world," she said. "If we weren't managing the Sandhills with cattle, it would not be near as healthy as it is today."
WILLIAM AND ASTRID OSINGA
Winnsboro, Texas
Children: Fenna, 5, and Thais, 2
Farm: Dairy, forage, rye, sorghum
William Osinga is an eighth-generation dairy farmer -- the first American-born generation. He and his wife, Astrid, run the 500-head W & A Dairy near Winnsboro, Texas. Both of their families immigrated to the United States from the Netherlands.
The Osinga operation focuses on the production of milk -- milking two and three times a day, depending on the season. All field operations are custom harvested.
The milking parlor is housed in an older structure. But with modern equipment, it milks cows at the rate of 110 per hour. W & A's daily milk production average was 48-55 pounds (lbs.) of milk when the Osingas began their business. Today, with improved nutrition, the dairy is stabilized at average production of 58-68 lbs. per cow, per day.
The Osingas manage their business with a sharp focus on the bottom line. The biggest investment of late in the W&A Dairy is their new loafing shed finished in 2020. "It put our goals for efficiency exactly where I wanted them," William said.
TRAVIS AND SARAJANE SNOWDEN
Toponas, Colorado
Children: Katelyn, 5, and Wyatt, 3
Ranch: Cattle, forage
Travis and Sarajane Snowden manage 500 cow-calf pairs and heifers outside Toponas, Colorado. They also manage King Creek Ranch, a private accumulation of land owned by investors.
The Snowdens are beginning to retain their own replacement heifers, managing for improved carcass and maternal traits. They have recently opened Snowden Meats, a direct-to-consumer business selling cuts of Snowden production to consumers locally and in Steamboat Springs and in Vail.
Raising children in Colorado high country is "magical," Travis said. "They should know we ride in the same valley as my grandfather, hunting elk as he did, running cattle on some of the same exact dirt that he did."
Someday, they want to ranch fulltime. "Our long-term dream," said Sarajane, "is to be 100%. God will show us when we get there. He brought us together and the opportunities we've had. Now we're praying for the next step. When it comes, we'll know it."
Videos featuring each honoree of this class of 2022 America's Best Young Farmers and Ranchers are found at: https://spotlights.dtnpf.com/….
America's Best Young Farmers and Ranchers is accepting applications for its 13th class, 2023 America's Best Young Farmers and Ranchers.
Find applications at https://spotlights.dtnpf.com/…. The deadline for returning the completed deadline is May 27, 2022. For any questions, contact America's Best Young Farmers and Ranchers program coordinator Dan Miller at: dan.miller@dtn.com.
(c) Copyright 2021 DTN, LLC. All rights reserved.