Farming Climate Smart on the Plains
Rewarding Farmers for Right Practices as Biden Seeks Climate Solutions in Agriculture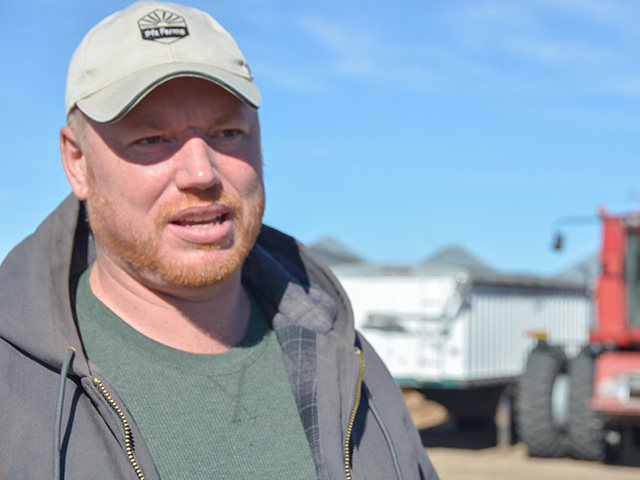 HAXTUN, Colo. (DTN) -- By a list of farming practices, Roy Pfaltzgraff III would seem like a prime candidate for a carbon market with two decades of no-till farming and a diverse rotation that could include 15 different cash crops this year.
But Pfaltzgraff farms in eastern Colorado where the arid conditions and sandy soils grow crops with less biomass and are slow to build organic matter. So, the soil sequesters less carbon in a cropping system -- and that raises doubts for Pfaltzgraff about whether he will qualify for a carbon payment in a trading market.
"A lot of those carbon programs seem like they are designed -- at least what I have seen so far -- they are designed for the Midwest where you produce lots of biomass every year," Pfaltzgraff said.
One of the challenges for creating a carbon-credit program is deciding who gets paid for adopting the best practices, and if it matters more where you farm than how you farm. Pfaltzgraff has adapted a diverse rotation and no-till farming on his approximately 2,000 cropped acres because of the changing climate and higher risks for extreme weather conditions. Colorado farmers are coming out of the second-driest year on record in 2020, and one of the warmest in state history.
"You have got to mitigate risk somehow," Pfaltzgraff said.
The warm trends in eastern Colorado continue. As a groundhog told the country on Tuesday that winter would last six weeks longer, temperatures near Haxtun hit 66 degrees Fahrenheit.
BIDEN CLIMATE DRIVE
President Joe Biden has committed to moving the U.S. economy to net-zero emissions by 2050 as well as conserve as much as 30% of land and water nationally by 2030. The president's executive order last week specifically called for getting farmers and livestock producers engaged in climate-smart practices.
Tom Vilsack, the president's nominee for Agriculture secretary, spoke at length during at his nomination hearing Tuesday in Washington, D.C., about ways to incentivize farmers to reduce greenhouse gases from agriculture.
As an industry, agriculture accounts for just under 10% of U.S. greenhouse emissions. Vilsack said he supports the president's vision on agriculture becoming a net-zero industry and said it would provide market benefits for U.S. farmers.
"I think it would provide us a competitive edge in the world in terms of trade and would respond to the domestic demand for greater sustainability," Vilsack said.
Vilsack later added, though, that it will become an export-market imperative for both the grain and livestock industries to adopt better, verifiable practices to regenerate soils, lower emissions and reduce practices and inputs that lead to higher emissions.
"If we do that, we will be able to sell our product anywhere in the world," he said. "If we don't do it, we're going to have trouble selling it anywhere."
He also committed to Congress that moves on climate involving farmers will be voluntary. Farmers and ranchers should be paid for reducing emissions through a market for carbon sequestration. Farmers also should reap the rewards, not companies that run carbon credit markets.
"If it's voluntary and incentive based, you will see farmers and ranchers cooperate extensively," he said.
Vilsack suggested establishing an advisory group of farmers that could help create a plan to compensate farmers for capturing greenhouse gases in soil. He said there will be an aggressive effort to get input from producers.
DEBATE OVER CARBON CREDITS
Some environmental groups bring more wrath against carbon credit markets than do climate skeptics. Food & Water Watch, in a critique against Vilsack's nomination, called carbon markets, "essentially a scheme to set up markets so that fossil fuel companies can buy 'carbon credits' instead of reducing their own pollution. This is an elaborate shell game being sold as climate action, for the benefit of the companies that seek to keep drilling and fracking," the group stated.
Keith Paustian, a soil scientist at Colorado State University, has spent his career studying carbon life cycles from crops and agricultural emissions. While the debate about the benefits of carbon programs goes back at least two decades, Paustian said he is seeing more immediate urgency to get an effective market established for agriculture now. Paustian points out, though, that farmers building carbon in the soil is not a silver bullet to lowering greenhouse gases across the U.S. economy.
"Carbon sequestration is not going to do it, and neither is, you know, windmills everywhere or neither is direct air capture or pumping it into geo storage," Paustian said. "It's a big, hairy, tough problem and all human activities contribute to it," he said. One technology or practice is not going to solve it. "In the end, you need 20 different solutions that each take up 5% of the problem."
With agriculture, carbon sequestration may not even take up 5% of the problem, but proponents say it's a cost-effective solution for reducing emissions.
"There's not going to be a single solution. So, let's deploy things across the board that work and have a lot of other co-benefits, but these arguments often get lost in these arguments that it doesn't do enough."
CHALLENGING SOILS
Eastern Colorado is arid, and the soils are sandy. In a dry year, fields may lose carbon simply because of natural processes. The practices meant to build carbon in the soil also build resiliency to climate extreme.
"Dryland farming in eastern Colorado, it's just tough, right?" Paustian said. "But there are some farmers doing some pretty innovative stuff and getting away from the old wheat-summer fallow with a ton of tillage." Those cropping changes are increasing carbon sequestration. "They don't have quite the carbon sequestration capabilities that they have in the Midwest, but smart managers can get some really good results."
While some neighboring fields may have organic matter running as low as one-half of 1%, Pfaltzgraff said after more than 20 years of no-till, and moving to continuous cropping, his soil has reached levels of 2.5% organic matter. Pfaltzgraff said he thinks some fields could push as high as 3% in the next few years.
"That organic matter is huge because it helps retain the water, and it feeds the microbes," he said.
Pfaltzgraff's crop diversity, though, has helped improve organic matter in his fields. After nearly two decades of no-till, as Pfaltzgraff took over more farm management and labor from his father, also Roy, they decided to move away from a chemical-fallow year in the rotation and began planting field peas on those acres instead. Besides dropping the chemical costs to control weeds during fallow, Pfaltzgraff said the fields began building organic matter at a faster rate by keeping live crops on the field.
"Being fallow, we weren't feeding the microbes, and that's where a lot of the organic matter comes from," Pfaltzgraff said. "Because we didn't have that continuous feeding, our organic matter would go up and then drop because you never got that continuous growth," he said.
Tying in the need for more scientific research, Vilsack also noted in his hearing Tuesday that one area of possible research for USDA would be to focus on ways to expand or enhance root system to increase the ability to sequester carbon in the soils.
HOW TO MAKE IT PAY
While USDA is expected to bring its suite of conservation programs to focus on climate-smart practices, Pfaltzgraff told DTN he would not want to see another USDA program pay farmers for using a certain set of regenerative practices. Too often, a farmer is willing to return to tilling a few years after funding runs out from programs such as the Environmental Quality Incentives Program (EQIP). Pfaltzgraff is concerned a new government program for carbon practices would appear to taxpayers as just another government handout to farmers.
"Right now, carbon markets seem like this new thing that is going to make everything wonderful for everybody," Pfaltzgraff said. "When push comes to shove, we're in an arid region. We're not going to qualify. If it becomes a government incentive, we're going to take the money, but we're not going to like it."
Ideally, Pfaltzgraff said he would like to see the food and grain industry move more farmers toward using a suite of climate-smart practices with premiums for farmers who show they are meeting regenerative goals with their practices.
Robert Bonnie, USDA's deputy chief of staff and climate advisor, told DTN in an interview that it will be critical when the department is doing outreach to develop a variety of tools in research, technical assistance and financial aid to increase resilience in the cropping systems.
"We're not going to have 100% tools for everyone, but we're going to support a lot of producers in different ways," Bonnie said. "There's an enormous amount we can do through insurance. Markets can come in and we can do things that will create some competence, so the private sector can come in and support these kinds of practices. So, these efforts are going to work best when they are integrated and working for landowners and benefit their bottom line. That's what's going to make some of these practices truly sustainable."
Challenging himself to diversify his farm, Pfaltzgraff has found markets by looking to diversify and build organic matter in the soil. This year, Pfaltzgraff will grow as many as 17 cash crops on 2,000 acres. Besides hard white winter wheat, the rotation will also include a non-GMO corn, sorghum, sunflowers, proso millet, oats two varieties of buckwheat, field peas, possibly canary seed and as many as six different varieties of edible beans.
He's selling more edible beans directly into Denver -- and getting calls about exports -- while selling gluten-free buckwheat, millets and oats to multiple buyers in Colorado and the Dakotas.
"We're selling more directly to the public, and we have consumers saying 'We'd love some black beans,' so we will raise them, and we have consumers wanting to buy Navy beans, so we're going to give it a try. There is good demand for edible beans if farmers look around and make some calls, and the prices are usually pretty good. And you can do it with the equipment that an average farmer already has."
Chris Clayton can be reached at Chris.Clayton@dtn.com
Follow him on Twitter @ChrisClaytonDTN
(c) Copyright 2021 DTN, LLC. All rights reserved.