Bankers See Choppy Tides for Farmers
Ag Bankers Concerned About Farmer Liquidity and Income Coming Out of 2023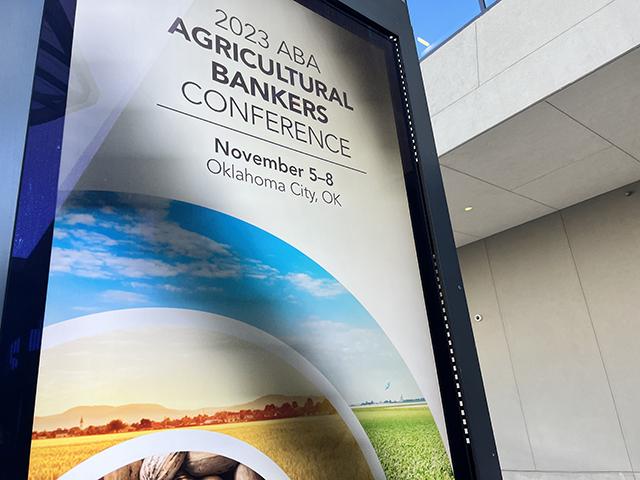 OKLAHOMA CITY (DTN) -- Agricultural bankers are a little less concerned about inflation this year but are more uneasy about farmers' liquidity and income.
A primary concern for agricultural lenders this year is to ensure their farmer customers have strong balance sheets and liquidity coming out of 2023, according to the Agricultural Lender Survey report produced jointly by the American Bankers Association (ABA) and the Federal Agricultural Mortgage Corporation (Farmer Mac).
The survey, in its eighth year, was released Monday at the ABA's Agricultural Bankers Conference in Oklahoma City, Oklahoma.
Inflation, the top concern for 2021 and 2022, fell to the third-biggest concern for ag bankers this year behind liquidity and farm income.
INTEREST RATES
Ag bankers also are more nervous about the various impacts of higher interest rates on their loan customers. Since the ag bankers met a year ago, the Fed has raised the fund rate from 3.75% to 5.5%. The Fed rate has gone up 1% since the beginning of the year.
Jackson Takach, chief economist and head of Strategy, Research and Analysis for Farmer Mac, suggested Sunday the Federal Reserve also is at a crossroads. Inflation has come down, but not to the Fed's 2% target level, which Takach said might be an "unrealistic" goal. Last week, the Fed opted again not to change the short-term interest rate, keeping it at 5.5%. The Fed also stated it isn't ready to start lowering interest rates.
"They're working with a very strong economy that's basically given them runway to keep rates elevated for longer," Takach said.
Takach said the Fed might settle at a 3% to 3.5% inflation rate, which realistically could translate into lower interest rates around the 4.5% range, he said.
Takach also stressed the combination of higher interest rates and inflation still does not put agriculture into the same scenario as in the late 1970s and early 1980s. A key difference now is, largely, producers still have stronger income and cash on their balance sheets compared to the late 1970s.
"We're coming from a place of strength, so there's still sufficient liquidity to suffer through high interest rates," Takach said.
PROFITABILITY DEPENDS ON SECTOR
Ag lenders still estimated nearly three-quarters of their borrowers will remain profitable this year and two-thirds will remain profitable through 2024. At the same time, only 28% of lenders reported an increase in borrower profit margins, down from 66% last year.
Lenders expect farm income compression over the next 12 months, with 70% projecting a decline in farm profitability. More than half of agricultural bankers also expressed strong concern about the dairy sector and an increasing number of bankers expressed similar concerns about pork producers, according to the ABA survey.
"Is there a choppy tide out there? I think for some producers we would definitely say yes," said Pauline Van Nurden, an economist with the Center for Farm Financial Management (Finpack) at the University of Minnesota.
Finpack, which looks at financial data of 3,500 farms in 11 states, highlighted that crop farmers and cattle producers are more likely to finish 2023 in the black while dairy and hog producers are expected to report financial losses.
The median income for crop farmers that are part of Finpack is projected to go from $385,000 in 2022 to $171,000 in 2023. The bottom 40% of crop farmers are projected to end up in the red with an average -$12,000 net income
Beef producers that are part of the Finpack farms are still projected to see strong income in 2023, with a median income of $185,000 compared to $217,000 in 2022.
Pork producers are struggling more than any sector. The Finpack farms with hogs had median farm incomes at $332,000 in 2022, but that will crash to median financial losses of -$159,000 for 2023.
Dairy farmers are projected to go into negative net income from 2023, falling from a median income of $286,000 last year to -$7,000 for 2023. The bottom 40% of dairy farms could see losses of -$109,000 for the year.
"There is definitely going to be some stress in dairy for the next couple of years from what we can see," said Dale Nordquist, an economist at Finpack.
FARMLAND VALUES AND SALES
Bankers continue to see farmland values going up. Overall, lenders' perceptions of farmland values showed an average increase of 11% in 2023, with some variation across regions. Bankers expect farmland values will level off and remain stable over the next year as farm incomes decline and interest rates remain higher.
Takach noted the interest-rate environment has reduced the number of farm sales. Two years ago, the last quarter of 2021 saw more than 600 land sales in Iowa, but that has fallen to about 150 now. Illinois shows a similar pattern of decline. While the number of land sales is down, the percentage of cash sales has been rising as interest rates go up.
"People who are buying land use their cash rather than leverage with a loan," Takach said.
The low volume of land sales also has led to some of those eye-popping per-acre sales in several states.
CAUTION FOR BANKERS
David Kohl, a professor emeritus of agricultural finance at Virginia Tech, warned bankers Sunday about customers who repeatedly come to them to refinance in the next couple of years. The more times a farmer seeks to refinance, the more their options narrow, he said.
"You are basically throwing good money after bad money," Kohl said.
Ag lenders in their survey reported higher demand for both loans secured by farmland and agricultural production loans this year. Bankers also anticipate loan demand for both categories will increase over the next year.
Counter to what demographics might suggest, Kohl said baby boomers will continue to buy farm ground over the next decade. Once those boomers start hitting their 80s in age, however, they may start to liquidate as healthcare costs and potentially nursing home costs start to rise dramatically.
As Kohl often does, he warned bankers to watch out for farmers buying "killer toys," such as boats, campers, vacation homes and trips to Europe. Another risk is rising credit card debt as well. He cautioned against agricultural bankers getting complacent about monitoring producers' financial statements. A good banker, he said, will do that monitoring for producers to offer better value to them.
Ag bankers in the survey nationally reported lower ag loan delinquencies and charge-off rates in 2023. However, lenders expect credit quality to deteriorate in the coming 12 months, reverting to historic levels. More than 40% of bankers in the survey reported tightening underwriting standards and loan terms in 2023.
RURAL BANK CLOSURES
Pointing to rural banker risks, Kohl also mentioned the announcement Friday that a rural Iowa bank had been shut down, the first bank closure in Iowa since 2011. Citizens Bank in Sac City, Iowa, was declared insolvent by Iowa and federal banking regulators. A press release from the Iowa Division of Banking cited that examiners looking at the Sac City bank "identified significant loan losses that had not previously been identified by the bank. The bank was declared insolvent. The bank had a concentration of out-of-territory and out-of-state loans to one industry and incurred heavy losses on some of those loans."
The FDIC took receivership of Citizens Bank of Sac City. Iowa Trust & Savings Bank, Emmetsburg, Iowa, then purchased all Citizen Bank's "consumer, business, and public deposits so there is no loss to any depositor. They also purchased all available loans." The Sac City banks reopened Monday as branches of Iowa Trust & Savings Bank.
Jim LaPierre, a regional director for the FDIC, said Monday at the ABA event that he could not share details about the Sac City situation, but he did say the loans were not tied to agriculture. "They were not ag production loans," LaPierre said.
The Iowa bank closure comes just over three months after another small bank in southwest Kansas was closed by regulators. That bank, Heartland Tri-State Bank, "became insolvent due to an isolated event," Kansas bank officials said.
Chris Clayton can be reached at Chris.Clayton@dtn.com
Follow him on X, formerly known as Twitter, @ChrisClaytonDTN
(c) Copyright 2023 DTN, LLC. All rights reserved.