Carbon Pipeline Hearings in Iowa
Summit Carbon Pipeline Faces Another Crucial Test With Hearings in Iowa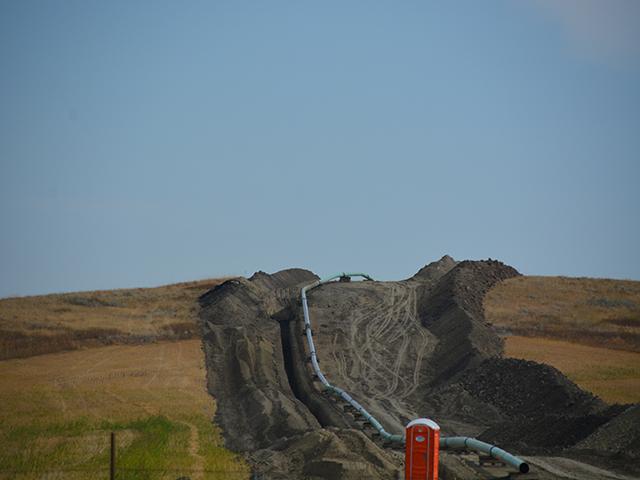 OMAHA (DTN) -- The ethanol industry, along with both carbon pipeline backers and opponents, will be watching how a series of hearings in Iowa play out over the next month. Iowa-based Summit Carbon Solutions starts another critical regulatory push for its proposed 1,250-mile carbon pipeline as the Iowa Utilities Board begins hearings this week for the state permit on the Midwest Carbon Express CO2 Pipeline. This includes Summit's request for eminent domain rights on parcels of land without signed easements.
The IUB will start hearings Tuesday in Fort Dodge, but the IUB had moved up its initial hearing dates for Summit. So far, the IUB has not laid out its entire hearing schedule for the project, which is expected to include dozens of landowners, biofuel supporters and expert witnesses. Meanwhile, the IUB and a state administrative judge have been handing down rulings in rapid succession right before Tuesday's hearing kicks off.
On Thursday, the Iowa Utilities Board filed an order requiring Summit to provide details about its unredacted financial agreements to attorneys for the Iowa Farm Bureau Federation and the Sierra Clubs of Iowa. Attorneys for the two groups are required not to disclose information, and Summit argued to the IUB that public disclosure of those details "could cause extraordinary economic losses to it (Summit) and its ethanol plant partners should the information be made public." In making its ruling, IUB noted "Summit Carbon has opened the door as to the economic benefits ethanol plants will receive as part of its proposed project, which necessarily creates a relevancy to the underlying information."
The Iowa Capitol Dispatch also reported an administrative law judge ruled earlier in the week that Summit also should provide documents to Iowa Farm Bureau and Sierra Club about "dispersion modeling" forecasting the risks to areas should a pipeline rupture. Summit appealed the ruling, arguing there are public safety concerns for protecting the information because it "could give a roadmap to someone intent on harming the pipeline and -- more importantly -- Iowans." Carbon dioxide gas is an asphyxiant.
A 2020 pipeline rupture near Satartia, MS, ended up hospitalizing 45 people and forcing about 200 to evacuate the area.
KEY FOR ETHANOL
The Iowa ethanol industry has been a major backer supporting the Summit pipeline as well as its major competitors. The Iowa Renewable Fuels Association earlier this year cited that the state's ethanol industry could lose more than $10 billion a year if ethanol plants do not get access to pipelines that can capture carbon emissions. The Inflation Reduction Act, passed last year, includes the Clean Fuels Production Credit, or 45Z, that could generate an average of 48 cents a gallon in tax credits for ethanol plants. Then there is the value of selling lower-carbon ethanol into markets such as California or other states with low-carbon fuel standards as well.
SINKING CARBON FOR BAKKEN OIL?
Earlier this month, the North Dakota Public Service Commission unanimously rejected Summit's initial permit request -- the first time North Dakota officials have rejected a pipeline project. Summit plans to refile in North Dakota, which is critical for the pipeline plans because that's where Summit wants to inject its carbon dioxide into the Bakken geology formation. Last week, North Dakota Gov. Doug Burgum told DTN at an Iowa campaign stop that he supports carbon pipelines and believes the Summit project will eventually go through. Critics of the proposal took notice this week when Lynn Helms, North Dakota's director of Mineral Resources, said in a briefing that the state needs carbon dioxide from outside the state to help "stabilize and sustain Bakken oil production."
Without carbon capture, Helms said, "we will leave billions of barrels of oil in the ground." Summit, which expects to receive federal tax credits for removing carbon dioxide from the air, has maintained since the beginning of the project that its pipeline and carbon injection would not be used for enhanced oil recovery. Sabrina Ahmed Zenor, a spokeswoman for Summit, reiterated that stance to DTN on Friday. "Our project is designed to permanently and safely store carbon dioxide. We have successfully secured voluntary easement agreements with North Dakota landowners for approximately 135,000 acres of pore space for this purpose. We will not utilize the carbon dioxide for enhanced oil recovery," Zenor stated.
EMINENT DOMAIN OPPOSITION
A key element in the IUB permit process is whether Summit will be granted eminent domain authority. Summit's Zenor told DTN the company has signed agreements for 73% of its route in Iowa, or about 1,200 out of 1,677 landowners in the state. Across the entire five-state project, Summit has easement agreements with more than 2,500 landowners. Still, among dozens of comments filed against the project in Iowa, eminent domain for a private company has become a major bone of contention leading to the kind of right-left coalition that would put the Iowa Farm Bureau and the Iowa Sierra Club asking for the same kind of information. Former U.S. Rep. Steve King, a rural conservative, is among those who have taken up the mantel to oppose eminent domain for Summit.
Aaron Lehman, president of the Iowa Farmers Union, in a webinar Thursday added, "This has been an ongoing battle for landowners and environmentalists and farmers."
The Iowa Cattlemen's Association also filed a letter citing that the group doesn't intend to halt the development of carbon pipelines in the state, "but rather to protect private property rights." The cattlemen's group stated, "ICA's grassroots-developed policy opposes eminent domain for private use." The group called on the IUB to refrain from approving eminent domain for any proposed carbon pipelines. The cattle producers also called for a minimum separation distance for carbon pipelines from homes and livestock as well.
The renewable energy company Avangrid also has 50 wind turbines in Crawford County, Iowa. The wind company stated in a filing with IUB that it only learned about the specific parcels that Summit seeks eminent domain power on Aug. 17. Avangrid stated the information received lacks details on how Summit's pipeline would affect its wind turbines.
There are at least two other pipeline projects looking to take away CO2 from ethanol plants, including the Navigator CO2 Ventures pipeline that would also cross Iowa, Minnesota, Nebraska and South Dakota, but would sink its carbon into a formation in Illinois. A third, smaller project by Wolf Carbon Solutions also would run from eastern Iowa to Illinois as well.
The Iowa Utility Board hearings will be live-streamed at https://iowautilitiesboard.eduvision.tv/…
Chris Clayton can be reached at Chris.Clayton@dtn.com
Follow him on X, formerly known as Twitter, @ChrisClaytonDTN
(c) Copyright 2023 DTN, LLC. All rights reserved.