Todd's Take
Red-Hot Soybean Demand Has No Easy End in Sight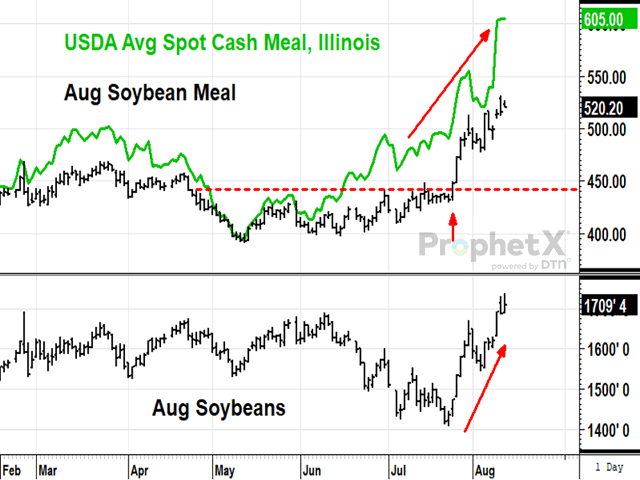 It was just two weeks ago when I wrote about a classic technical breakout in soybean meal, signaling bullish demand ahead for soybeans (see https://www.dtnpf.com/…). Since then, things have gotten even more bullish and there is no sign yet of how far prices might go.
On Wednesday evening (Aug. 10), USDA's average spot price for soybean meal in Illinois closed at $605 per short ton, the highest close since records began in 2016 and has been the primary clue of just how bullish demand has become. Consider that the Illinois cash price is roughly $90 above the August futures price, a contract that expires Friday, Aug. 12, and still had 176 contracts open as of Thursday morning. The wide disparity between cash and futures doesn't have to perfectly align, but the remaining August contracts could see some volatile fireworks Friday.
September soybean meal, next in the futures line, posted a new closing high of $456.50 on Thursday, Aug. 11, and is $155 below the Illinois price. It is always difficult to know just how long episodes of uncommonly strong demand like this one will last, but it is difficult to see a quick resolution.
According to the National Oilseeds Processors Association, there are more than 60 soybean processing plants in the U.S., owned by 16 companies. My guess is that they have a good handle on how much meal they expect to supply the market in the months ahead, but so far, it has not been enough to knock down the cash price.
Not all the demand has been domestic. On Thursday, USDA reported 311,200 metric tons (mt) of new-crop soybean meal sales in the week ending Aug. 4 and another 103,400 mt sold to Mexico in a daily announcement.
As long as the September meal futures keep trending higher, the pressure remains on the short side of the market to come up with supplies. In mid-May, large speculators were short over 30,000 contracts of meal, but that number has now been squeezed to 9,566, the lowest total since the drought year of 2012.
Strong demand for limited supplies of soybean meal at the same time the market needs soybean oil to extend diesel supplies has been quite a bullish combination, supporting soybean prices this year. Friday's report from USDA showed $20.65 worth of value came from crushing 1 bushel of soybeans in Illinois, 58% of which was from meal and 40% was from oil. The combined value in Iowa was even higher, at $21.41.
With such strong demand for both products, soybean futures have their own bullish riddles to consider. August soybeans closed at $17.09 1/2 Thursday, almost a dollar above the going price around Chicago, yet the contract expires Friday and no deliveries have yet been made.
I don't know how big of a soybean crop USDA is going to estimate in Friday's World Agricultural Supply and Demand Estimates (WASDE) report. Dow Jones' analyst survey expects a slight reduction, from 4.505 billion bushels (bb) to 4.471 bb. If this week's Digital Yield Tour, powered by Gro Intelligence, is correct, we could be talking about a crop closer to 4.300 bb later this fall.
Considering what the market is currently saying about demand for soybeans and its products, I don't think U.S. producers will have any problems finding takers for their soybeans in 2022-23.
**
Comments above are for educational purposes only and are not meant as specific trade recommendations. The buying and selling of grain or grain futures or options involve substantial risk and are not suitable for everyone.
Todd Hultman can be found at Todd.Hultman@dtn.com.
Follow him on Twitter @ToddHultman1
(c) Copyright 2022 DTN, LLC. All rights reserved.