Todd's Take
The Need For Soybean Oil Has Never Been Greater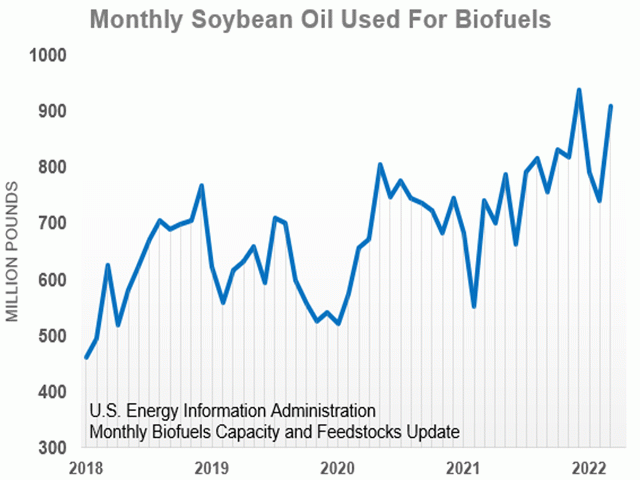 Most of this week was spent watching the speculative crowd run for cover in corn and wheat, spooked by the bizarre thought that somehow Russia, known around the world for its great humanitarian concerns and possessor of its five-star credibility rating, would be more than happy to let grain ships leave Ukraine unbothered.
Even the most optimistic people recognize that such an agreement may be difficult to pull off. After all, the great humanitarian is extremely busy liberating Ukrainians from all those awful neo-Nazis plaguing the country. Apparently, annihilating the entire civilian population is the best way of ensuring the ideological virus doesn't contaminate us all.
Given Russia's generous impulses, I'm not sure why they want Turkey to remove Russian mines from the Black Sea but pardon me for asking an embarrassing question. I wouldn't want to interrupt the crazy narrative speculators in corn and wheat have been so hypnotized by this week.
It should say something when Sweden and Finland, two countries that didn't see a need to join NATO when Joseph Stalin was in power, are now knocking on NATO's door, asking to be let in. It is difficult to remember a time when members of the European Union (EU) could agree on much of anything, but this week the EU was able to forge a compromise, effectively banning two-thirds of oil imports from Russia and possibly more by the end of the year.
The Wall Street Journal pointed out this week that traders have many ways of sneaking Russian oil into the world's markets, but without access to Europe, China and India can only take so much, meaning Russia's production is likely to fall.
In 2019, the year before the global pandemic made a mess of oil markets in the U.S. and abroad, the U.S. Energy Department (DOE) estimated the world consumed 101 million barrels of liquid petroleum per day. OPEC supplied nearly 35 million barrels per day (bpd), Russia chipped in over 11 million bpd and the U.S. provided over 19 million bpd.
According to the latest DOE estimates for 2022 from May 5, world demand of liquid petroleum is expected to total just under 100 million bpd. OPEC is expected to produce over 34 million bpd, Russia is expected to contribute 10 million bpd and 20 million bpd is supposed to come from the U.S. Theoretically, DOE expects a tiny surplus of 280,000 bpd will keep supply and demand roughly balanced, but reality may not agree.
DOE statistics show Russia was producing roughly 11 million bpd of liquid petroleum before the war. According to OilPrice.com, Russia probably lost 2 million bpd of that production by May (see the May 4 article by Irina Slav at https://oilprice.com/…). Oil giants, Exxon Mobil, Shell and BP have all announced plans to leave Russia and now that Europe has agreed to its ban, the future does not look good for Russia's oil production, either near term or long term.
On Thursday, June 2, markets showed no concern when OPEC delegates announced they would increase oil production by 648,000 bpd in July and again by the same amount in August. As bearish as OPEC's announcement might sound, OPEC has its own credibility problem and, according to DOE estimates, has yet to reach the 35 million bpd it was producing before the pandemic. Even after Thursday's OPEC announcement, July crude oil finished up $1.61 at $116.87, its highest close for the contract and near its highest spot prices since 2008. Not surprisingly, the July heating oil contract, which is also known as ultra-low sulfur diesel, closed slightly north of $4.20 a gallon, the highest close on record for a July contract.
For those of us who remember 2008, the helpless feeling of watching oil supplies get tighter without a good solution in sight seems eerily familiar. A big difference, however, is that in 2008 there wasn't a crazy madman -- excuse me, "a great humanitarian" -- intent on annihilating innocent people who happened to live in one of the world's most fertile regions. A great humanitarian with a phone line to the nuclear launch pad.
On Tuesday, May 31, DOE put out a report, which showed 908 million pounds of soybean oil were used to produce biofuels in March, the second highest monthly total on record. Because the report is two months old and off the beaten path, you may not have known that unless you read about it in DTN's market commentary or saw me talk about it in a closing market video.
DOE also showed U.S. plant capacity for producing renewable diesel in the U.S. was unchanged in March at 1.47 billion gallons per year, but that is also up 86% from a year ago. I don't know any other industry that has nearly doubled capacity in a year. Much like the race was on in 2008 to produce ethanol, the race is on right now to extend U.S. diesel supplies with soybean oil, corn oil, canola oil, yellow grease or whatever it takes.
The world's current lack of energy production feels a lot like 2008, when the country turned to ethanol production in its time of need and farmers responded to the challenge. Many other things are different this time and it is difficult to see what the solution will be yet. But at the moment, there is little doubt that along with corn and ethanol, soybeans and soybean oil have never been more needed.
**
Comments above are for educational purposes only and are not meant as specific trade recommendations. The buying and selling of grain or grain futures or options involve substantial risk and are not suitable for everyone.
Todd Hultman can be reached at Todd.Hultman@dtn.com
Follow him on Twitter @ToddHultman1
(c) Copyright 2022 DTN, LLC. All rights reserved.