Food Security Risks Raised
Pointing to Ukraine and Input Costs, GOP Lawmakers Question Rationale for Hearing on Climate Change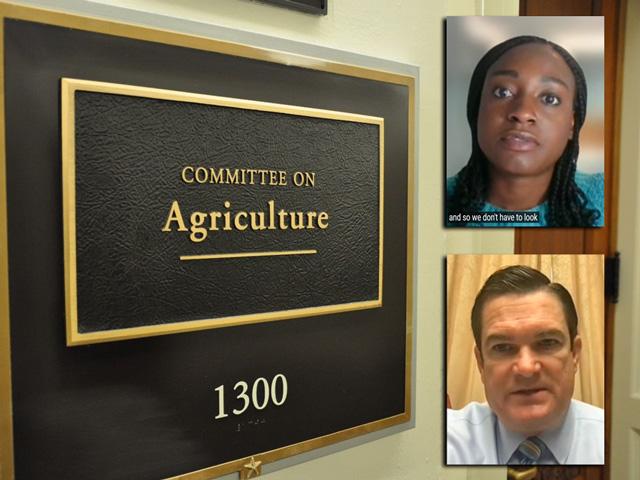 OMAHA (DTN) -- Republicans on the House Agriculture Committee on Wednesday used a committee hearing meant to look at USDA climate programs to flip the script and discuss food security, energy prices and high fertilizer prices facing farmers.
Coming from a speech in which Congress heard Ukrainian President Volodymyr Zelensky ask for more aid in the war against Russia, Rep. Austin Scott, R-Ga., highlighted both Ukraine's production as well as fertilizer challenges that could come with Russia and Belarus accounting for such a large volume of the world's potash supplies.
"If our crops inside the United States do not have access to fertilizer, then yields inside the United States and other major food producers will go down," Scott said.
With that, Scott asked fellow Georgian, Rep. David Scott, a Democrat and chairman of the House Agriculture Committee, to hold a hearing soon on the potential reduction in the global food supply and the impact of geopolitical stability and hunger.
"I do think all of us need to be aware of the unrest that comes from widespread hunger in the world and recognize that Ukraine puts 50 million metric tons of food (corn and wheat) into the global food supply, and that's how much they export and it's not going to be there this time of year," Rep. Austin Scott said. "The Russian exports are not going to be there this coming year, and it's just something I think we as the Ag Committee should have a hearing on."
Rep. David Scott responded that lawmakers recognize Ukrainian farmers may not be able to plant this spring because of the fighting, and some cropping areas may be damaged from the invasion. The chairman said he would be asking other members of the committee to join him in sending a letter to Agriculture Secretary Tom Vilsack "to bring some additional tools to help address this humanitarian crisis that is now taking place as a result of this terrible, awful Russian invasion."
Other Republican members stressed that most producers right now are not as focused on USDA's climate programs as they are on other, more immediate problems for their operations.
"I would be remiss not to mention the tone-deafness of this hearing as our country and our farmers face enormous and immediate challenges, including higher food prices, record inflation and input costs, attacks on our energy independence, crop protection tools and dependable labor," said Rep. Glenn "GT" Thompson, R-Pa., ranking member of the committee.
Rep. Rick Crawford, R-Ark., said the Russian suspension of fertilizer exports would further drive up input costs. He noted India is spending $20 billion this year to provide free fertilizer to farmers in that country who produce crops such as rice, wheat and sugar. While fertilizer costs rise, Crawford said, rice has been one of the few commodities in the U.S. that has not seen a dramatic rise in commodity prices to go along with higher input costs.
Joe Outlaw, an economist at Texas A&M University, responded to Crawford, "Among all of the different types of commodities and production systems we work with, rice is the one that is actually not doing very well and not projected to do very well over the next few years, mainly because they do not benefit from the higher prices to offset all of these high costs."
Outlaw then tied into a growing theme among farm groups of various commodities that the current reference prices for crops set in the 2014 farm bill are not high enough. "So, we need to start thinking about ways that the reference prices should be ratcheted up to take some of the pressure off producers," Outlaw said.
Outlaw later said Texas A&M has been doing some analysis looking at fertilizer prices on farms. He indicated the costs have gone up anywhere from 20% to 40% for the farms Texas A&M tracks and different commodities "and that will put a lot of people in very dire straits," Outlaw said.
"I hope the (commodity) prices reflecting in the futures market come true because if they don't, we're going to have a huge disaster," Outlaw added.
Outlaw also later added that a recent A&M study on fertilizer prices is being updated because prices have risen 20% to 30% more since the end of last year.
Rep. Rodney Davis, R-Ill., said farmers are talking about "ever-soaring input costs," including fuel costs, as he noted the average gas price rose 22% in the past two weeks. "And yet the Biden administration refuses to uphold the Renewable Fuel Standard as an immediate solution to lower emissions and reduced costs at the pump," Davis said, also pointing to other regulatory challenges such as the rewrite of the waters of the U.S. rule and reducing options for pesticide use.
Chuck Conner, president and CEO of the of the National Council of Farmer Cooperatives, said he does not disagree with Davis "that coffee shop talk today is not about climate change, it's world events. It's fertilizer prices, it's a number of things that are literally in your face, I concur with that."
Conner, though, representing the Food and Agriculture Climate Alliance (FACA), said there is "great interest" from farmers about climate incentives and potential revenue in their pockets, "and that is in desperate need out there in rural America, given the number of challenges that we face. Farmers need a better shake."
Regarding biofuels, Conner said: "The number of facilities out there offering the higher-octane blends is dismal ... in rural America, and we're missing a great opportunity out there. You know, we need that infrastructure and those investments we're talking about in this climate debate."
Democrats on the committee sought to focus on the hearing topic of climate but also had to acknowledge the frustrations expressed by GOP colleagues.
"This is really about policy, policies that we are talking about to deal with a very pressing issue, among many that people in agriculture have to deal with, and we get that," said Rep. Jimmy Panetta, D-Calif. "But this is a time we can talk about what kind of policies we can put forward in the 2023 farm bill dealing with climate change and how it affects our agricultural producers."
Glenda Humiston, vice president for agriculture and natural resources at the University of California-Davis, added she also understands the frustrations given her father still manages the family cattle ranch in southwest Colorado. Humiston said everything she does is "to make sure my father can keep farming and people like him can keep farming." She added, "A lot of these climate-smart agricultural programs are what are going to enable those farms to be functioning in 10 and 20 years, particularly in states where we're already seeing devastating effects from extreme weather."
Reflecting concerns from small farmers who are often overlooked for farm programs, Shakera Raygoza, owner and operator of a small organic vegetable farm in Texas, said USDA loans and conservation programs helped her and her husband build up their operation, but they have experienced several recent disasters as well.
"Living in the Rio Grande Valley, hurricanes and heavy flooding have hit our area three times in a row from 2018 to 2020," Raygoza said. She added that a hard freeze a year ago also cost the farm one-third of its crop. She and her husband have been sorting through USDA paperwork for non-insured crops to help with those losses.
"USDA staff aren't sure how to help small-scale, diversified farmers such as myself," she said.
The full video of the hearing can be viewed at https://www.youtube.com/….
Chris Clayton can be reached at Chris.Clayton@dtn.com
Follow him on Twitter @ChrisClaytonDTN
(c) Copyright 2022 DTN, LLC. All rights reserved.