War in Ukraine Turns Eyes to CRP Acres
Considering Ukraine's Disrupted Breadbasket, a Pitch to Open CRP Ground to Counter Global Supply Shock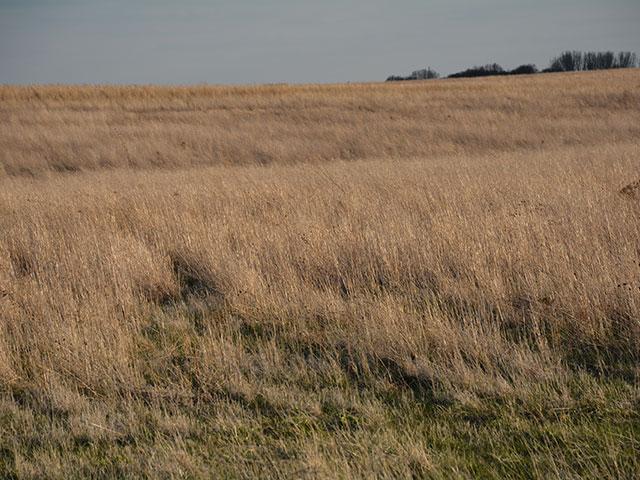 Editor's Note: This article originally appeared in the Ag Policy Blog on DTN digital platforms.
OMAHA (DTN) -- It started with a string of tweets from University of Illinois agricultural economist Scott Irwin stating the war in Ukraine "is going to be the biggest supply shock to global grain markets in my lifetime." With that, Irwin said USDA should open up Conservation Reserve Program acres for cropping.
"So, my simple proposal is to let every CRP acre to be eligible for cropping for 2022 and only 2022," Irwin tweeted on Wednesday. "No interruption of payments or contracts. Just change the rules on an emergency basis so it can be cropped if a farmer wants to risk it this year."
By Thursday afternoon, on a call about USDA deadlines for ARC/PLC and crop insurance, two veteran reporters were asking Farm Service Agency Administrator Zach Ducheneaux if USDA had any plans to open up the 22.1 million acres in CRP.
"Does the administration plan to allow emergency planting of crops on CRP land this year, considering the interruption of wheat and corn supplies because of the invasion of Ukraine?" was asked.
Ducheneaux noted USDA keeps an eye on world events and "understands that there's a significant portion of the Conservation Reserve Program that ended reserves and production. However, at this time, no decisions have been made in that regard," Ducheneaux said.
Ducheneaux was then asked: Is there any time frame that you all are looking at in terms of a decision on CRP? You would have to make some decision in the next month or so. Ducheneaux responded, "Of course, any timeframe for any decision on the use of CRP would likely have to come before spring planting or whatever. That's not a discussion that we're having at the agency at this time. That may be going on at the department level with the secretary."
As a footnote, USDA currently is in the general CRP signup period. It ends March 11. USDA shows 3.9 million acres are set to expire from the program at the end of September. Before the war started, USDA had a goal of trying to bump up acreage to the 25-million-acre cap in the farm bill.
On a daily editorial call at DTN on Thursday, we discussed Irwin's pitch as well. Had CRP acreage been planted last year, there would have been a lot less haying and grazing to offer for supplemental feed to livestock producers in the drought. Memories are short, but last summer led to extreme drought conditions in western states, the Northern Plains and over into Minnesota. That prompted USDA to open up CRP for emergency haying and grazing.
When it comes to Ukraine, the country was pegged to produce 33 million metric tons (mmt) of wheat, nearly all winter wheat, for 2021-22 or 1.2 billion bushels (bb), and export 24 mmt, or 889 million bushels (mb). In comparison, the U.S. is pegged to produce 44.79 mmt (1.64 bb) and export 22.05 mmt, or 810 mb.
Ukraine also is forecast to produce 42 mmt (1.65 bb) of corn and export 33.5 mmt (1.32 bb) of that crop.
USDA's WASDE report comes out March 9 and everyone will be watching to see just how USDA economists try to project production and exports for Ukraine, as well as Russia's exports.
Joe Glauber, a former USDA chief economist, also responded on Twitter to Irwin's thread on CRP and whether it could help ease the global supply problems. He said, "Not likely for wheat in the short run." Glauber noted about 4.1 million acres will expire in spring wheat states -- Idaho, Washington, Minnesota, North Dakota and South Dakota. Of that acreage, Glauber said 1.1 million acres had been in the program for longer than ten years. If all those acres were planted in spring wheat in the next few months, they would hit about 88 mb (but actual production would likely be far less, Glauber noted). At peak production, they would generate about 2.4 mmt, or about 1.1% of global trade.
Glauber noted, "Much of the land in the CRP is marginal, less productive land so yields would likely not be nearly as large as the historical yields we saw in 2018-20. So, slippage would be great even if all of the acres were to be put into production."
And not all of those acres would come back into production. Glauber noted back in 2006-14 when prices were high some acres did come back into production. CRP acres have fallen from 37 million acres in 2007 to about 22 million acres now. A lot of that has been driven by farm bill policy that capped CRP acres. Right now, CRP is capped at 25 million acres.
Irwin later noted on Twitter there is similar talk in the European Union of waiving the set-aside rules for the EU's Common Agricultural Policy.
On DTN's editorial call Thursday, our agronomy team kicked in with some questions of their own. We've already been reporting about tight fertilizer, seed and chemical supplies this year. Just what exactly would be available to recharge millions of acres of CRP ground to get it planted?
We are also a little short on history here, but USDA tried in 2008 to allow as much as 24 million acres in the CRP program to be used for livestock hay or grazing without docking landowners on the contract. Then-Secretary of Agriculture Ed Schafer announced the program on May 27, 2008, in response to high feed prices. USDA projected at the time that doing so would generate 18 million tons worth of forage for livestock producers. Schafer's decision led to a lawsuit by the National Wildlife Federation and state affiliates that USDA did not conduct proper environmental impact studies before opening up CRP in such a way.
By the time the case hit the courtroom in July, USDA reported that about 2.5 million acres had been signed up for the emergency program. The distinction in court was that USDA is allowed to pen up emergency haying and grazing in counties considered to be disaster areas or contiguous counties. That's different than opening up the entire program.
The 2008 case led to a temporary restraining order blocking USDA's special program. The court ruled USDA could not unilaterally modify CRP contracts without doing a more open environmental impact study than the one conducted by USDA at that time. USDA regulations require the department to conduct such studies, the court ruled. The judge in the case capped USDA acreage for haying and grazing at 3 million acres, spread across different states and regions.
Thousands of farmers from commodity groups, USDA officials and commodity analysts of all stripes will be flocking next week to Commodity Classic in New Orleans. Now we'll have to keep score just how many times CRP comes up as the cropping solution to the devastation in Ukraine.
Scott Irwin's Twitter thread: https://twitter.com/…
Joe Glauber's Twitter thread: https://twitter.com/…
See, "Ukraine's Impact on Global Ag Markets," https://www.dtnpf.com/…
Also see, "Russia-Ukraine Conflict Adds More Pressure to World Fertilizer Market," https://www.dtnpf.com/…
Chris Clayton can be reached at Chris.Clayton@dtn.com
Follow him on Twitter @ChrisClaytonDTN
(c) Copyright 2022 DTN, LLC. All rights reserved.