Ag Groups Offer Funds for River Project
Farm Groups Offer Corps Funds to Jumpstart Upper Mississippi River Lock and Dam Project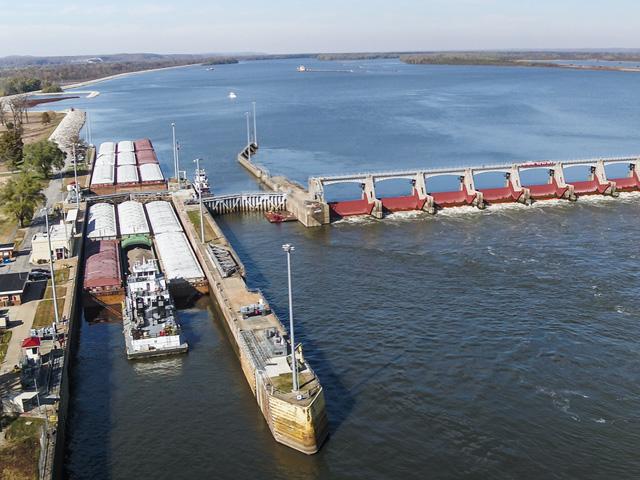 OMAHA (DTN) -- Lock and Dam 25 on the Mississippi River is so old the 1,296-foot-long dam hit its projected 50-year lifespan more than three decades ago, which is one reason soybean and corn checkoff organizations are proposing to help speed up Corps of Engineers plans to upgrade the old lock and dam.
Located near Winfield, Missouri, about 50 miles upstream from St. Louis, agricultural groups are concerned about the risks of lock collapse and they want to increase Lock and Dam 25 in size from a 600-foot barge tow to 1,200 feet, which is more of the standard for barge movement up and down the river. Right now, standard 15-barge tows showing up at Lock and Dam 25 must be taken apart on one side of the lock and reassembled by the crews on the other side. Rather than a typical half-hour transit through the lock, the process can take more than two hours. Additionally, a second lock would provide some redundancy if, for some reason, one of the lock chambers was closed.
A collection of groups led by the United Soybean Board on Monday stated they are proposing to spend $1 million to offset the pre-engineering and design costs that would allow the U.S. Army Corps of Engineers to advance upgrades to Lock and Dam 25 to the construction-ready status. The funding is an effort by the soy and corn groups to show industry interest in getting Lock and Dam 25 upgraded. Earlier this year, agricultural groups were disappointed when Lock and Dam 25 wasn't greenlighted by the Corps to move forward as a priority construction project.
"The goal here is to really provide some additional energy behind this and show there is desire by farmers to say, 'Hey, is there a way we can provide some funding to move this forward?' We really need this project to get greenlighted by the Corps so we're offering these funds as an opportunity to stimulate some of the initial work that needs to be done," said Mike Steenhoek, executive director of the Soy Transportation Coalition.
Steenhoek described the checkoff seed money as a chance to move Lock and Dam 25 "from the on-deck circle to the batter's box" in the Corps' list of construction priorities. Overall, pre-engineering and design for the project will likely cost around $25 million. The full project construction cost could end up closer to the $400 million to $550 million range, Steenhoek said.
The $1 million also is contingent on the Corps of Engineers being allowed to accept the funding from the private sector, Steenhoek said. Congress has been encouraging the Corps to show it can be more creative with public-private partnerships for funds, so the soybean groups see this as a way to test those waters.
"They are still trying to figure that out and it's still kind of a new concept for them, but we've [had] discussions with the Corps about it," Steenhoek said. "They've been upfront with us that there's still this uncertainty that they will be able to accept it."
With expansion of Brazilian river ports along the Amazon River and the paving of the Mato Grosso highway BR-163, U.S. agricultural groups increasingly point to the need to upgrade old river infrastructure to remain competitive in international markets.
"Other nations have inland waterways," said Jonathan Miller, a soybean farmer from Island, Kentucky, and chairman of the Soy Transportation Coalition. "However, one of the reasons our inland waterways are so unique is they are adjacent to some of the most productive farmland on the planet."
If Lock and Dam 25 moves forward with construction, it would be the first project under the Corps' Navigation and Ecosystem Sustainability Program (NESP), which calls for the construction of seven new locks, including give north of St. Louis on the Mississippi River, and two on the Illinois River. Congress had given the Corps' some funding for planning the project, but so far Congress has shut out the NESP projects from big-ticket construction appropriation dollars.
The Infrastructure Investment and Jobs Act, which President Joe Biden signed into law on Nov. 15, provides the Corps of Engineers with $17.1 billion in emergency appropriations. The funding includes $2.5 billion overall for inland waterways with another $808 million to go specifically towards the Mississippi River and its tributaries. Before the bill was passed, Congress had allocated only about $810 million in FY 2021 for all inland-waterways construction.
The Corps of Engineers also needs to move fast. The legislation requires the Corps to deal spending plans for at least some of its construction projects by Jan. 14, 2022. The Congressional Research Service released a report Monday on the new infrastructure law and the Corps. https://crsreports.congress.gov/…
The soybean checkoff also has become more focused on infrastructure in recent years. In 2019, the checkoff funded a study showing that dredging from a 45-foot to 50-foot draft on the lower Mississippi River would add $461 million in export value for soybean farmers. That study helped spark a $245 million project to deepen the lower Mississippi River in Louisiana.
USDA released a study in 2019 highlighting the Mississippi River system showed Lock and Dam 25 sees 200 million bushels of soybeans move through it each year.
That same USDA study also concluded that $6.3 billion spent over the next decade to upgrade the lock and dam system would increase agricultural sales by as much as $142 billion through 2045. Such investment in inland waterways infrastructure would also create 77,000 jobs as well.
The Waterways Council Inc. also states that if Lock and Dam 25 were to shut down because of damage, it would cost nearly $1.6 billion and lead to an increase of more than 500,000 truck trips to make up for the lost barge movement. USDA had estimated in a 2016 analysis that a three-month shut down of the lock and dam from September through November would result in a $933 million loss of aggregate economic activity related to barge traffic.
"Agricultural products comprise 70% of what we move through this part of the Mississippi River, so it's significant to U.S. farmers and international customers that rely on this infrastructure to have our transportation corridor functioning," said Andy Schimpf, navigation business line manager, U.S. Army Corps of Engineers. "Barge transport via the lock and dam system provides the most economical, efficient and sustainable method of shipping U.S. soybeans and other goods."
Ag groups involved in the project include the United Soybean Board, Soy Transportation Coalition, the Illinois and Iowa Soybean Associations, the Iowa Corn Promotion Board, the Minnesota Soy Research and Promotion Council and the Missouri Soybean Merchandizing Council.
Chris Clayton can be reached at Chris.Clayton@dtn.com
Follow him on Twitter @ChrisClaytonDTN
(c) Copyright 2021 DTN, LLC. All rights reserved.