Presidential Race Uncertain
Strength of Rural Vote Again Helps Trump and Tightens Election to a Handful of States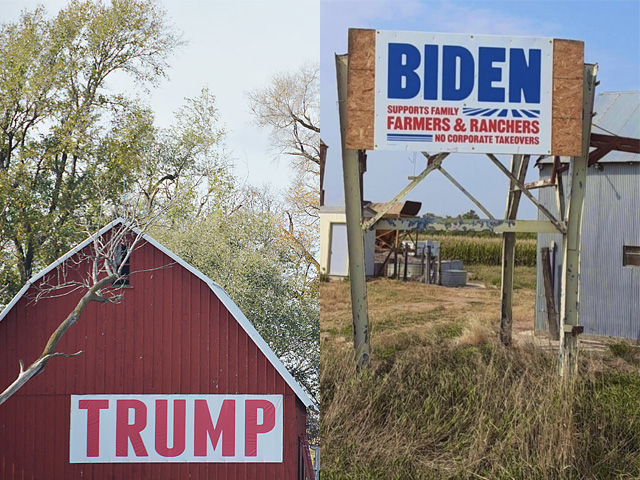 OMAHA (DTN) -- The notion of a blue wave turned into Democratic hopes of regaining the "blue wall" of Michigan, Pennsylvania and Wisconsin as President Donald Trump held his ground in the South, Midwest and Plains states as the 2020 election carried into Wednesday morning.
Early Tuesday evening, former Vice President Joe Biden was leading in states such as Florida and North Carolina, but as rural votes and same-day ballot totals increased throughout the night, Trump pulled ahead in both states. That tightened the election forecast to focus on the former "blue wall" of Michigan, Pennsylvania and Wisconsin. Trump carried those three states by close margins in 2016, predominately because of strong support in rural counties.
Going late into the evening Tuesday, it became clear the high numbers of mail-in ballots in Michigan, Pennsylvania and Wisconsin -- which collectively account for 46 electoral votes -- would carry the count over into at least Wednesday and possibly later in the week. Those three states right now will end up deciding the election.
Trump won the Electoral College 306 to 232 in 2016 over Hillary Clinton.
Among some states Democrats hoped to flip, Trump maintained strong support among rural county totals in general, which helped him hold on to Georgia, North Carolina, Ohio and Texas despite polls suggesting Democrats could take those states.
Late into the night Tuesday, few states had actually flipped from 2016, though Biden was leading in Arizona, with its 11 electoral votes, by 207,000 votes with about 75% of the state votes in.
In a couple of other major battleground states where Biden and Trump campaigned aggressively, Minnesota was called for Biden, driven mainly by high margins for Democrats in the Twin Cities and surrounding counties.
Iowa was called for Trump late with a vote of 53.4% to 44.9% with 97% of the state vote counted, again buoyed by overwhelming support in rural counties. Trump was leading in more than 90 counties in Iowa. It was a closer race for Trump than four years ago when he won by more than 9% of the vote.
The race was becoming close enough that the single electoral votes in Maine and Nebraska, which divide their electoral votes, could become critical to getting either Trump or Biden to the 270 electoral votes needed to win the presidency.
SENATE RACES
Democrats needed a net gain of at least three seats to gain control of the Senate, but that became more challenging as incumbent Republicans in Iowa and Maine were leading late in the night and an Alabama seat turned Republican, as expected.
In Iowa, GOP Sen. Joni Ernst was considered an underdog until late in the race, but the race was called for Ernst late in the evening. Ernst was leading Democrat Theresa Greenfield 51.6% to 45.4% with 99% of the vote counted.
In Alabama, Republican Tommy Tuberville, a retired college football coach, defeated Democratic incumbent Sen. Doug Jones, who was seeking a full term after becoming the first Democrat to win a Senate seat from Alabama in more than 20 years in a 2017 special election to fill the seat of Jeff Sessions.
In Colorado, former Gov. John Hickenlooper picked up a seat for Democrats in the U.S. Senate, defeating GOP Sen. Cory Gardner. Hickenlooper was governor for eight years before seeking the Democratic presidential nomination in 2019.
In Georgia, Sen. Kelly Loeffler, a Republican, will have to go to a runoff election against Democrat Raphael Warnock after no one received a majority vote in a crowded race. Loeffler's numbers were dragged down by a battle with GOP Rep. Doug Collins, who came in third in the race.
Also in Georgia, Sen. David Perdue, a Republican, was leading Democrat Jon Ossoff late by 53% to 45% with 78% of the vote in.
In Kansas, the race to replace retiring Sen. Pat Roberts, the chairman of the Senate Agriculture Committee, GOP Rep. Roger Marshall defeated Democrat Barbara Bollier by 52.7% to 42.4% with 85% of the vote counted.
In Kentucky, Senate Majority Leader Mitch McConnell defeated Democrat Amy McGrath by 58% to 38%.
In Maine, Republican Sen. Susan Collins was leading Democratic challenger Sara Gideon by a 52% to 41% vote with about 65% of the vote in.
In Minnesota, Sen. Tina Smith, a Democrat, was leading Republican Jason Lewis 49.4% to 43.1% with 73% of the vote counted.
In Mississippi, Sen. Cindy Hyde-Smith, a Republican, and a member of the Senate Agriculture Committee, has won her first full term in the Senate. Hyde-Smith is the first woman to represent Mississippi in the Senate and was appointed in 2018 before winning a special election to serve the remaining two years of the term. Hyde-Smith defeated Democratic challenger Mike Espy, a former Agriculture secretary, who also ran for the seat in 2018.
In Montana, GOP Sen. Steve Daines was leading Democrat and outgoing Gov. Steve Bullock by about 3,000 votes with about 56% of the vote counted.
South Carolina Sen. Lindsey Graham, a Republican, fended off Democrat Jaime Harrison to hold his seat.
DTN Political Correspondent Jerry Hagstrom contributed to this report.
Chris Clayton can be reached at Chris.Clayton@dtn.com
Follow him on Twitter @ChrisClaytonDTN
(c) Copyright 2020 DTN, LLC. All rights reserved.