DTN Ag Policy Blog
Biden Climate Plan Does Not Mention Biofuels, But Ethanol Groups See Potential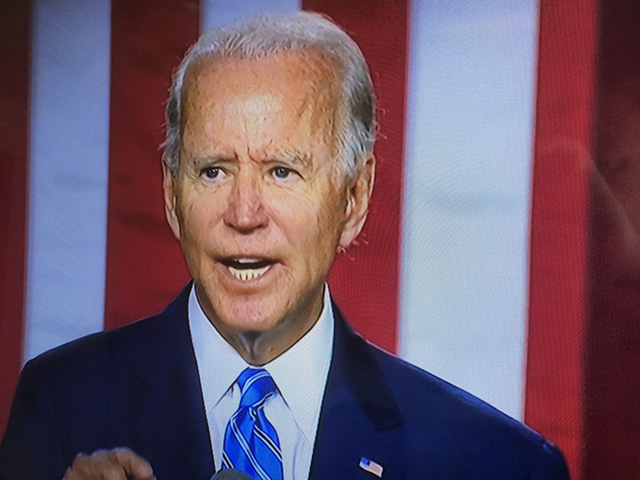 Presumptive Democratic presidential nominee Joe Biden released details of his climate proposal, focusing heavily on spending $2 trillion on renewable energy infrastructure, which Biden said will create more than 1 million jobs.
The plan released Tuesday delves into agriculture and conservation, but does not specifically mention biofuels such as ethanol as part of the renewable energy proposals. Still, trade associations for biofuel groups were encouraged by Biden's overall plan going forward.
Biden laid out the plan in an afternoon speech, which was followed later in the day by a press conference with President Donald Trump in which Trump criticized Biden in several areas, including climate change. Biden said when Trump hears the words climate change he generally thinks it's a "hoax." Biden added, "When I think about climate change, the word I think about is jobs -- good-paying union jobs."
President Trump, in his speech criticizing China as well as Biden, countered that Biden
"was a leading advocate of the Paris climate accords, which was unbelievably expensive to our country. I would have crushed American manufacturers while allowing China to pollute the atmosphere with impunity." The Paris agreement, Trump said, would have been "unbelievably destructive to our country, including the possibility of closing 25% of our businesses." Trump said the Paris accords would have cost hundreds of millions of dollars.
Biden's plan would pump investment in technology for the energy sector to achieve a 100% clean-energy standard by 2035. It would also rebuild road infrastructure, which includes adding as many as 500,000 electric-vehicle charging stations along the nation's interstates. Biden said the plan would help revitalize the economy in response to the downturn caused by the coronavirus.
"Even if we weren't facing a pandemic and an economic crisis, we should be making these investments anyway," Biden said.
Railroads would see significant investment to increase passenger rail, and the development of wind turbines would expand, Biden said. He again criticized Trump, who has said in speeches that windmills somehow can cause cancer. Biden again countered that wind turbines generate manufacturing jobs.
While the Biden plan mentions "clean energy," it does not specify details on liquid fuels. Still, Growth Energy CEO Emily Skor said Biden's campaign recognizes that "renewable fuels are vital to the future of rural America -- and the climate," Skor said, adding Biden's plan also considers agriculture as a "key part of the solution on climate change."
Skor said biofuels can help reduce emissions today and will play an important role in decarbonizing transportation, industry and agriculture going forward.
Geoff Cooper, president and CEO of the Renewable Fuels Association, said Biden's plan on Tuesday "takes a big picture approach and paints with broad strokes." Cooper added that the finer points of Biden's policies are still being developed. "Increasing the use of renewable fuels like ethanol would help achieve many of Biden's clean energy objectives, and we believe there is plenty of room within the plan for increased production and use of renewable fuels," Cooper said.
Cooper added Biden has acknowledged that the economy will continue to rely primarily on liquid fuels for the foreseeable future and Biden has already said ethanol is "part of the answer." Cooper added Biden also has called EPA small refinery exemptions a "gigantic mistake," and Biden has pledged to ensure oil companies meet their renewable fuel blending obligations.
Brian Jennings, CEO of the American Coalition for Ethanol, pointed to recommendations in the House Select Committee on the Climate Crisis, which advocated for adopting a national Low Carbon Fuel Standard. Jennings stated such a standard "would reward farmers and biofuel producers for using climate-smart practices." Jennings added that political candidates looking to address climate change should consider looking at a blueprint created by the biofuels industry as an "economically meaningful solution to reduce (greenhouse gases)."
Reflecting the campaign edge to 2020, Republicans seek to paint Biden's plan as out of touch and costly. Sen. Joni Ernst, R-Iowa, a strong backer of biofuels but in a tight race, called on her opponent, asking rhetorically if Democrat Theresa Greenfield "will denounce Joe Biden's plan that would decimate our ethanol industry and hurt Iowa farmers?"
When it comes to agriculture and conservation, Biden proposes "decarbonizing the food and agriculture sector," with research into soil management, plant biology and agricultural technology to remove carbon from the air and sequester it in the soil.
Biden also calls for mobilizing a "Civilian Climate Corps" to work on conservation and resilience on public lands and in communities. "This initiative will be complemented by a new generation of scientists and land managers committed to ecological integrity and natural climate solutions," the plan states.
The plan also mentions "helping farmers leverage new technologies, techniques and equipment" by financing farmers to invest in precision agriculture and new crops, and "establishing a new voluntary carbon farming market that rewards farmers for the carbon they sequester on their land and the greenhouse gas emission reductions, including from methane, that they secure."
Biden's plan states these efforts will make farms more resilient to the threats of climate change, such as droughts, flooding and extreme weather. Agricultural investments also would convert the industry to "make American agriculture the first in the world to achieve net-zero emissions."
Currently, agriculture overall is responsible for about 10% of U.S. emissions, according to EPA. The House and Senate also have legislation proposed that would require USDA to help farmers with technical assistance and standards to enroll in a carbon market.
Biden's plan also calls for building resiliency in farm land through initiative such as "leveraging precision agriculture through regional demonstration projects to minimize the impacts of drought."
More investments would also go in helping make the agricultural sector more diverse. Biden's plan states his administration would end historical discrimination against Black farmers that "anyone who wants to serve our country as a farmer can get assistance from USDA."
Chris Clayton can be reached at Chris.Clayton@dtn.com
Follow him on Twitter @ChrisClaytonDTN
(c) Copyright 2020 DTN, LLC. All rights reserved.