Indigo Ag Draws New Financing
CEO Points to Validation as Indigo Ag Draws $250 Million More Capital from Investors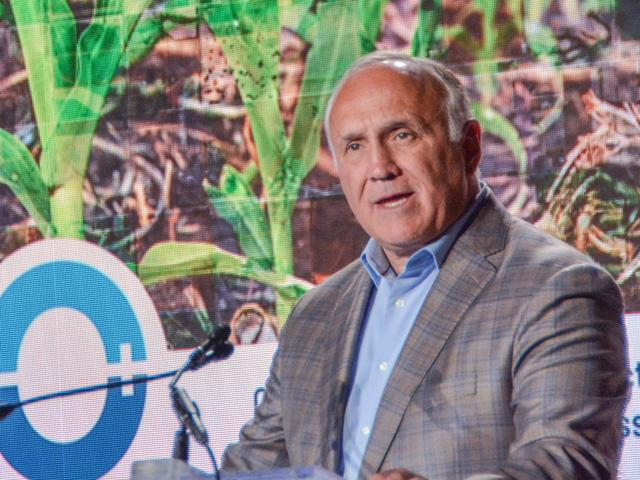 OMAHA (DTN) -- Indigo Ag on Friday announced the carbon credit and biologics company has raised more than $250 million in its latest fundraising drive from investors and addressed some concerns about Indigo's financial strength in the process.
Indigo Ag, based in Boston, Mass., has enrolled close to 7 million acres for farmers to generate carbon credits for their farming practices and paid out so far $5 million to producers, averaging $30 a ton in carbon credit payments to farmers. Indigo also markets biological products meant to increase soil organic matter and the company last month began marketing a biological product meant to help defend against soybean cyst nematodes and other nematodes as well.
"That capital we were able to raise enables to reach full funding of the business and we're just very excited of what's possible having that capital in the bloodstream to allow us to continue to develop what need to do for the farmer," said Ron Hovsepian, president and CEO of Indigo Ag, in an interview with DTN.
With the injection of $250 million in new capital, Indigo Ag expects revenue to grow up to $100 million in 2024.
"Farmers and agribusinesses need strong, innovative partners that create value," said Jed Miller, chief strategy officer for Ag Partners Coop. "This fund-raise is not only a win for Indigo, but a major win for market access. We look forward to continuing our collaboration with Indigo to drive farmer success."
The funding announcement comes after a recent analysis had significantly discounted Indigo Ag's valuation. An Israeli R&D investor, Unic-Tech, had valued Indigo Ag at $200 million, a dramatic fall from the company's $3.5 billion reported valuation two years ago.
Hovsepian said the valuation "is a point in time discussion," but added this latest round of investment ensures the company has the cash needed to work with both farmers and agribusinesses.
"What's good here is we're growing and we're seeing that in our digital business and we're seeing our biological business grow as well with a wonderful pipeline of new products," Hovsepian said.
The Boston Business Journal also reported Indigo Ag has gone through a couple of rounds of layoffs over the past year. Hovsepian told the Business Journal that Indigo is on track to break even in the fourth quarter of 2024 -- about a year from now.
When Hovsepian took over Indigo three years ago, he said the company needed to be transformed. He told DTN that he believes the company is ready to move into a more commercial phase of business.
"I'm declaring that transformation now closed. We've validated, confirmed the products and reduced everything we said we were going to get rid of, and now we're into commercialization overall from a company perspective," Hovsepian said. He added, "The company's in very good health because of where we are from a cash perspective."
Net revenues at Indigo grew 40% in 2022, the company stated, and revenue in the first seven months of 2023 grew 90% compared to 2022.
Indigo noted its funding round, the first since July 2022, includes a mix of both current and new investors. Those include Flagship Pioneering, which has invested with Indigo previously as well as new investors such as the State of Michigan Retirement System and Lingotto Investment Management.
"In this difficult and obsessively short-term financial environment, it is vital to back innovative companies that are critical to meeting the challenges of the future of the Earth," said James Anderson, managing partner and chief investment officer for Innovation at Lingotto. "We believe that Indigo Ag has endured demanding times but now has a bright future and an important role in mitigating climate damage. Therefore, Lingotto Innovation is proud to support the company."
The funding also comes as the scientific journal Geoderma published a peer-reviewed report validating Indigo Ag's models and approach for measuring and quantifying soil organic carbon for the company's carbon credit programs. The study backs up Indigo's approach as carbon registries are increasingly drawing criticism over standards and verification.
"While you have this instability in the market, our benefits, from my perspective, have been validated. We've gone out with this peer review and that is huge," Hovsepian said. He added, "Rooting for the highest scientific standards for the farmers, with their associations, is the most important thing. The higher the quality of standard measurement is going to allow the farmer to reap the most benefit, the planet to reap the most benefit and the buyers to reap the most benefit."
Indigo has issued 133,000 carbon credits and is working on its third round of trades while also enrolling another round of farmers for a fourth round as well. When Indigo sells credits, the company receives 25% of the trade value and farmers receive 75%.
Geoderma article on Indigo Ag's methodology https://www.sciencedirect.com/…
Also see, "Climate-Smart Ag and Carbon Credits," https://www.dtnpf.com/…
Chris Clayton can be reached at Chris.Clayton@dtn.com
Follow him on X, formerly known as Twitter, @ChrisClaytonDTN
(c) Copyright 2023 DTN, LLC. All rights reserved.