Ag Questions? There's an App for That
AGvisorPRO Looks to Become a Forum and Social Media Platform for Farmers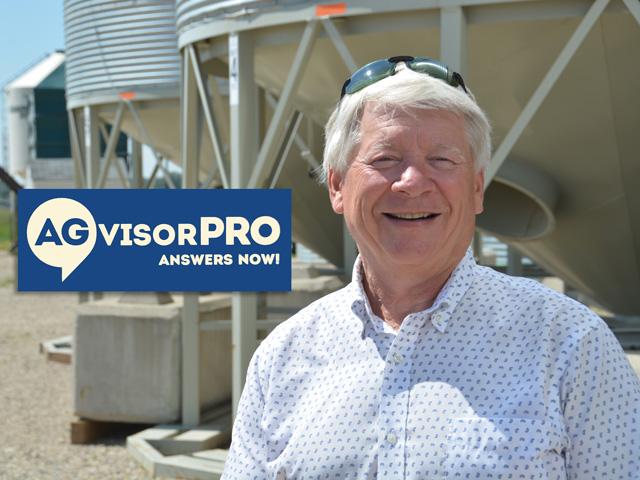 OLDS, Alberta (DTN) -- While Meta launched its new social media platform on Thursday, a Canadian company is using its platform to become a social media hub for farmers and livestock producers to help provide some answers for their agronomy, equipment, animal husbandry or business questions.
AGvisorPRO links producers with experts considered best suited to answer their questions. For instance, on Thursday, a producer from Idaho had questions about spots on his barley plants. Another producer from New York had questions about row width for wheat and the risk of yield drag.
Robert Saik is the co-founder and CEO of AGvisorPRO, which is based in Canada. Saik spoke to DTN about the app and its uses late last week while attending the International Federation of Agricultural Journalists annual conference in Olds, Alberta.
"It's an ecosystem for all of agriculture, so whether you're in livestock or crops or equipment, it's a platform that connects all of these agricultural companies and experts," Saik said. "If you've got issues around your crops or equipment, you can select subcategories that are of interest to you. Then you can submit your questions anonymously."
A user can tag their questions by geography, which will then be flagged for experts or companies through an algorithm that matches the question to the experts. Farmers and others can then connect with those experts on the platform.
"The problem we were trying to attack is how do you find an expert that you didn't know exists? We cracked that code with the app, and then we built a platform where people could actually make money on our platform providing consulting services or by listing their companies," Saik said. "So, it's evolved into an ecosystem, and that's a big word, and what I mean is that it doesn't matter what part of agriculture you're involved in, you can come in and you can find a home and a place to play on AGvisorPRO. So that was the vision from the start."
Saik touted companies from Canada, the U.S., Argentina, Australia, Lithuania and South Africa that have all plugged into the app. He also noted Rabobank recently came on board as well.
On Thursday, the company launched visorPRO.ai, an artificial intelligence platform that will help equipment dealers and other service providers who face a high volume of questions from producers on certain topics. The system will essentially pull answers from various "technical, operational and service manuals," the company stated. This will help companies provide more automated responses to repeated questions while "freeing technical experts to focus on more complex issues," the company stated.
"We've been testing out how we can integrate AI technology inside of AGvisorPRO," he said.
In testing visorPRO.ai, Saik said the program provided dealerships with a new way to give quick answers when needed. "You just did in 15 seconds what it would take me 30 minutes to do," Saik said, comparing it to "manufacturing time."
Comparing the app to social media platforms such as Facebook or Twitter, Saik said it's hard to find good answers for agronomy or production problems on typical social media "because of the trash talk." AGvisorPRO is trying to get away from that.
"When someone answers your questions, they will be experts. We verify our experts. The companies have sponsored reps. So, there's no garbage on the platforms, at least very little. We try to make sure it's very clean and very professional. That's what we're after."
Rabobank, in a comment to DTN, stated the agricultural financier is looking forward to its partnership with AGvisorPRO and looks to connect with producers however they interact.
"We are excited to connect with the Canadian farmers and ranchers community on the innovative digital platform AGvisorPRO," said Roxane Lieverse, head of Canada Agriculture Banking. "We see AGvisorPRO as a digital extension of the work done by our relationship managers at the kitchen table. It provides another tool for farmers to access the expertise they need to grow their business. We are excited to be a part of this vision."
Saik earlier was CEO of AGRI-TREND in 2015 when the network of crop advisers was acquired by Trimble. Following that, Saik said he began to look at how to connect agriculture in a different way, so he and his team began looking at apps and social media.
While Saik is looking to increase the number of farmers, advisers and companies in the U.S. using the app, right now, it is heavily dominated by producers and companies based in Alberta or Saskatchewan.
"We've got over 7,000 users on the platform already, but there are about 800 experts as well. The predominant penetration is Canada and the United States, about evenly split. So, we're nicely populated through the Corn Belt and all the way down to Florida, and we have good penetration in California as well."
Companies wanting to join the platform pay a monthly subscription to connect with farmers who use it. There are other services and private subscription communities as well.
"As the utility of the platform goes up, eventually, we're hoping farmers will actually pay us a subscription for being on the platform," Saik said.
For more details, go to getagvisorpro.com.
Chris Clayton can be reached at Chris.Clayton@dtn.com
Follow him on Twitter @ChrisClaytonDTN
(c) Copyright 2023 DTN, LLC. All rights reserved.