Nutrien Expanding Potash Production
Seeing Risks to Global Fertilizer Markets, Nutrien and Others Look at Ways to Expand Potash Mining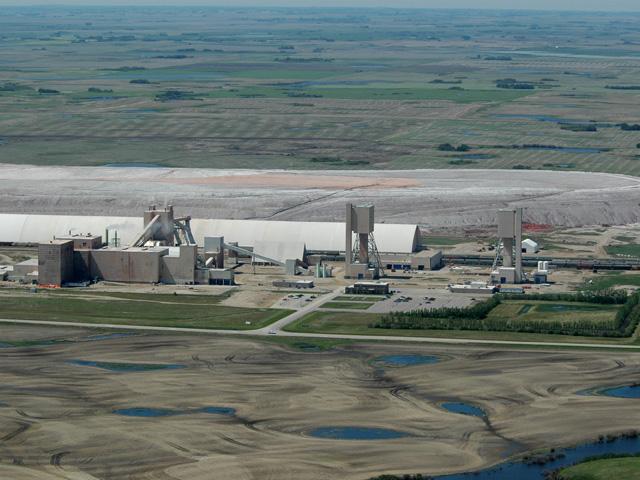 OMAHA (DTN) -- As companies globally react to the risks of fertilizer shortages because of the Russian invasion of Ukraine, companies with access to potash mines are increasing production.
Nutrien Ltd. announced Wednesday that "in response to the uncertainty of potash supply from Eastern Europe" the company will increase potash production capability by nearly 1 million metric tons to approximately 15 million metric tons in 2022. The additional volume is expected to be produced in the second half of the year from its mines in Saskatchewan, Canada.
"Our thoughts and sympathies are with those impacted by the crisis in Ukraine and we hope for an immediate de-escalation of this conflict. The impacts of this conflict extend beyond Eastern Europe as a disruption in supply of key agriculture, fertilizer and energy commodities could have implications for global food security," said Ken Seitz, Nutrien's interim president and CEO.
The U.S. relies heavily on potash from other countries, importing as much as 96% of all demand, or about 11.5 mmt of potash annually, of which more than 85% comes from Canada. Russia and Belarus -- two countries now facing sanctions and implementing their own export bans on products -- combine to account for about 12% of U.S. potash imports. Combined, Russia and Belarus account for roughly 40% of global potash supplies.
A few efforts in the U.S. are looking to expand potash production, but it will take time. Last week, Michigan Potash & Salt Co. announced the company is prepared to build a facility to mine potash near Evart, Michigan, but the facility would not be ready for full production until 2025. The company also praised the announcement last week by USDA to provide $250 million to help expand U.S. fertilizer production.
"In the face of the Russian invasion of Ukraine, the United States must recognize its dependency on Russian and Belarusian potash, which is a critical fertilizer with no known substitutes," said Ted Pagano, founder and CEO of MPSC. "Without potash we can't feed the world."
Outside the U.S., Reuters also reported on Wednesday that the Brazil Potash Corp. is looking to expand its potash mining from a deposit in the Amazon region. Like the U.S., Brazil relies on imports for about 95% of its potash, also relying on Canada, Russia and Belarus, according to worldfertilizer.com.
Nutrien's 2022 potash production is expected to increase by nearly 20% compared to 2020 and account for more than 70% of global production added during this period. Nutrien stated the company expects to increase its 2022 capital expenditures and will hire additional employees for its potash mines in Saskatchewan.
"Nutrien is responding to this period of unprecedented market uncertainty by safely expanding potash production to help provide our customers with the crop inputs they need. We continue to closely monitor market conditions and will evolve our long-term plans to ensure we utilize our assets in a safe and sustainable manner that benefits all our stakeholders," Seitz added.
As DTN noted earlier this week, the Russia-Ukraine war continues to drive world wholesale fertilizer prices higher.
See " DTN Fertilizer Outlook" at https://www.dtnpf.com/…
See "DTN Retail Fertilizer Trends" at https://www.dtnpf.com/…
Chris Clayton can be reached at Chris.Clayton@dtn.com
Follow him on Twitter @ChrisClaytonDTN
(c) Copyright 2022 DTN, LLC. All rights reserved.