Dicamba Lawsuit
Missouri Farmer Sues Monsanto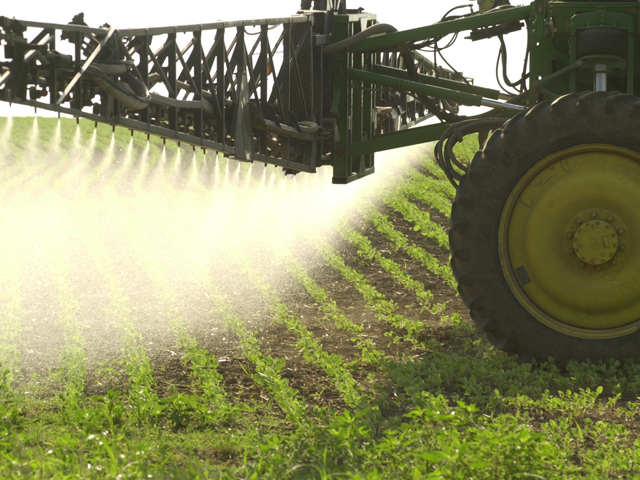 DECATUR, Ill. (DTN) -- Bill Bader stood during a question-and-answer session at a Bootheel dicamba forum last July and told how drift from the herbicide had clobbered his orchard for the past two years. Bader, the largest peach grower in the state of Missouri, has now made another statement by filing a lawsuit against Monsanto Company over the losses.
Bader Farms, Inc., et al v. Monsanto Company, Case No. 16DU-CC00111 alleges the St. Louis-based firm knowingly marketed its dicamba-tolerant Xtend cotton and soybean seeds to farmers without a safe herbicide for use. The lawsuit was filed by the Kansas City law firm, Randles & Splittgerber LLP, on behalf of Bader Farms, Inc. and Bill Bader, individually in Dunklin County, Missouri.
Bev Randles, the attorney of record, told DTN in a phone interview that Bader had some 700 acres of orchard and timber damaged by dicamba drift in 2016. She added that Bader Farms experienced the loss of over 30,000 peach trees due to dicamba drift this year. In 2015, she said, Bader Farms saw damage to more than 7,000 peach trees due to dicamba injury, a $1.5 million gross loss of sales.
Bader Farms is located in Campbell, Missouri. The farm's website indicates the family operation started in 1986 and the orchard portion of the operation has grown from 150 acres to over 1,000 acres and 110,000 peach trees. Bader told DTN earlier this summer that he is also a row-crop farmer.
Although Randles acknowledged that the state of Missouri is still investigating dicamba drift claims, she said the symptoms Bader Farms experienced were consistent with dicamba injury. There was no dollar figure stipulated in the case filing.
Dicamba-tolerant cotton, broadly known as Xtend, was planted in 2015 and 2016 without a registered herbicide to use over-the-top. Xtend soybeans came to market for the first time in 2016, but again the Environmental Protection Agency (EPA) failed to register an approved herbicide to use in-crop on the trait in time for use this season. Problems emerged when farmers reached for existing dicamba formulations such as Banvel and Clarity and those applications drifted onto sensitive crops. Extension weed specialists have told DTN that movement from volatility was one issue, but damage also resulted from physical particle drift.
The Missouri Bootheel was the hot bed for damage complaints. Sarah Alsager, Missouri Department of Agriculture spokesperson, told DTN that the department received 124 dicamba-related complaints in 2016. All investigations are currently open, Alsager said. Arkansas, Tennessee and Mississippi also registered dicamba injury complaints.
Monsanto spokesman Kyel Richard provided a prepared statement to DTN with regard to the Bader lawsuit. The company statement noted that: "Both prior to and throughout the 2016 season, Monsanto took many steps to remind growers, dealers and applicators that dicamba was not approved for in-crop use at the time, and we do not condone the illegal use of any pesticide.
"While we sympathize with those who have been impacted by farmers who chose to apply dicamba illegally, this lawsuit attempts to shift responsibility away from individuals who knowingly and intentionally broke state and federal law and harmed their neighbors in the process. Responsibility for these actions belongs to those individuals alone. We will defend ourselves accordingly," the statement read.
Randles told DTN that Bader feels the responsibility rests with Monsanto. The lawsuit alleges that Monsanto Company knowingly marketed its Xtend cotton and soybean seeds to farmers without any safe herbicide. The suit claims Monsanto knew the only option purchasers would have to protect crops grown from those seeds would be to illegally spray dicamba to protect the crops from weeds.
"Monsanto chose to sell these seeds before they could be safely cultivated," Randles said in a press release. "We believe it is against Monsanto's own practice, not to mention industry standards, to release a seed without a corresponding herbicide to protect the crop from destruction. But Monsanto chose greed over public safety and made farms in Southeast Missouri and Northeast Arkansas unwilling test labs for their defective seed system."
Randles told DTN that she believes the case has broad importance to agriculture beyond Bader Farms. "What Monsanto has done and allowed to happen cannot be ignored. The spraying was inevitable and they knew this is what would happen. My client deserves redress and he is pursuing that and we are going to do everything we can to make sure he is compensated," she said.
Randles said Bader sought out her firm because the partners have an accumulation of over 40 years of product liability experience. She expects other farmers to file lawsuits, but said each situation will be evaluated on its own merits.
"This could be a long battle," she admitted. "But we are prepared for that." She called the Bader Farm situation "devastating and potentially ruinous."
Online court records indicate that the judge overseeing this case is former Missouri Sen. Robert N. Mayer, who, during his legislative service, served on the agriculture committee and also lists farming in his bio. A court date has not been scheduled yet.
In their formal statement, Monsanto also noted that they did not charge growers for the Xtend trait since there was no herbicide available and that the yield potential of Roundup Ready 2 Xtend soybeans and Bollgard II XtendFlex cotton offered value to growers.
In November, EPA approved a DGA (same salt as Clarity) based formulation for use in the Xtend crop system that Monsanto claims is lower in volatility. The XtendiMax with VaporGrip label comes with a long list of spray requirements such as specific nozzles, wind-speed limits and tank-mix limitations. See http://bit.ly/…
Individual states are also reviewing the XtendiMax label and some are contemplating tougher restrictions. In Missouri, Rep. Don Rone, R-Portageville, plans to introduce legislation that would increase the penalty for drift violations when products are used in an illegal manner.
Pamela Smith can be reached at pamela.smith@dtn.com
Follow on Twitter @PamSmithDTN
(GH/AG)
Copyright 2016 DTN/The Progressive Farmer. All rights reserved.